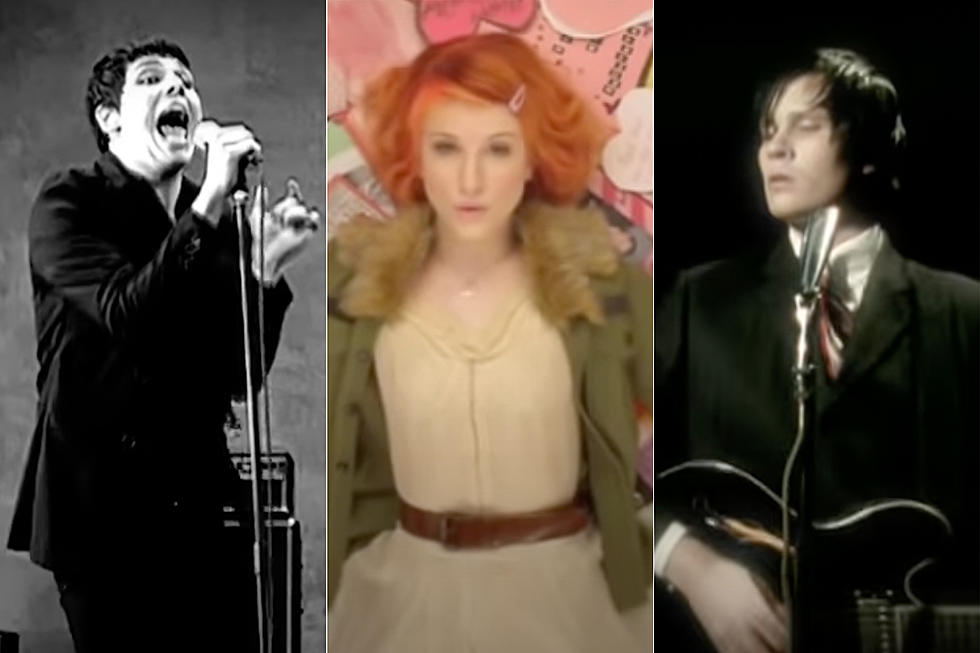 The 12 Best Emo Power Ballads
YouTube: My Chemical Romance / YouTube: Paramore / YouTube: Blink-182
Emo is a genre which, of course, is known for conveying emotion in its purest form, and while plenty of the scene's biggest hits — such as "Welcome to the Black Parade," "Sugar, We're Goin' Down" and "I Write Sins Not Tragedies" — are (musically, at least) more upbeat numbers, so too have emo's finest dabbled in the art of the ballad when laying their feelings bare.
With pianos and strings aplenty, these are the 12 finest power ballads the world of emo has to offer, featuring the likes of My Chemical Romance, blink-182 and Paramore among others.
Check out the 12 Best Emo Power Ballads below.
The All-American Rejects, "It Ends Tonight"

Outsider anthem "Dirty Little Secret" was the big hit from the All-American Rejects' breakout LP Move Along, but when it comes to all-out emoting, the album's piano-led ballad "It Ends Tonight" is the standout. A somber tune that hones in on frontman Tyson Ritter's affecting vocals, it remains one of the best songs from a band who released a stellar run of emo-pop singles ("Swing, Swing," "Move Along," "Gives You Hell") during the early part of their career. Impressively, "It Ends Tonight" was the highest charting single from Move Along on the Hot 100, peaking at No. 8.

As they proved recently during their nostalgic Coachella headline sets, blink-182 are more than capable of setting the goofiness aside and delivering the feels when they perform "I Miss You." A departure from the band's trademark pop-punk sound, "I Miss You" is more layered than much of the trio's prior material, and focuses on a more withdrawn acoustic sound, supported by piano and cello. Despite being certified Gold in the U.S., "I Miss You" performed best in the U.K., where it broke the Top 10 on the singles chart.

Dashboard Confessional, "Vindicated"

The official theme song of, and inspired by, Spider-Man 2, "Vindicated" is no jaunty tribute to Peter Parker's escapades. Rather, Chris Carrabba'a 2004 single is an impassioned emo anthem that sees its creator laying everything on the line. A fittingly massive tune to soundtrack a superhero blockbuster, "Vindicated" is one of the shining lights in Carrabba's extensive back catalog.

Fall Out Boy, "What a Catch, Donnie"

A song that features a Hall of Fame run-through of some of emo's most celebrated singers­­ — Brendon Urie, Travie McCoy and Gabe Saporta all appear — the real appeal of "What a Catch, Donnie" isn't in its star-studded lineup, but rather the heartfelt sentiment that lies at the core of the track. A song written by bassist/lyricist Pete Wentz about his friendship with frontman Patrick Stump, the bond between Fall Out Boy's bandmates shines through in one of the few true ballads Fall Out Boy have released throughout their career. While Wentz wrote the song about Stump, the video the band released for "What a Catch, Donnie" was dedicated to the memory of Atlanta rapper Dolla, a friend of the band who was shot and killed at just 21 years old.

Green Day, "Wake Me Up When September Ends"

Just one of several hits from rock opera smash American Idiot, "Wake Me Up When September Ends" deviates somewhat from the LP's overall narrative, and was inspired by the death of frontman Billie Joe Armstrong's father, who passed away when Armstrong was just 10 years old. The track's video reconciles it with American Idiot's politics by depicting a couple split apart by war, but whatever is to be made of thematic interpretations, something that can't be argued is the emotional power offered by Armstrong and bandmates Mike Dirnt and Tre Cool. A modern classic.

Jimmy Eat World, "Hear You Me"

"Hear You Me" wasn't released as a single by Jimmy Eat World, but the ballad gained much-deserved attention after being featured in both A Cinderella Story and One Tree Hill. A tender ode to two fans who died in a car accident on the way home from a Weezer show, the song's melodies and vocalist Jim Adkins' earnest delivery form a fitting tribute to lives taken too soon. "Hear You Me" is just one of many superb emo cuts from Jimmy Eat World's 2001 classic Bleed American.

Mayday Parade, "Miserable at Best"

An iconic cut from 2007's A Lesson in Romantics, "Miserable at Best" is emo balladry in its purest form: a piano, a vocalist (or in this case, two vocalists), and a broken heart. A simple track that sees co-vocalists Derek Sanders and Jason Lancaster dovetail the song's sorrowful lyrics, it's nonetheless impactful despite the lack of frills. Mayday Parade have had a long and accomplished career since the release of "Miserable at Best," but this little emo ballad remains one of their greatest moments.

My Chemical Romance, "I Don't Love You"

My Chemical Romance perfected the emo power ballad on their first try with "I Don't Love You," taken from their 2006 epic The Black Parade. Dialing down the pomp of previous hit single "Welcome to the Black Parade," the impact of "I Don't Love You" comes from its raw emotion and the powerful vocal delivery of frontman Gerard Way. MCR would go on to deliver more excellent emo ballads in the form of "The Kids From Yesterday" and "The World is Ugly," but "I Don't Love You" remains their essential take on the craft.

Paramore, "The Only Exception"

The third single from Paramore's excellent third album, Brand New Eyes, "The Only Exception" is a gorgeous ballad about giving in to love that was unlike anything the band had recorded prior. A deservedly double-Platinum single, "The Only Exception" features a brilliant vocal performance from frontwoman Hayley Williams, whose somber storytelling forms the core of a track from which her fellow bandmates' playing flourishes. A thoroughly rewarding listen.

The Red Jumpsuit Apparatus, "Your Guardian Angel"

Major-label debut Don't You Fake It was a runaway success for the Red Jumpsuit Apparatus, selling over 1,000,000 copies, and tender ballad "Your Guardian Angel" is one of its finest moments. A thrilling climax to the LP, vocalist Ronnie Winter leads his charges through a soft acoustic number that eventually explodes into a full-band emo epic. The song is dedicated to eight teenagers who were killed by a tornado in Alabama in March 2007.

Secondhand Serenade, "Fall for You"

They're not one of the more notable names from the emo wave, but Secondhand Serenade have got a couple of massive ballads in their arsenal, none more so than the devastating "Fall for You." The lead single from 2008 sophomore LP A Twist in My Story, "Fall for You" has been certified double Platinum, demonstrating the significant impact it made upon release. A piano-centric ballad, the track centers on the performance of primary musician John Vesely, who pours his heart out across three minutes of emo melancholy.

A track where Yellowcard's trademark violin comes to the fore, "Only One" is the monumental ballad taken from the band's acclaimed Ocean Avenue LP. Featuring a lengthy solo from violinist Sean Mackin — which plays-off well against the band's spiky guitars — "Only One" offers a heartfelt counterpoint to the punch of Ocean Avenue's title-track and fellow single "Way Away." Yellowcard have dropped several strong ballads throughout their career ("Hang You Up," "Sing for Me"), but "Only One" remains their most emphatic, and the band's purest moment of sheer catharsis.