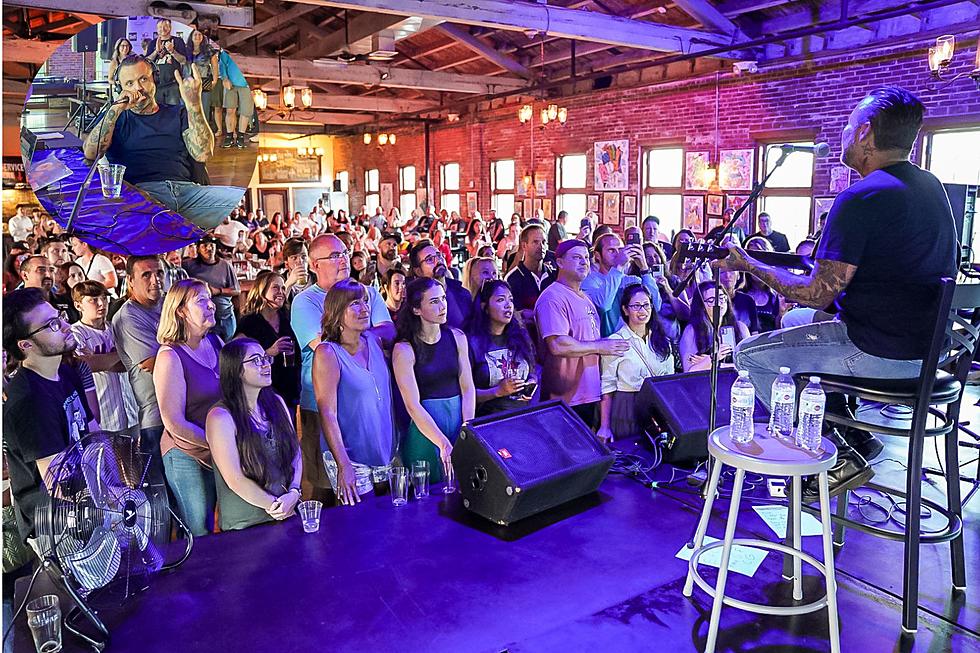 [PHOTOS] Blue October's Justin Furstenfeld Dazzles Packed House at WRRV Sessions
Chuck Merrihew, Townsquare Media
Fans of Justin Furstenfeld traveled from near and far to secure their spot at Newburgh Brewing Company on Tuesday September 12th for an intimate performance from the Blue October frontman. People lined up more than an hour before doors opened to be sure they were among the first to gain entry to find a new and improved setup in the taproom, including a stage at our home for WRRV sessions, Newburgh Brewing Company.
Blue October's Hudson Valley Connections
No stranger to the Hudson Valley, nor Newburgh Brewing Company, Justin Furstenfeld of Blue October first appeared at Sessions back in 2016 and drew a giant crowd excited to hear some acoustic versions of their favorite Blue October tracks.
Since that February 2016 day in Newburgh, the full Blue October band played a sold out show at the Bardavon in 2018, and then Justin was nice enough to do a pandemic Facebook live performance for us in April 2020 where he entertained participants with some on-the-spot lyrics based on comments on the live video.

WRRV Welcomes Justin Furstenfeld to Newburgh Brewing Company, Again
That brings us to September 2023, the 12th to be exact, as we welcomed Justin back to the Hudson Valley for another WRRV sessions appearance.
When I arrived to the brewery around 3:20pm, there was already quite a line of very excited Blue October fans anxiously awaiting doors to open at 4pm, and once they did open, both the tables and high top seating filled up fairly quickly.
We ended up packing the house, with the tables and standing section in front of the stage filled ahead of Justin's appearance on WRRV right around 6pm, where he and I chatted about anything and everything you could imagine. Dressing up like a turtle in the latest Blue October video for Down Here Waiting, to his list of dream collaborations (which includes Post Malone and 2009/2010 Kanye) and everything in between.
Following an awesome interview, Justin took the stage for an intimate acoustic set that opened with my personal favorite Into The Ocean, and showcasing Justin's incredible vocal range through several other tracks, closing with I Hope You're Happy.
Words like amazing, incredible and memorable were thrown around by many of those who attended the show. People who first got in line as strangers shared stories of what about Blue October's music is so special to them, and how Justin's tales addiction and sobriety related to their own, and those same strangers left as friends.
Music has a way of bringing people together, and WRRV sessions is a wonderful opportunity for that to happen, where connections are forged over incredible musicians like Justin Furstenfeld, who are always willing to bring their talents to, and share their stories with, all of us here in the Hudson Valley.
Thank you, Justin, and be sure to have the WRRV app downloaded to be among the first to find out about our next WRRV sessions.
An Evening With Justin Furstenfeld at WRRV Sessions
Justin Furstenfeld returned to Newburgh Brewing Company (for the 2nd time) on Tuesday September 12th to perform for a packed house at WRRV sessions.
Welshly Arms at WRRV Sessions
Welshly Arms put on an amazing performance for WRRV Sessions at Newburgh Brewing Company on Cinco de Mayo.
Thank you to Healy Brothers, Devitt's Nursery and Supply, Ballentine Communication, and photographer Chuck Merrihew!