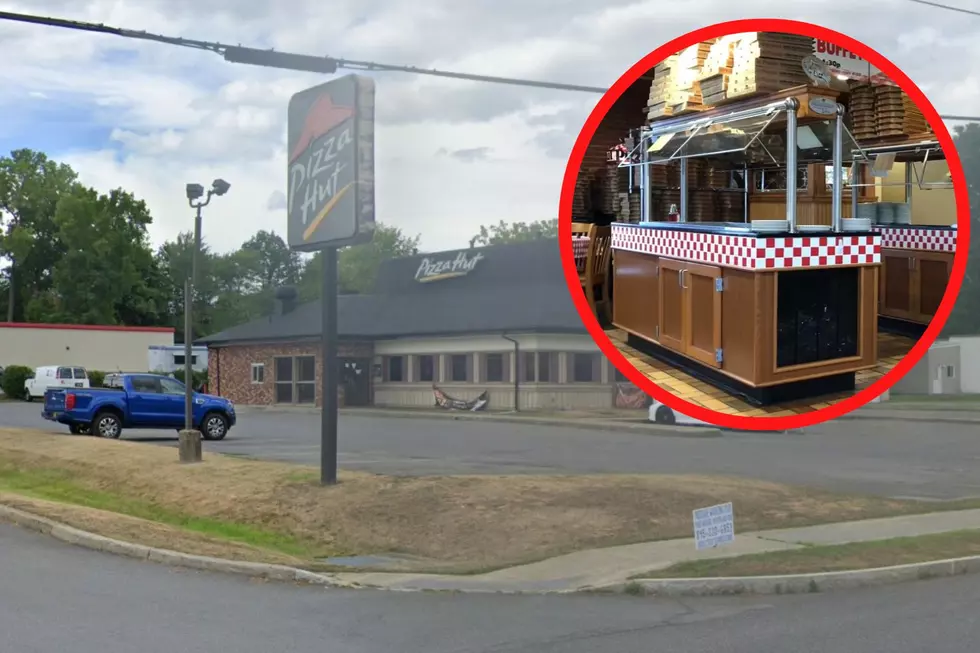 Alert: Famous Items from Closing Catskill Pizza Hut for Sale
Google/Forgotten Places via YouTube
If you want to get your hands on some of the most famous items from America's favorite nostalgic franchise restaurant, drop what you're doing and head to the Pizza Hut in Catskill, NY.
To be honest, I was surprised to find Pizza Huts still in operation when I moved back home to the Hudson Valley last year. I absolutely loved going to the (long since closed) location in Ellenville, NY as a kid. I would always order a personal pan pizza, and if I was feeling fancy, I'd even check out the salad bar. Now the salad bar, the iconic red booths, and more, are all for sale.
Pizza Hut Items for Sale in Catskill, NY
"Announcement... NY Barns & Basements will be liquidating the contents of Pizza Hut in Catskill at 75 Maple Ave / Route 9W", began the post in the Catskill Community Board Facebook page.  "There will be a salad bar, hot buffet, booth seats, tables, proofer, make table and other various items." The interest was massive and immediate.
Own a Piece of Pizza Hut in the Hudson Valley, NY
"How much for the hot buffet?", asked one interested commenter. "Can I get the pizza hut sign?", inquired another excited Pizza Hut fan ("no", came the answer, as it was being sent to another Pizza Hut store). Interested buyers are encouraged to stop by the closed Pizza Hut in person.
How to Buy
Greg Smith, the owner of NY Barns & Basements and the man in charge of the liquidation reported he will be at the 75 Route 9W location today (Friday, February 3rd) until 4pm. Smith has been active in replying to the original Facebook post as well (find the post here).
If you're in the mood for even more "famous" gear, Stewart's Shops recently opened an online store for their diehard fans. Check out what's for sale below, and good luck grabbing a famous red cup from Pizza Hut!
9 Items To Buy at Stewart's New Online Shop
You can't say you love Stewart's if you're not rockin' Stewart's merch!
Did You Know This?? 13 Upstate Food Favorites You Can't Buy Outside of New York State
Upstate New York is the home to many fantastic food favorites. Mention sponge candy to somebody 100 miles outside Buffalo and you are probably going to get a blank stare. Mention a Michigan hot dog to anybody not from around Plattsburgh. Same stare. So here is a list of 13 regional food icons that you cannot buy outside of the empire State.
I will add this asterisk. You certainly can buy some of these items online, like the Saratoga Peppermint Pigs. Perhaps the Stix and Sauce item is known by another name somewhere in the country. Salt potatoes may have gravitated elsewhere but if so nobody knows where they started. And Grandma Brown. Well, you can buy that sweet lady's baked beans on eBay. But for the most part you would have to walk into a store or restaurant in Upstate New York to enjoy these "regional" fan favorite foods.