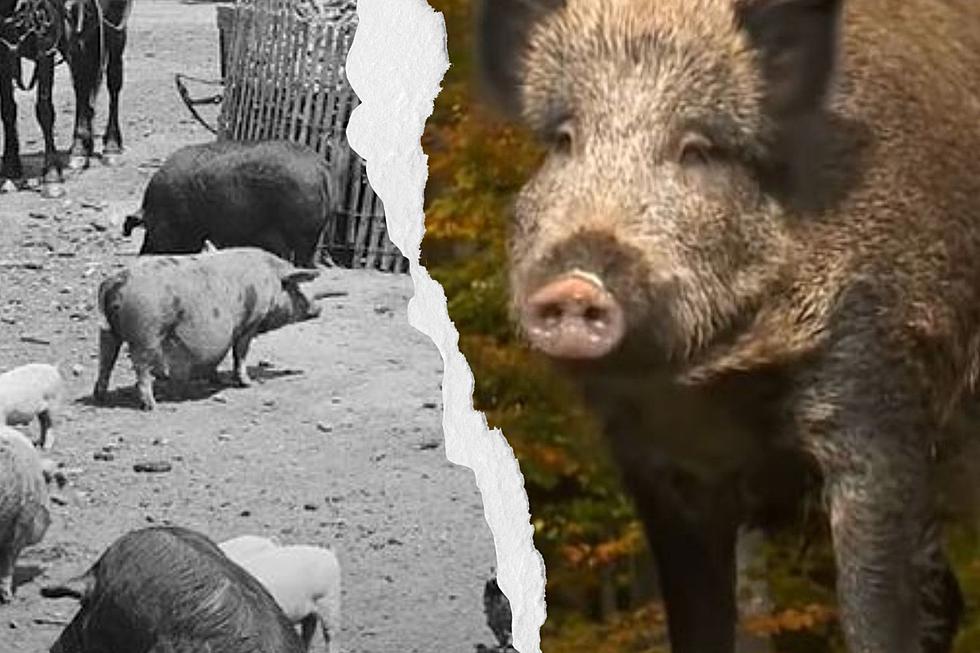 Wildly Unpopular The Feral Pigs of New York
Feral Pigs Noble Research Institute via YouTube
In the northeast, we have many different types of wildlife you can encounter, some more dangerous than others. Deer, raccoons, bears, bobcats even moose have become something we see out our windows. Lately, there has been an increase in sights of one type of wildlife I don't think any of us thought we'd encounter in New York.
Wild or what some are calling feral pigs are now becoming a problem in New York. If you live in certain parts of New York you may already have encountered a wild pig or two. According to various sources including the New York Invasive Species (NYIS) feral pigs are crossing in from both Canada and other states namely Pennsylvania into our region.
Feral Pigs Are Now a Problem for New York
Areas in Sullivan County have reported feral pig sightings. It appears that they are coming over the Pennsylvania border. Typically feral pigs prefer a warmer climate than New York but milder winters and pig population growth have led to them spreading north.
How Did Feral Pigs End Up in the United States
The Noble Research Institute (NRI) put this great video together to explain how wild pigs developed in the United States. It took a combination of events to reach the level of feral or wild pigs that we have today roaming across most parts of the US. According to the NRI wild pig can be destructive to farmland, they can pass diseases on to livestock and even humans.  NRI also mentions that they are opportunistic eaters so they can disrupt wildlife and food chains in an environment.
Feral pigs are considered an invasive species in New York State. They can be very destructive to farmland and property. The other issue is that outside of hunting they really don't have any other predators. That being said there is evidence that the bear population in New York could help manage part of the population if the video below from Tennessee is common. (Warning it Contains graphic images and should not be watched at work.)
WARNING VERY GRAPHIC VIDEO WITH ADULT LANGUAGE - NSFW
Wild pigs in our area are not new. In the past there have been incidents reported that involved wild pigs being struck by cars, last year even an ambulance hit a wild pig in Sullivan County.  If you have never seen a wild pig on the side of the road let me just say it will take you back.
On a recent trip to Georgia, I ask my husband what happens when you hit an alligator with your car. His answer was "I don't know it doesn't really happen a lot". I had in mind that like we watch out for deer I should be watching for alligators on the road. Later in the trip when I unexpectedly passed wild pigs on the highway while going 70 MPH I realize alligators weren't the real problem. Of course, then I said why didn't you mention the pigs? His reply was yeah those will do some damage.

If you do come across wild pigs in your area the New York State Department of Environmental al Conservation asked you to please contact them. They are currently working with agencies including the USDA to track and manage the current population of Feral pigs entering New York from any direction. For information From the NYS DEC on wild pigs click here.
A List of Great Hudson Valley BBQ Restaurants (Too Soon?)
Must Try BBQ Places in the Hudson Valley, NY
BBQ is meant to be eaten year-round and the Hudson Valley has some pretty amazing places to grab your smokin' juicy favorites all year long. From pulled pork to piggy mac these places we found for you won't disappoint your tastebuds or your pocketbook. Pick out what looks the most delicious and start there but make sure you eventually get to every one of these Hudson Valley New York BBQ Joints.
Other Hudson Valley Critters You Might Find in Your Back Yard at a BBQ
8 Creatures that Could Ruin Your BBQ
It doesn't matter if it is a backyard BBQ or you have set up camp for the weekend it is inevitable that a few uninvite party guess could drop by if you aren't vigilant about keep things clean and put up.