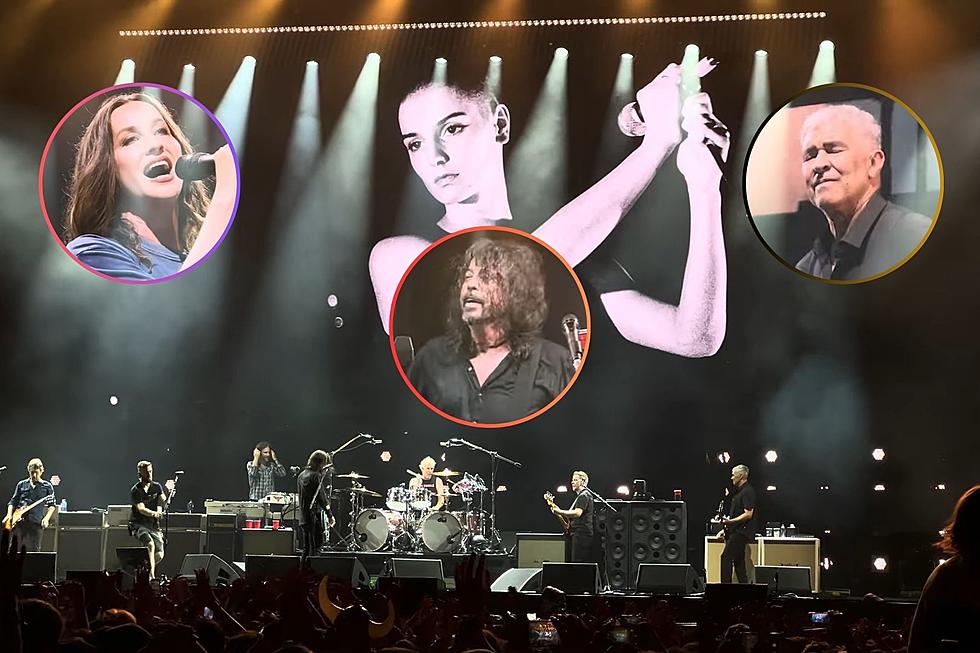 Foo Fighters + Alanis Morissette Honor Sinead O'Connor by Covering Late '80s Classic
YouTube: lucid
Last Wednesday (July 26), Loudwire reported that iconic Irish singer Sinéad O'Connor has died at the age of 56. Naturally, numerous rock and metal musicians have since paid tribute to her, including Foo Fighters and Alanis Morissette at Foo Fighters' most recent concert.
Last night (July 29), both Foo Fighters and Morissette played lengthy shows as part of Japan's expansive three-day Fuji Rock Festival. During the former's headlining set – between "Walk" and "Learn to Fly," according to setlist.fm – the band brought out Morissette for a stunning rendition of O'Connor's seminal "Mandinka."
"For a very special reason, ladies and gentlemen, would you please welcome to sing a song with us: Mrs. Alanis Morissette?" frontman Dave Grohl said. After Morissette came out (and the crowd's cheers died down), Grohl continued: "We're singing this song for a reason tonight."
Morissette added: "For a beautiful woman of high intelligence and deep empathy [who was] way ahead of her time [and] who is no longer with us. This is for her."
Morissette led the performance, and a photo of O'Connor was displayed on the screen as she left the stage.
You can watch the full clip below.
READ MORE: Morrissey Calls Response to Sinead O'Connor's Death 'Insultingly Stupid'
Released as the second single from O'Connor's first LP – 1987's The Lion and the Cobra – "Mandinka" peaked at No. 17 on the U.K. Singles Chart, No. 6 on the Irish Singles Chart and No. 14 on Billboard's Dance Club Songs chart (although the latter one was a remix). O'Connor even performed it during her Sept. 7, 1988 debut U.S. TV appearance (on Late Night with David Letterman).
Written about the West African Tribe and inspired by Alex Haley's 1976 book – Roots: The Saga of an American Family, which received a television adaption the following year – "Mandinka" was ranked as one of O'Connor's best tracks by publications such as Rolling Stone, Billboard and SPIN.
Deservingly, Foo Fighters' Sept. 2022 tribute concert for late drummer Taylor Hawkins was nominated for an Emmy award (for Outstanding Sound Mixing for a Variety Series or Special). Gratefully, they're still on the road, too (through June 2024). You can view their remaining tour dates here and purchase tickets here.
What do you think of Foo Fighters and Morissette's take on "Mandinka"? Are you a fan of O'Connor? Let us know!
Foo Fighters + Alanis Morissette Cover Sinead O'Connor's "Mandinka" at Fuji Rock Fest (July 29, 2023)
Rockers We've Lost in 2023
Rock and metal musicians and icons who died in 2023.