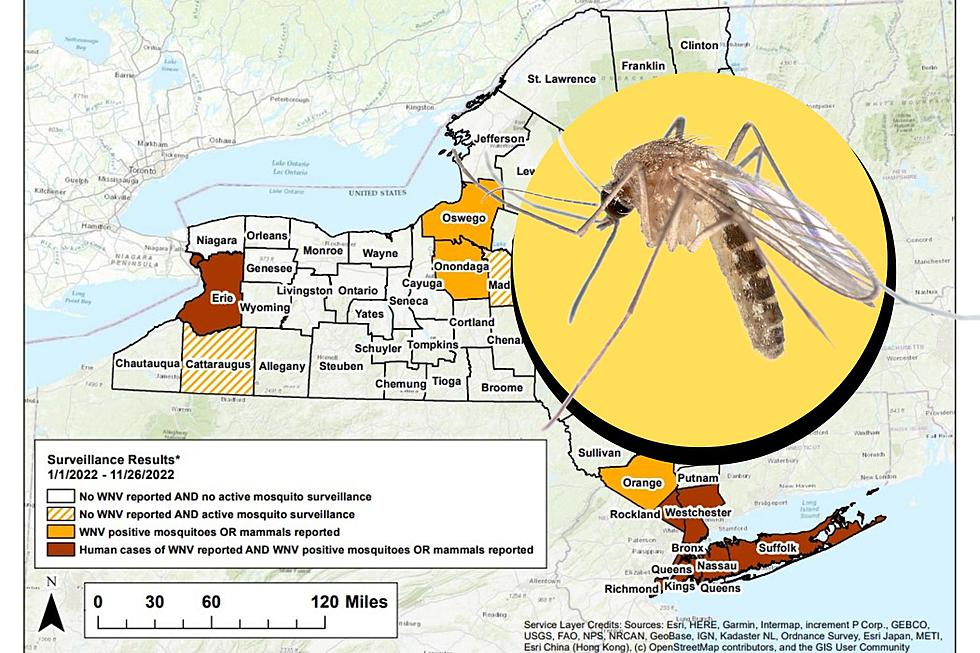 New York Counties Most at Risk for Fatal Mosquito-Borne Disease
noumae via Canva/NYSDOH
Spring brings beautiful flowers, warmer weather, and sunshine back to New York. Unfortunately, it's time for mosquitos to start their annual feasts, too. The risk level for contracting a mosquito-borne illness greatly depends on where you live in the state.
While West Nile Virus (WNV) has been the most headline-catching disease that mosquitos carry in the United States, there's other dangerous alternative as well. Eastern equine encephalitis (EEE), though very rare, is another very serious consideration. All five cases of EEE recorded in New York have been fatal.
Mosquito-Borne Illnesses in New York State
Scientists in New York have been tracking reported cases of mosquito-borne illnesses for years. In addition to WNV and EEE, other diseases like malaria and Zika virus are also included. Not only do they report humans who have contracted these diseases, but mosquito "pools" that test positive (but have not passed on their infections to humans) as well. Their findings are below.
Tracking Mosquito-Borne Illnesses in New York
Last year, the New York State Department of Health (NYSDOH) recorded WNV cases in 41 New Yorkers outside of New York City between January and November of 2022. There were 5 cases of horses contracting EEE, and one human case of Zika virus in the same time period. Here's how it breaks down by county.
West Nile Virus in New York State
For West Nile Virus (WNV), nine counties in New York reported human cases. Nassau, Suffolk, Queens, Kings, Richmond, Bronx, Westchester, Rockland, and Eerie counties all reported human WNV infections. Mosquitos or other mammals with WNV were also found in Orange, Onondaga, and Oswego counties.
Eastern Equine Encephalitis in New York
There were no reported New Yorkers infected with EEE in 2022, though it's still present in the state. Madison, Onondaga, Oswego, and Jefferson counties all found mosquitos, birds, or other mammals testing positive for the disease.

While it is still very rare to contract WNV or EEE, there is currently no treatment or vaccine for either disease, which means the best protection is prevention. The NYSDOH recommends several precautions for New Yorkers to take, including using insect repellant, wearing long sleeves, checking window screens for damage, and to drain any standing water, including puddles or even birdbaths. Check out more tips below.
Tips for Lowering Your Risk of Mosquito Bites
Mosquitoes are the deadliest creature in the world. The Ada County Mosquito Abatement District offers these tips to protect yourself.
9 Plants That Naturally Repel Mosquitos
Got a green thumb? Here are 9 plants to consider for your garden that naturally repel mosquitos.