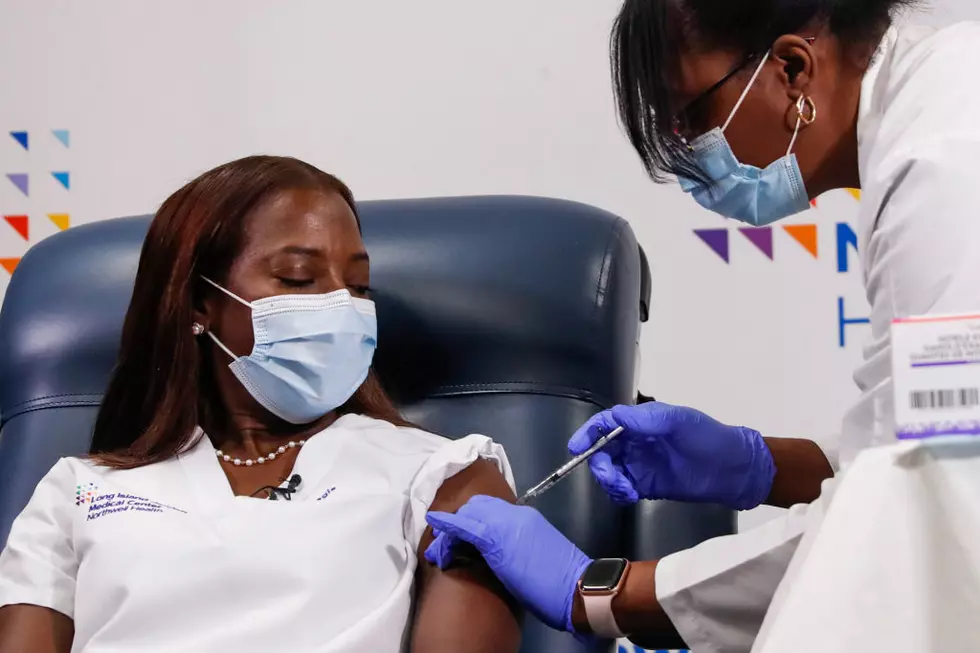 New York State Residents Told To Get Updated Vaccine
Shannon Stapleton-Pool / Getty Images
State officials are urging New Yorkers to get a new COVID-19 vaccine shot.
On Wednesday, New York Gov. Kathy Hochul updated New Yorkers after the CDC approved the updated COVID-19 vaccine.
Hochul Urges New Yorkers To Get Updated COVID Vaccine
Hochul is urging all eligible New Yorkers to get the updated COVID-19 vaccine once it's made available. Officials believe it will be available later this week.
"The vaccine has always been the best way to protect yourself and your community against COVID-19, and this updated vaccine addresses newer strains of the virus that are currently circulating," Governor Hochul said. "As we enter the Fall season when respiratory viruses circulate, it is vital that New Yorkers consider getting this updated vaccine to protect themselves from this still dangerous virus."
For all the news that the Hudson Valley is sharing make sure to follow Hudson Valley Post on Facebook, download the Hudson Valley Post Mobile
Updated Vaccine Targets COVID-19 Omicron Subvariants Effective Against Newer Strains
The 2023-24 vaccine, previously approved by the FDA, should be available at pharmacies and physicians' offices, as well as other health care providers, throughout New York State in the coming days, officials say.
"As we head into the fall and winter months, and once again see an uptick in COVID across the State, I urge all New Yorkers to remember that COVID is a treatable disease, and we now have an updated vaccine that will help reduce your chance of serious illness and hospitalization. Remember, it's about personal protection, personal prevention, and personal wellness," New York State Department of Health Commissioner Dr. James McDonald said.
COVID Cases, Hospitalizations Continue To Increase Across New York State
Health officials are pushing the updated COVID-19 vaccine because new COVID cases and hospitalizations continue to rise across the state.
Officials report the new vaccine is needed because of waning immunity and mutated variants. The updated vaccine targets newer strains of the virus-like Omicron.
"According to CDC, more than 90% of the COVID viruses circulating are closely related to that strain, with tests showing the updated vaccine effective at increasing immunity to a more recent variant, called BA.2.86," Hochul's office states.
New York State On High Alert Over 'Highly-Mutated' Virus
BA.2.86. is a new, "highly mutated" COVID-19 variant, according to health officials. Experts believe this strain, which is becoming prevalent around the world, has 30 mutations relative to the original COVID-19.
It has a high potential to evade immunity. Officials believe this variant, also called "Pirola" has a higher chance of infecting people who have recovered from COVID or are vaccinated.
CDC Recommends Vaccine for All New Yorkers Ages 6-Months and Older Who Are Two-Months Past Last Vaccine
The updated COVID-19 vaccine is recommended for everyone who's 6 months or older and hasn't received a COVID-19 vaccine in the last two months.
New Yorkers Also Encouraged to Get Their Annual Flu Shot, in Addition to the Updated COVID Vaccine, and to Ask Providers About the RSV Vaccine
If you plan to get the updated COVID vaccine New York health officials encourage you to get it with your annual flu shot and ask your doctor about any other potential vaccines like the RSV vaccine.
7 Illness You'll See This Fall In New York State
These illnesses will be at their peak this fall all across New York.
Nearly 50 Children Have Recently Gone Missing From New York State
In just a few months around 50 children from New York State and the Hudson Valley went missing
If You See Purple Paint in New York You Need To Leave Right Away
Do you know what to do if you see purple paint in New York State? The easiest advice, run. Here's why.