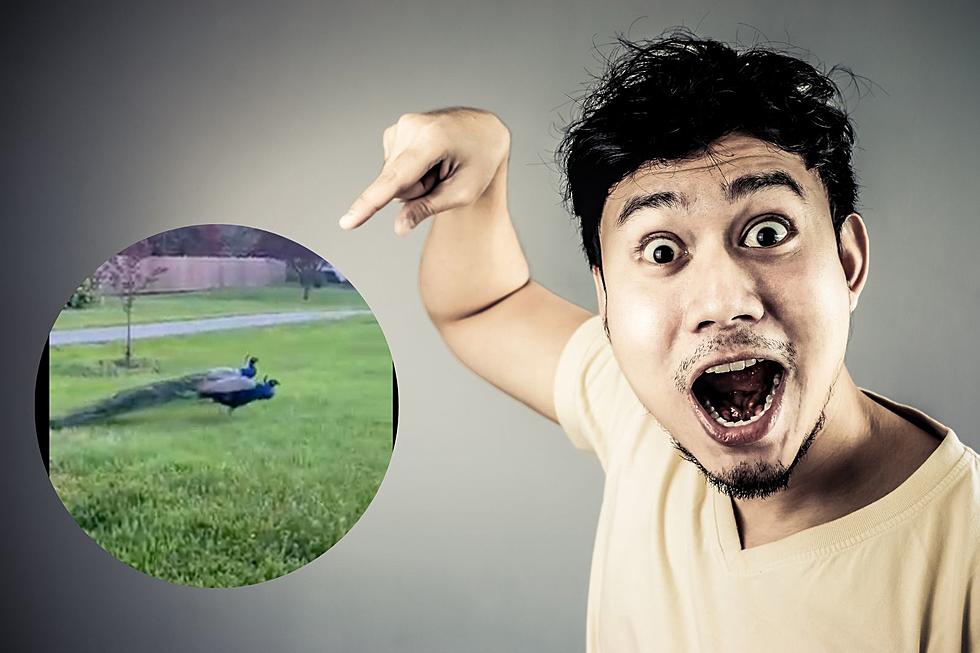 A Couple Of Peacocks Strutting Their Stuff On The Streets Of Montgomery
A.Cascarino, canva
We've become somewhat accustomed to seeing all sorts of animals around the Hudson Valley these days.  For a while, it was snake watch on social media, with members of local community groups posting various snake photos asking for people's help in identifying breeds.
Then of course more recently we learned about this 'walking fish' that is banned here in New York State.
Well, what would you do if you happened upon a couple of peacocks (apparently a 'group' of peacocks is called a muster, thanks Google)?
Peacock Duo Apparently Well Known in Montgomery New York
Two peacocks walk through a residential neighborhood in Montgomery.....
No, it isn't the start of a joke or an episode of Law and Order, it's something that actually happened just the other day in Orange County when Anthony Cascarino, owner of Cascarino's Pizzeria & Ristorante, was driving and spotted the pair walking down the street.
He managed to hop out of his car and capture the encounter on video, and posted it on social media with the caption "anyone missing peacocks in Montgomery?"
Apparently, these two are fairly well known in the area, with one person commenting 'the notorious Montgomery peacocks!" and another stating 'they live there!'
Based on the chain of comments in the days that followed, seems like this duo is pretty well known in the area, and resides in the area of Berea Road in Walden, which isn't all that far from Montgomery.
Are You Legally Allowed to Own A Peacock In New York State?
For those wondering, YES, it is 100% legal to own a peacock in New York State as a pet!
According to the Northern Nester's Peacock Guide 2023, if you raise peacocks from chicks they'll become used to you and are less likely to feel threatened or try to attack you, but there are a few things you'll need to know before you commit to raising one for yourself.
These birds need large habitats where they can forage for insects and run around as they like. They also need protective areas in their habitats, especially when they are chicks. If you live in a cold climate, be sure to add a heater in their shelter as peacocks are meant for tropical climates and can't survive below freezing temperatures. While it might be tempting to bring your peacock inside for a while, expect a lot of damage and mess if you do.
Apparently, pricing on peacocks is a lot more reasonable when they're chicks, as they can be quite expensive once grown - now where does one go about adopting a peacock chick (asking for a friend...)
10 Exotic Animals You Can Legally Have as Pets In New York
Looking for an exotic pet in New York State? Here are 8 animals you can legally have.
Kingston Turkeys Adopt Plymouth White Peacock As One of Their Own
What's brown and white and feathered all over? A Kingston turkey family, after adopting a white peacock from Plymouth and accepting him as one of their own.