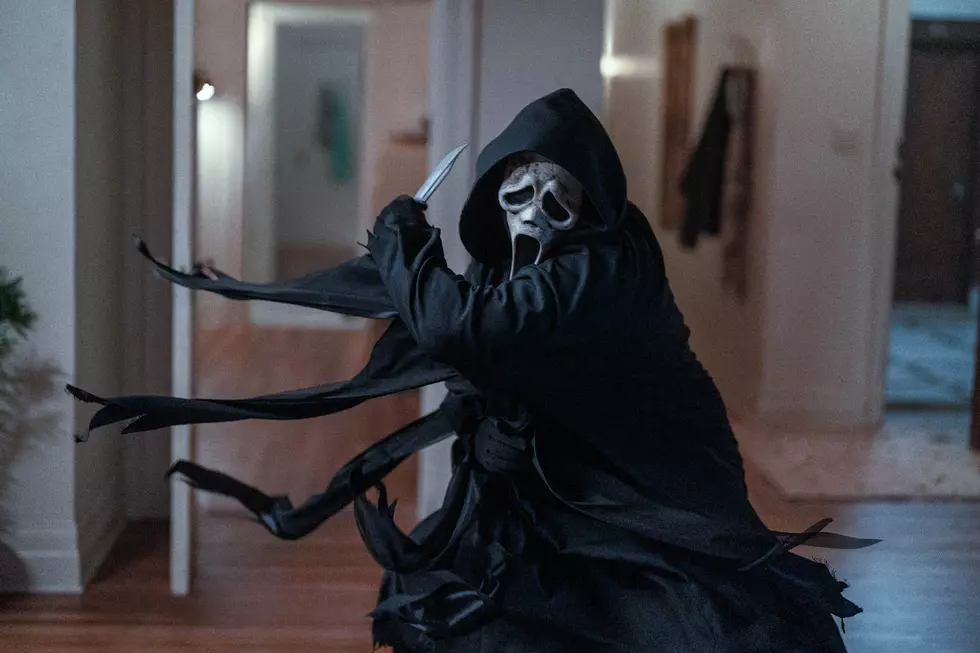 'Scream VI' Viral Marketing Prompts 911 Calls
Paramount
Just in time to promote Scream VI, a masked person has been spotted wandering around an intersection in Sonoma, California. Said person was captured on video by NBC Bay Area wandering around a busy intersection downtown. Eventually, the costumed Ghostface impersonator unsettled so many local citizens that some began making 911 calls, just to make sure that the authorities were aware of the situation. (You never can be too careful with Ghostface.)
The calls all noted the same thing. A man dressed in a black robe, with a long white mask underneath. The figure was near Sonoma Square, reportedly hanging out on various corners for "about an hour." The police simply notified the callers that they were aware of the situation and that the whole thing had been dealt with. They released a statement, concisely: "Thank you for everyone's concern, it's been addressed."
When police dug a bit deeper into the matter and confronted the masked stranger, the person told them that they were actually working a job for Paramount. They had been hired to promote the upcoming film Scream VI. As it turns out, some of the scenes in the original film were shot in Sonoma, making it the ideal location for such a strange viral marketing tactic.
Scream, originally known as Scary Movie, has always been pretty meta. That's kind of the big hallmark of the series. It only makes sense that the marketing approach they take to promote upcoming films would be too. Scream VI is a followup to Scream (2022), a soft-reboot of the franchise, despite it being a direct sequel to Scream 4.
Scream VI is set to debut in theaters on March 10, 2023.
The Most Popular Horror Movies and Where to Stream Them
If you're looking for a classic to stream this Halloween, here's where to find them: