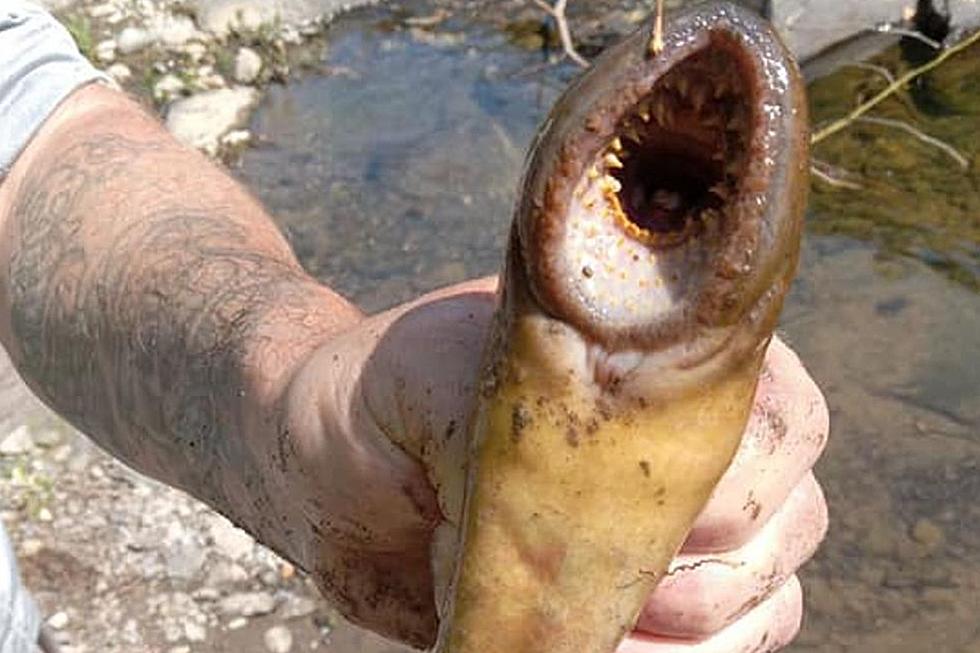 Strange Looking Sea Creature Found in Hudson Valley
Photo credit: Eric Osinskie
Local fisherman gets a big surprise fishing at a Hudson Valley creek.
Eric Osinskie of Catskill, NY took his son to Catskill Creek to do some fishing over the Memorial Day holiday weekend, and was hoping to catch some trout, but caught something rather weird.
It was last summer that a Stranger Things-Like Creature was caught in Dutchess County, NY. The creature turned out to be a Sea lamprey that was caught by a DEC educator at Norrie Point in Staatsburg.
Sea Lamprey Caught in the Hudson Valley
A Sea Lamprey is an eel-like parasitic fish with a jawless, round mouth filled with rows upon rows of dagger-like teeth. Sea lampreys are olive or brown-yellow on the dorsal and lateral parts of the body. Adults can reach roughly 4 feet with the weight of 5 pounds. Sea lamprey migrate up from the Atlantic Ocean to spawn in the tributaries of the Hudson River. Its actually a very common occurrence.
Eric Osinskie posted in the public Facebook group Catskill Outdoors about his experience which led to catching a Sea lamprey. He also recounted his fishing trip to us and where instead of monster haul, he hauled a monster.

"It was a last minute fishing thing. My son and I just decided to go as we live near the creek in Leeds, NY.  I was going after trout,  I lost 2 nice ones but hooked a ton of small mouth bass that we threw all back as it's not in season, then I snagged that lamprey on a cast by mistake.  We saw like 7 of them throughout out the day. I have never seen one up close before."
                                                                                                          - Eric Osinskie
Osinskie said it was the weirdest thing he had ever caught.
Sharks of New York
There are several species of shark in the waters around New York.