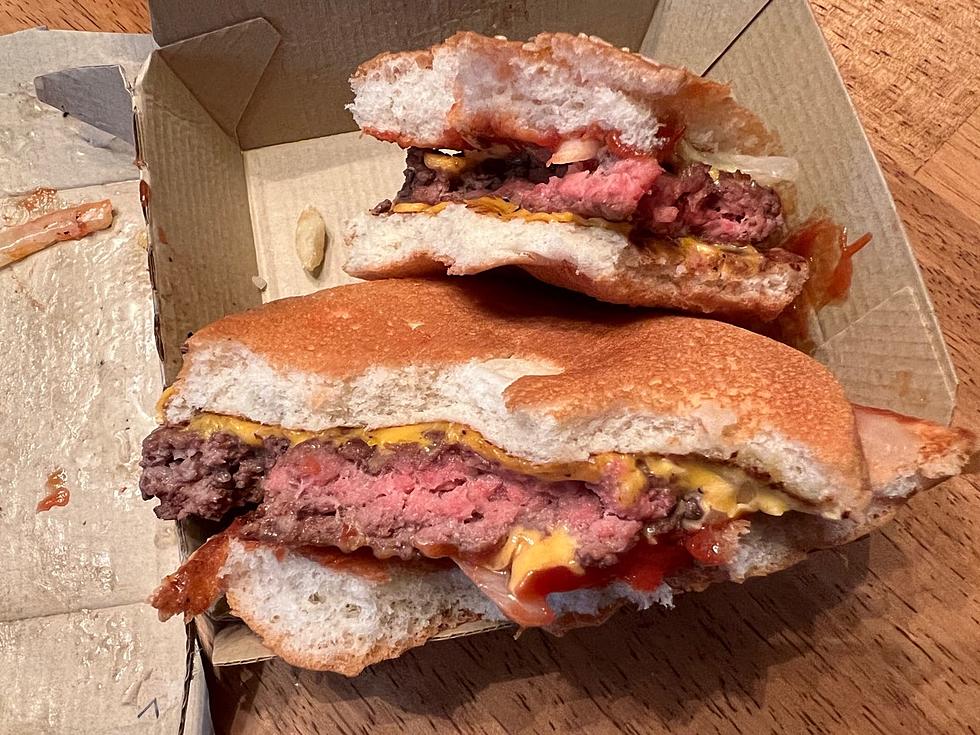 This Hudson Valley Restaurant Served Me a Raw Burger, But Then…
A. Boris
I got a raw burger at a local fast-food restaurant last week, but what happened next was the real shocker.
When you order a meal from any of the hundreds of drive-thrus in the Hudson Valley you usually know exactly what to expect. In my experience, the local fast-food restaurants are usually pretty consistent in quality but sometimes mistakes do happen.
Unfortunately, I was on the receiving end of one of those mistakes at a popular spot on Route 9, whose identity I'll address in just a bit. On what didn't appear to be an especially busy day at the drive-thru I was instructed to pull around the front and wait while "fresh food" was prepared for me. After just a few minutes, an employee came to my car with the bag of food and I headed home.
After taking the first bite of my burger I immediately knew something was wrong. The burger was cold and softer than usual. As I looked down I realized that the patty was completely raw. I could actually see the uncooked grounds of beef. I spit out the food, rinsed my mouth and immediately checked my son's chicken nuggets. Luckily, everything else appeared to be fine, so I picked at some fries and listened to my stomach growl.
While it was a bummer that I was out $6 for my value meal and had no lunch, I was more concerned that there was something wrong at this restaurant that might expose other customers to undercooked meat. Perhaps the patties weren't properly thawed out or a new employee wasn't cooking them long enough. So, to make myself feel better I decided to reach out and let them know.
Afraid to Complain
Because of the world we live in, it's not easy to complain about bad service or poorly made food. Afraid of being labeled a "Karen," we've become conditioned to just take it and shut up. I don't know when restaurant owners became untouchable gods that are doing such important work that we can no longer point out bad service, but that appears to be where we are right now.
Because I wasn't angry about the food or asking for my money back, I thought it was ok to call them up and just let them know to be on the lookout for someone in the kitchen undercooking the food. That's not being a "Karen," is it?
Can I Speak to the Manager?
My first instinct was to give the restaurant a call, but that turned out to be an unsuccessful endeavor. Then, I remembered that the drive-thru had an ad about their Facebook page, encouraging customers to sign up to hear about local promotions. So I went online and looked them up. Unfortunately, their Facebook page didn't allow private messages and had no contact information posted.
Unable to travel all the way back to the restaurant until the next day, I just decided to go to the restaurant's corporate website and send a message to their customer service department.
Quick Response
I immediately received a response that my "case" was being investigated and I would be contacted shortly. I was surprised when a personalized response came just a few hours later, apologizing for the issue and asking me for more details. I wrote back explaining that I simply wanted the restaurant to know about the problem so no one got sick. They asked for photos of the burger, which I supplied, and said they were unable to reimburse me, but the local restaurant reach out to me directly.
I explained again that I didn't care about being reimbursed, but just wanted to make sure the restaurant knew what happened.
And Then There Was Silence
That was the last time I heard from the burger chain. It's been a week and the local restaurant hasn't reached out as promised. I don't know about you, but if I was the manager of a restaurant and someone went through the trouble of sending photos of their undercooked burger, I'd probably shoot them a quick email. Especially since I wasn't complaining or even demanding any sort of refund.
So, Where is This Place?
Whenever I share an anecdote about something that happened to me at a local restaurant or business, our readers will take to Facebook to angrily demand to know exactly where the place is. In some situations, like the ridiculous line policy at Ocean State Job Lot, I'm happy to call them out. But sometimes restaurants do make an honest mistake that doesn't affect anyone else but me.
Friends of mine have since gone to the fast-food restaurant that served me the uncooked burger and their meal was perfectly fine. With the massive volume this particular drive-thru does, if serving undercooked burgers was a consistent problem, I'm confident that it would be something that people would be talking about. For that reason, I'm hesitant to forever associate their business with raw burgers in a Google search.
Personally, I won't be going back to this restaurant anytime soon. Not because I'm afraid of getting bad food, but because I'm disappointed in their management's apparent lack of interest in addressing a valid concern. A brief explanation and reassurance that they were looking into the problem would have earned them a life-long loyal customer, but the opposite has happened.
So let this be a lesson to restaurant owners everywhere. If you have a customer that simply wants to let you know about a problem with the food you're serving, just shoot them a quick email. It could be the difference between gaining a customer for life or losing one forever.
Then And Now: How Fast Food Restaurants in The Hudson Valley Have Changed
While many of your favorite Hudson Valley fast-food restaurants have remained in the same spot for decades, their buildings are almost unrecognizable from what they used to look like.
The Top Paid Teachers in the Hudson Valley
Here's a list of the top 31 median salaries for teachers ranked from lowest to highest at school districts in Dutchess, Orange and Ulster counties.
9 New Fast Food Restaurants Coming to Route 9
It's a fast-food invasion. There are nine new fast-food restaurants slated to open up soon on Route 9 in Dutchess County. Are you ready to hit the drive-thru?