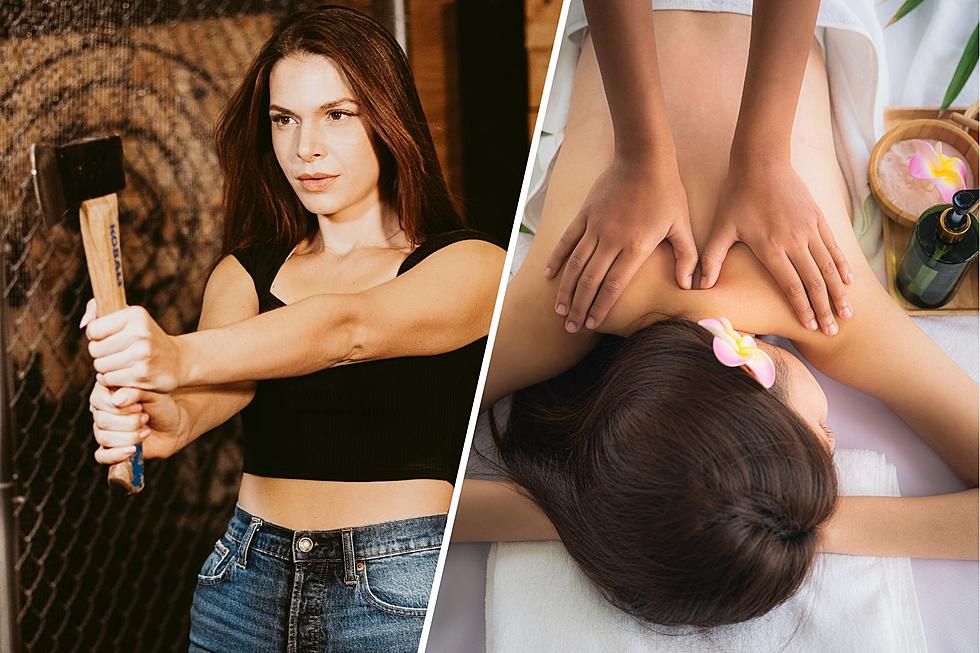 Free Axe Throwing, Self-Care Vendors & More at Wellness Expo in Orange County
Canva, Nino Sanger from Pexels, Mongkolchon Akesin from Getty Images
You don't need to wait until the new year to work on a resolution. The Reach Your Distance Wellness Expo and Family Fun Day is happening at the end of September. I had the privilege to speak with Lisa Dembeck, Founder and President of SeansDream, Inc to learn more about the event.
Give Us an Overview of SeansDream, Inc.
Lisa: "SeansDream, Inc. is a mental health nonprofit in the Hudson Valley that supports those in mental health and substance use recovery by providing them with the comforts of home while they start their recovery journey. We give them clothes, food, shoes, furniture and more depending on the need and support from the community. We work together hand-in-hand with recovery centers for dual diagnosis clients and provide them with the gaps in the things that they need to be comfortable for their stay within the parameters of the facility. We also work with other nonprofits in the area that provide mental health and substance use recovery services to help individuals and families in need as well.
View this post on Instagram
Our organization is run by volunteers and we provide these items because of monetary and In Kind donations that we receive from community members and out of state supporters. We recently expanded to help a few facilities in other states as well. We are not a government grant funded operation. We are doing this to help leave a legacy behind for my brother Sean who passed away on April 8 2020 from mental health illness and fentanyl poisoning. He was only 30 years old and loved nothing more than to be in the comfort of his home, with his dog and his family. He was loved and supported in his recovery journey and we want to make sure that others feel the same way."
What is the "Reach Your Distance?"
Lisa:
 "The event that we are throwing 
on September 30th 2023
 is called Reach Your Distance Wellness Expo and Family Fun Day. It will be located at Clover Knoll Farm 
3142 Route 207 Campbell Hall NY
from 11am-3pm
. The event has
FREE ENTRY for anyone that attends, the location is also home to The Spice Beast Pantry, Ambiance Hair Lounge and Graze Catering. If you attend this event you will have the opportunity to register as a participant in the Reach Your Distance Challenge just by enjoying yourself at the event!
This event has been a national virtual event for the last two years however this year is our third year and we decided to do an in person event! The Reach Your Distance Challenge is free registration so everyone can participate. The Challenge from us to the community is to pick an individual goal for yourself and commit to completing it in 24hours. We all start on the same day (9/30/23) and have 24 hours to complete our goals. This challenge is unique because you can customize it to fit your needs, after all we all have the same destination of success with different beautiful paths to get there.
We have people all over the united states sign up and they do things like: start a new book, get back on a mountain bike, learn to kayak, run 100 miles in 24 hours ( yes that happened) reconnect with estranged family, visit a grave they had been avoiding, or even set up to walk with a friend on Facetime in a different state at the same time together. Then some people post their pictures and videos explaining what they did and why they did it. Our website has some of the videos for people to watch at SeansDream.org."
Why Do the In-Person Portion Now for the Third Year?
Lisa: "The purpose of this IN-PERSON event is to promote the "Reach Your Distance Challenge" and bring our local recovery organizations and Family Fun all in one location so that the community can see that you can have fun and talk about mental health wellness at the same time! Its OK to ask for help, Its OK to talk about mental health and recovery with no stigma around it, we are supported by our community and we are providing a safe space for that to happen. The more people start to see that they are supported while in recovery the more people will be less afraid to start the journey."
What Can People Expect at the Reach Your Distance Wellness Expo and Family Fun Day?
Lisa: "We have activities like Unlimited Free Axe Throwing provided by" Pain In The Axe," Samantha Jo Photography offering fall mini sessions for only $30, A Power Wheels Kids Race Track provided by Cruisin Kids Party Rentals, HV Paws For a Cause Emotional Support Dogs on site, Resident Goats that live at the farm, A "Touch a Truck" Fire Truck, food vendors, Artisan vendors such as Salvage and Shine Jeweler, Jessica's Jem's, Eves Creations, Stone House Farms Lavender, Artwork by Carried Away With Color, music by Mc Fazio, motivational speakers JS Self Care and Wendy Javier, CJ Fitness personal trainer, raffles provided by local stores and gyms, LEGOLAND, KARTRITE, a thrift sale to help support SeansDream, Bon Secours Medical Center will be providing Narcan Training and handing out free packages of new socks to the community, along with recovery resources and nonprofits.
Some of the local resources that will be available to speak with and also handing out free swag will be ; Nami Orange County, Mental Health Association, Team Up For Hope, Oxford House Sober Living, ACT Through Music, Catholic Charities, Alcohol Drug Awareness Council of Orange County, JS Self Care, Wendy Javier from I Choose Me, Warwick Cares, American Foundation for Suicide Prevention, Campbell Hall Fire Department and Fearless HV!
Food will be provided by Isabeli Gelati, Already Delish and Celebrations of Albany -Treats by Ma' ( Soul Food Cuisine!) The BomBon Shop is donating free cookies to hand out to the kids!"
Any Last Notes People Should Keep in Mind?
Lisa: "The Local sponsors that made this possible are Hannaford and Sam's Club in Middletown NY, Local 363 IBEW, Bon Secours Medical Center, Goshen Sunoco, Adams Fair Acre Farm In Middletown and Resorts World Casino in Monticello.
Peek Inside Newburgh's Newest Axe Throwing Tavern
12 Axe Throwing Venues in Upstate New York, Who Knew It Was a Thing?
Axe throwing? Yes, it is very hot right now. You go to a venue (there are dozens in Upstate New York), sign up, take a few minutes of "training and learning" from the experienced throwers on site, and then have at it. BULLSEYE! Fun for all ages. And most places on this list sell alcohol.