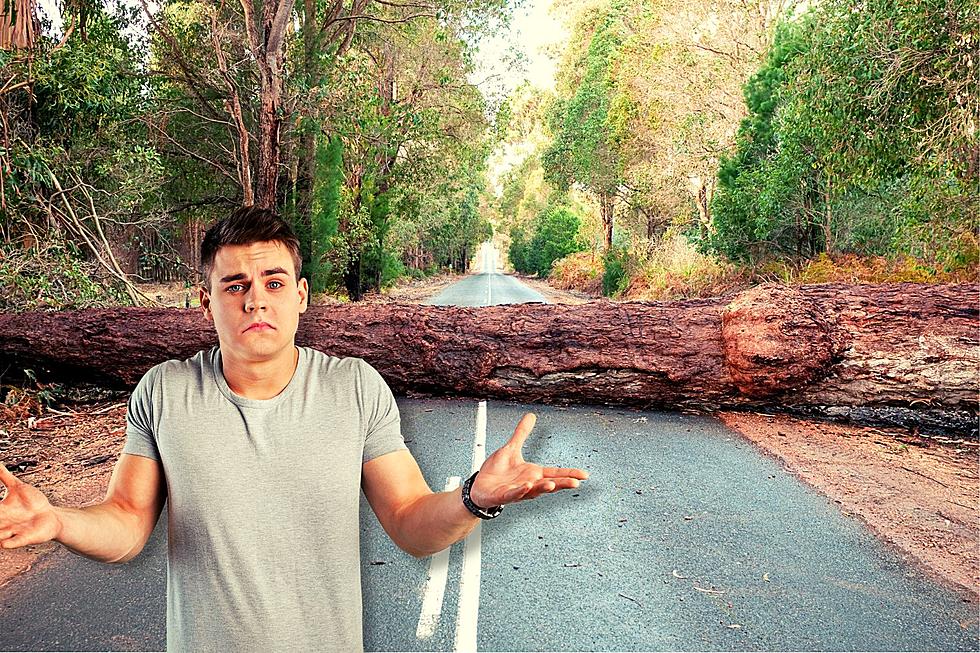 A Tree Falls in the Road… Where Does it Go After in Upstate New York?
Canva
If a tree falls in a state forest, and no one is around to hear it... does that mean it's fair game for anyone to take? It's not exactly how the saying goes, but a question many wanna-be wonder on state lands.
Another question you might have... what happens to the trees that fall into the road? Someone MUST get their hands on it for fire wood, lumber or something of the sort. Luckily the DEC has answers to all these questions.
Going 'Behind the Trees'
It's common in New York mother nature will take her toll, knocking down high-quality trees in her path. When this happens, the DEC is quick to jump on the opportunity to use a fresh resource before it goes bad.
For example, earlier this year a large number of Norway spruce were knocked down in the Morgan Hill State Forest, which is in both Onondaga and Cortland County. The DEC worked in partnership with the Division of Lands and Forests collect and ship the trees to their sawmill in Sherburne.
The fallen spruce will then be turned into lumber and other reusable products. This will then be used, by both the DEC and their supporting agencies, for various avenues across the state. These include resources like signs, kiosks and trail posts.
Lumber can also be used for building repairs, floor boards for trailers, and even for dump truck sides. This is the same with trees that might fall on state roads or trails as well.
So even though you might be upset you can't use the trees for yourself, at least they are getting put to good use. The DEC's philosophy of sustainability is important towards keeping the vast wilderness alive in Upstate New York, while also finding cost-effective ways to continue building upward.
Upstate NY Creator Builds a LEGO Replica of Stewart's Shops
Hiker Comes Within 5 Feet Of Adirondack Male Moose
Moose on Loose Strolls New York Beach
A moose was captured wandering Port Henry beach before heading back home to the forest where she belonged. An employee preparing to open the gates captured the majestic animal early one morning.
Stay in The Peaceful & Historic Mark Twain Cabin on NY's Saranac Lake
Want to be whisked away into the serene times of the 1900s with modern amenities? Stay where Mark Twain stayed in 1901. Sam Clements aka Mark Twain stayed in this cabin from June until October 1901 and wrote many stories including "A Double Barreled Detective Story". It's dubbed as a once-in-a-lifetime stay on the shores of Saranac Lake in the shadow of Mark Twain according to
MarkTwainCamp.weebly.com.
There is a private swimming area, dock, and canoes. You can explore, swim, go fishing, boat, have a picnic, or just relax. It seems remote but it's only two miles from the Village of Saranac Lake.
You can rent this peaceful retreat and historic Mark Twain Camp on Saranac Lake through Airbnb by clicking
HERE.
World's Last Howard Johnson's Restaurant SOLD in New York
At one time there were one thousand Howard Johnson's restaurants across the United States and one standing in Lake George Village. The famous orange-roofed restaurant in Lake George has been sold to a local sushi restaurant owner to add another location.
Take a walk down memory lane and look at this iconic restaurant with its nostalgic orange decor and atmosphere.