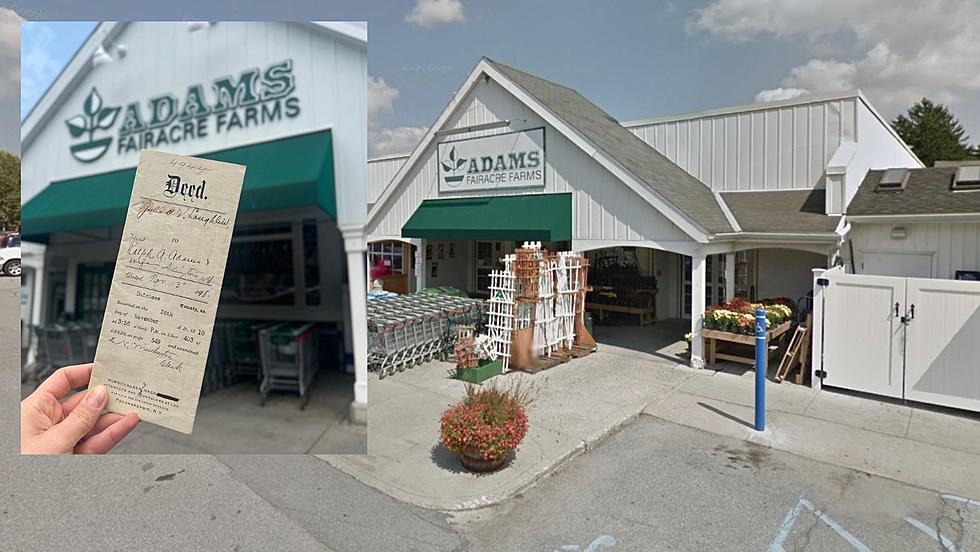 Adams Fairacre Farms Uncovers Unique Piece of Poughkeepsie, NY History
Adams Fairacre Farms, IG/Google Maps
It was a full circle moment days after a popular local grocery store opened up its 5th location.
Adams Fairacre Farms Hudson Valley History
When it comes to grocery shopping here in the Hudson Valley there's always one certain place that comes to mind, and it's Adams Fairacre Farms. The Dutchess County family-owned business has deep roots in the area. According to the Adams website Ralph and Mary Adams bought  50 acres of farmland in Poughkeepsie, New York in the early 1900s.
Those 50 acres of farmland on Dutchess Turnpike started off as a small produce farm stand. Then, over time, blossomed into what you see today including the store, greenhouses, and backyard businesses.
Adams has blossomed into now 5 locations across the Hudson Valley with the latest opening earlier this month in Middletown/Town of Wallkill.
The Deed That Started It All...
Recently, the team at Adams came across a pretty cool piece of Poughkeepsie/ Adams history. What they came across was the deed to those 50 acres of farmland that started it all.
Adams Fairacre Farms shared the above photo of an old-timey deed on social media and wrote:
Past meets present! We recently came across the deed to the 50 acres of land purchased by Ralph and Mary in 1918. This land now houses our Poughkeepsie store, Backyard Businesses, and Mark and Sue Adams Greenhouses. How far we've come since the tiny farmstand that once stood here!
I don't know about you, but I feel like the deed should go in some type of Hudson Valley museum. Do we even have one of those? If not we definitely should!
Have you ever unearthed a piece of local Hudson Valley history? What did you find?
Adams Fairacre Farms is now open in 5 locations with their newest location in the Middletown/Wallkill area take a VIP look inside the brand-new store below:
VIP Look at The New Adams Fairacre Farms in Town of Wallkill, NY
Adams Fairacre Farms Hosted An Event At Their Town Of Wallkill, NY Location
I was excited to attend an event at the new location of Adams Fairacre Farms located in the Town of Wallkill, NY. Excited Hudson Valley residents attended this event to see the new location firsthand.
Adams Fairacre Farms had samples available for guests to try things along with a cash bar. Guests were also able to go grocery shopping, explore the nursery and chat with employees of Adams Fairacre Farms.
Moving forward, Adams Fairacre Farms has great giveaways. From June 16, 2023- June 29, 2023 guests can participate by signing up to win. There are $2.11 specials to celebrate Adams' newest location in the Town of Wallkill, NY.
The Coolest Things You Can Buy at Adams
Yes, You Can ACTUALLY Buy These 10 Things at Adams
100 Year Old Saugerties Cabin on the Esopus Creek
Barely listed for a month it appears that this creekside gem in Saugerties, New York may be already snatched up. At only 638 square feet you would expect it to go so fast but it looks like
126 Glenerie Road
has a sale pending. No wonder why, it is adorable and a perfect Hudson Valley waterfront getaway.