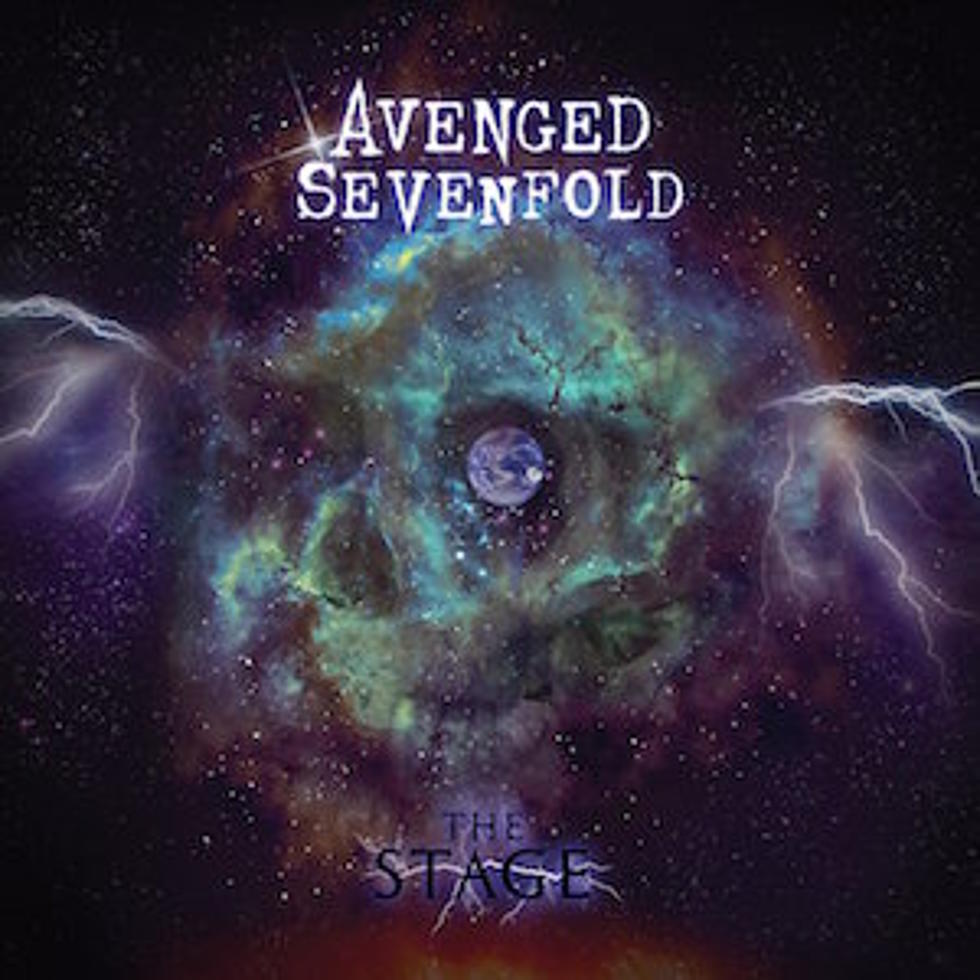 Report: Avenged Sevenfold's New Album, 'The Stage,' to See Oct. 28 Release; Cover Art + Track Listing Revealed
Capitol
Avenged Sevenfold's Voltaic Oceans may not be Voltaic Oceans at all! Various sources have pointed to the band's new album being called The Stage and it may be out tomorrow!
Just a few weeks ago, Fozzy frontman and WWE legend Chris Jericho seemed to leak Avenged Sevenfold's new album info, giving fans the title Voltaic Oceans and a Dec. 9 release… but was he just messing with us? Jericho is very good friends with Avenged Sevenfold, namely M. Shadows, so an info leak from a consummate professional and master wrestling storyline manipulator does seem suspect.
Like he does each week on WWE RAW, Chris may have played us all like puppets, and if that's the case, he deserves a standing ovation for his part in Avenged's new album surprise.
Amazon's Canadian website has an embargoed listing of an Avenged Sevenfold release called The Stage. Somehow, it's available for public viewing and it shows a galactic album cover. If you're thinking this could be the single art for Avenged's new single, "The Stage," you'd be incorrect. That artwork is already available and features the eye of the band's new Deathbot, but in Deathbot's eye, there's the apparent album artwork for The Stage. Had Avenged Sevenfold already given us the art without us knowing?
Last night, someone seemed to get their hands on The Stage, sharing the front and back of the album via Twitter:
With a Capitol Records logo imprinted on the back side, the CD looks pretty legit. It also reveals a track listing of 11 songs clocking in at roughly 71 minutes in length.
Avenged Sevenfold will live stream a special performance tonight (Oct. 27) at 8:30PM PT, which can be enjoyed in 3D, 360-degrees and Virtual Reality on Avenged's official website. All questions regarding A7X's seventh studio album are expected to be addressed, so make sure you tune in!
Avenged Sevenfold, 'The Stage' Reported Track Listing:
01. 'The Stage' (8:32)
02. 'Paradigm' (4:19)
03. 'Sunny Disposition' (6:41)
04. 'God Damn' (3:42)
05. 'Creating God' (5:35)
06. 'Angels' (5:41)
07. 'Simulation' (5:31)
08. 'Higher' (6:29)
09. 'Roman Sky' (5:00)
10. 'Fermi Paradox' (6:31)
11. 'Exist' (15:39)
See Avenged Sevenfold's Deathbat in the Top 25 Metal Mascots
10 Unforgettable Avenged Sevenfold Moments