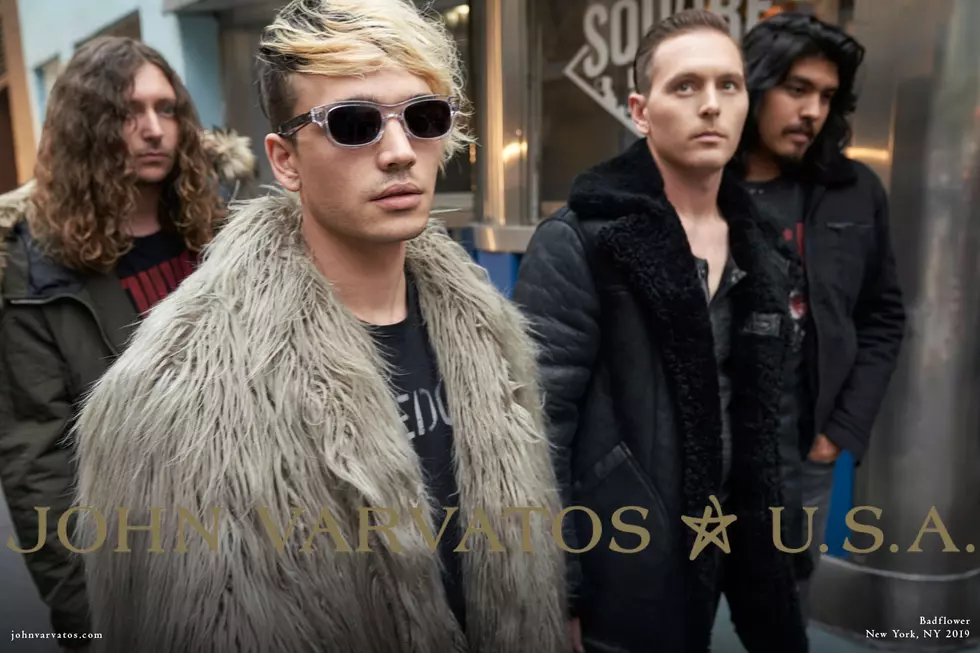 Badflower Tapped to Front John Varvatos Fall/Winter Campaign
John Varvatos
Badflower are ready to blossom this fall and winter as the cover artists for the new John Varvatos Star USA campaign. The clothing magnate is teaming up with the rockers for a campaign that includes magazine ads and video with the group showing off some of the John Varvatos Collection.
The foursome of Josh Katz, Joey Morrow, Alex Espiritu and Anthony Sonetti are psyched about the extra attention, remarking on Twitter: "Yooooooo! We're so proud to be the faces of the fall/winter 2019 John Varvatos Star USA campaign. This is CRAZY. I guess we're super models now."
"Badflower represent everything that's missing in music and style today," said Varvatos of his decision to work with the band. "They are rebels and amazing storytellers that carry themselves with ease and confidence. At the same time they are absolutely one of the best rock bands on the planet. I'm proud to have them representing the John Varvatos Star USA brand and chart topping artists on the Big Machine / John Varvatos label."
"We had such a blast working on this shoot with John and his crew," Badflower commented. "This was our first time getting involved with anything fashion related and John was with us the whole time making it super fun and low pressure. He's such a visionary in both the music and fashion scene and we're privileged to be able to work so closely with him."
The group has enjoyed a breakout year based on the music from their album, OK, I'M SICK. Starting with "Ghost" and continuing through the songs "x ANA x," "Heroin," "Promise Me" and "The Jester," the group has enjoyed a deep run with the album. The latter song, "The Jester," gets some extra play in the Mark Seliger-directed video ad for Varvatos' collection. You can check that out below, along with some of the group's photo shoot ads.
Badflower now join the likes of Machine Gun Kelly, Hozier, Gary Clark Jr., Jimmy Page and Nick Jonas who have previously been featured in John Varvatos campaigns.
The band will be on tour throughout the fall, with a majority of their dates taking place in North America. After winding down the tour leg in early November, the group will finish out the year in Europe. See all of their scheduled dates here.
Badflower Appear in John Varvatos Star USA Campaign
Best Rock Albums of 2019 ... So Far