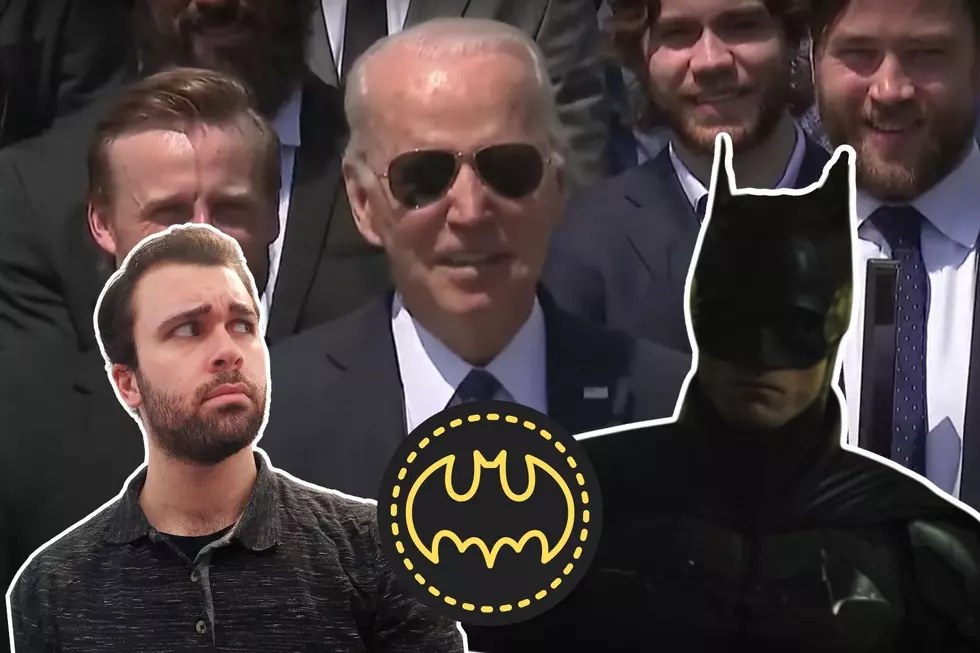 President Biden Thanks Batman During White House Speech
Canva, Canva Creative Studi, creativepriyanka, YouTube, Global News, Warner Bros. Pictures
We all know that President Biden has mispronounced names and places in the past, but this is easily my new favorite.
On Monday, April 25th, President Biden welcomed the 2020-21 Stanley Cup champion Tampa Bay Lightning team to the White House to celebrate their championship last season, along with their Cup victory in 2019-20.
During his speech, Biden donned his classic aviators and tried to crack jokes during the event as the Tampa Bay Lightning stood behind him. At the 1:20 mark of the first video below, Biden tries to thank NHL Commissioner Gary Bettman for being in attendance; however, it comes out "Batman." You can even see a few players chuckle in the background. You can watch majority of his speech below.
If you're like me and want to easily keep living the line over and over again, I found a clip of just that line.
President Biden, let's get one thing straight, Batman is not the commissioner. You got Commissioner Jim Gordon, Police Commissioner of Gotham City. Then you have Batman, the Dark Knight and protector of Gotham. And lastly you have Gary Bettman, Commissioner of the NHL. They are three separate people!
I'll give Biden some credit, "Bettman" and "Batman" are very similar names. I'm sure little Gary was called "Batman" a number of a times when he was a kid. Perhaps Biden was just excited to hear that The Batman sequel has just been confirmed with Robert Pattinson returning as the Caped Crusader with Matt Reeves returning to direct. The Batman is currently streaming on HBO Max.
Every Batman Movie Ranked From Worst to Best
Which Batman movie reigns supreme? We ranked them all.
The Batman: The Coolest DC Easter Eggs
Did you spot these hidden DC references in Matt Reeves' The Batman?
A Visual History of Batman