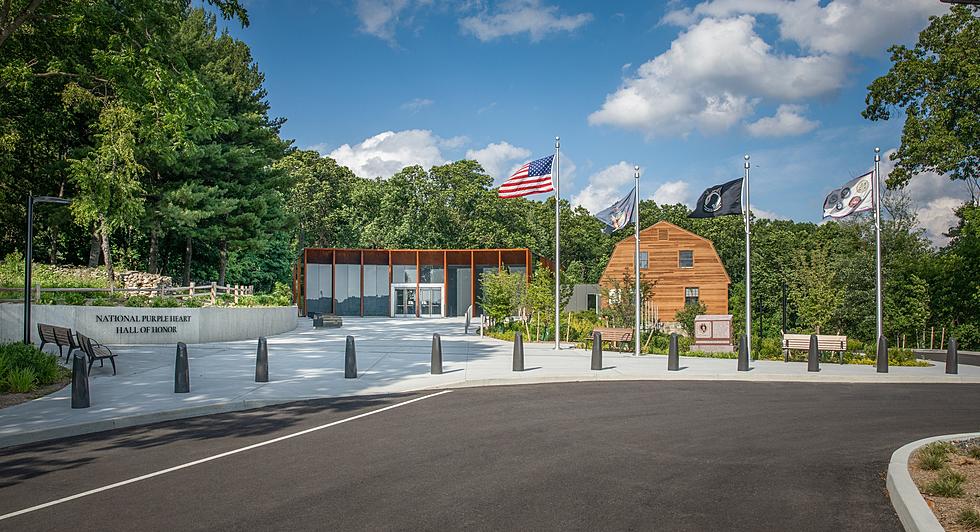 Did You Know the Purple Heart Was Created in Newburgh, NY?
National Purple Heart Hall of Honor, Facebook/Brendan Mcgibney
Did you know the Hudson Valley is home to the National Purple Heart Hall of Honor?
As many know, The Purple Heart is given to those who have been wounded or killed while serving in the U.S. armed forces. It's a "distinguished military decoration awarded in the name of the President" according to the Wounded Warrior Regiment website.
According to NationalDayCalendar.com, National Purple Heart Day falls on August 7th. And on August 7th of this year,  The National Purple Heart Hall of Honor shared the origin story of the badge with it's original roots in Newburgh, NY and created by none other than George Washington. They write:
Writing from his headquarters at the Hasbrouck House in Newburgh NY, George Washington's General Orders for August 7, 1782 created the Badge of Military Merit. It was to be a purple colored, heart shaped piece of cloth or silk, awarded for "singularly meritorious acts" and was the predecessor for the modern Purple Heart. The award was available only to enlisted personnel and conferred on the wearer the right to pass guards and sentinels as could any officer.

Washington wanted this to be a permanent award, but it fell into obscurity at the end of the Revolution. It took 150 years to make the award permanent, albeit with a different name: The Purple Heart.
The National Purple Heart Hall of Honor, located in New Windsor New York, mission is to "collect, preserve and share the stories of all Purple Heart recipients." Visits to the Hall of Honor are free and visitors can enjoy tours, programs and activities depending on the time of their visit. Learn more about events and visits at
ThePurpleHeart.com.
The National Day Calendar website
goes on to explain that since its creation, The Purple Heart has been 1.9 million Service Members who have earned The Purple Heart honor adding "It is the oldest U.S. military honor still bestowed upon service members today."
To all those before us who served and those who have received The Purple Heart, thank you for your service.
Have You Seen the Military Memorial on this Hudson Valley Hiking Trail?
At the top of the Popolopen Torne trail, in Orange County, you'll be greeted with a breathtaking military memorial.
28 Distinguished Historic Figures Buried at West Point Cemetery
New York State is rich in history. West Point Cemetery acts as a national historic landmark and the final resting place for 28 historic figures. From Medal of Honor recipients and Military leaders to astronauts and other Military heroes, their final resting place can be found right here in the Hudson Valley.
LOOK: 100 years of American military history