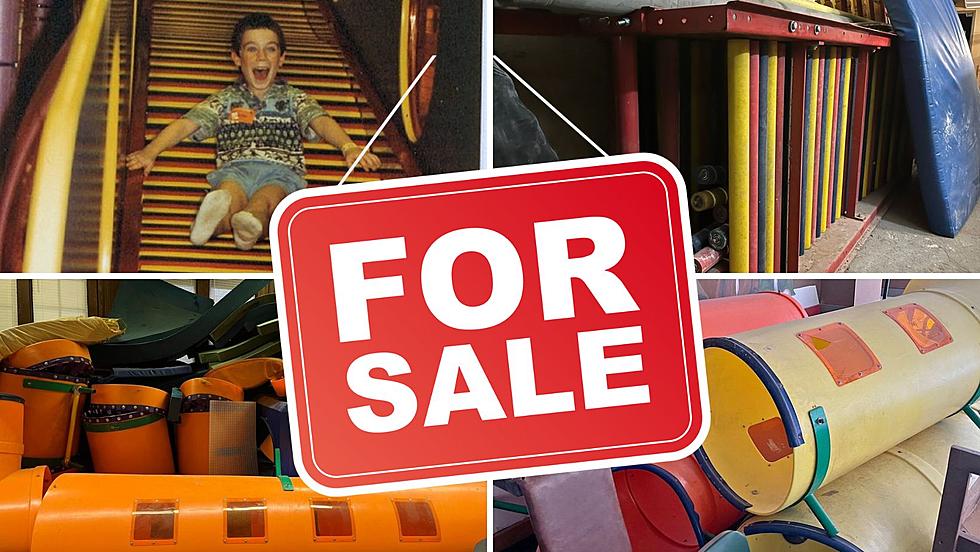 It's a 90s Kids Dream Come True! There's a Discovery Zone For Sale in Upstate, NY
Facebook Marketplace
If you grew up in the 90s, start saving. Not for a how, but for a piece of 90s kids paradise.
Remember Discovery Zone at The South Hills Mall in Poughkeepsie, NY?
There were a handful of places where a kid in the 90s would want to have their birthday party, but I think it's safe to say Discovery Zone was THE place to celebrate. I'm pretty sure I had my 5th birthday at the DZ at the South Hills Mall back in 1994.
The pizza and hot dogs were, chefs kiss, so delicious! Even if the place smelled like stinky feet.  Remember the commercial? The folks behind Discovery Zone knew what they were doing:
Sadly, Discovery Zone closed up their locations in 2001 after opening all the way back in October of 1989. Truly, life hasn't been the same since. But you can revive a piece of your childhood for a couple of thousand dollars. . .
Complete Discovery Zone Setup For Sale in Upstate, NY
While scrolling through Facebook Marketplace (you know you do it too) I stumbled upon the listing of every 90s kid's dream. A complete Discovery Zone play-place is for sale in the Rochester area.
In the listing, the sellers explain it's the Penfield, New York Discovery Zone which may have been one of the largest in the DZ chain. The listing states:
Complete Discovery Zone play place. Absolutely massive. Measures 30' x 40' and about 12' high when assembled. Goes together in modular sections so it can be seperated or only small parts of it can be used. Great turn key business if you have the space.
What I'm reading is you're probably going to need serious patience to put together that whole setup, but still how exciting!?
Discovery Zone Rebuild: How Much Does it Cost?
Now the listing is a bit confusing. How much is a complete Discovery Zone setup going to run you? Well, the first price we see on the listing is $6,000. That seems doable, right? Then further down the listing, the seller writes:
About $390,000, we purchased for 22k when DZ closed and it's been in storage ever since. There is way more than pictured.
Like I said, a little confusing. But if you're actually interested in purchasing a Discovery Zone setup, reach out to the seller on Facebook Marketplace.
Rediscover the Magic of Discovery Zone in Upstate, NY
Who could forget the iconic play place, Discovery Zone?! This might be a 90s kids' dream come true: a Discovery Zone is for sale in Upstate New York.
If you could bring back any store, restaurant, or entertainment venue from your childhood which would you bring back?
These 40 Flashback Images of the Galleria Will Make You Totally Nostalgic
The Poughkeepsie Galleria has gone through some major changes in the past 34 years. Scroll down for a trip down memory lane. How many of these stores do you remember shopping at?
18 Most Loved Stores and Restaurants in the Hudson Valley