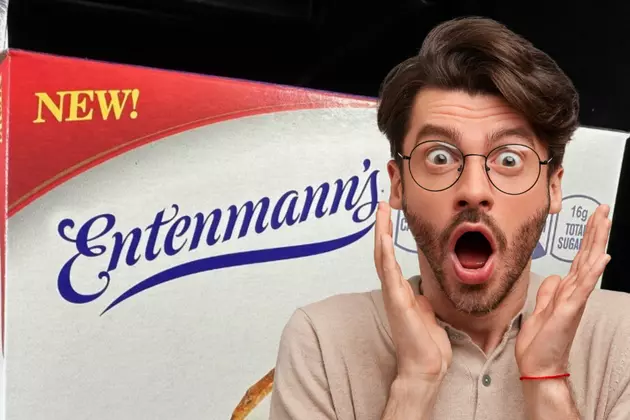 Entenmann's Quietly Releases New Product to Hudson Valley
A. Boris/Canva
A brand new Entenmann's treat has suddenly appeared on local store shelves and customers are grabbing them up quicker than they can remain in stock.
You have to hand it to Entenmann's. The baked goods brand is one of the few products that not only meet expectations but continues to surpass them. While other foods continue to shrink in size and scrimp on ingredients and quality, Entenmann's continues to look and taste exactly the same way I remember when I was a kid.
Entenmann's recently showed just how much it respects its customers by holding true to a promise to bring back the company's original packaging after a supply chain snafu. In 2021 the company was unable to get enough of its iconic boxes with clear plastic windows and had to switch over to solid boxes. Customers were not happy and Entenmann's apologized for the temporary issue, vowing to bring back its old box as soon as possible. While most companies would have been tempted to wait for customers to get used to the new boxes and just keep the cost savings going, Entenmann's delighted customers by honoring its promise by bringing back the more expensive packaging earlier this year.
Well, it looks like Entenmann's is surprising customers again by releasing a brand new product, and this time you won't find it at the end of the aisle with the company's other baked goods.
Just in time for summer, Entenmann's has released its own line of ice cream sandwiches. The company is offering six ice cream sandwich flavors that they say are inspired by their famous baked goods. The flavors are brownie cookie salted caramel; chocolate chip cookie; chocolate chip and brownie cookie; chocolatey glazed cookie donut chocolate; chocolatey glazed cookie donut salted caramel; and glazed cookie donut.
We spotted the ice cream sandwiches out in the wild this week. Three of the varieties were located in Walmart in Fishkill. We were able to find chocolate chip and brownie cookie, glazed cookie donut and brownie cookie salted caramel. The one we are really looking forward to, chocolatey glazed cookie donut chocolate, was already sold out even though Walmart's website said it was still in stock.
Have you discovered Entenmann's ice cream sandwiches yet? If so, what was your favorite flavor?
Top 9 Secret Menu Items You Can Order at Hudson Valley Restaurants
Did you know that many Hudson Valley restaurants have a "secret menu?" The next time you're at the drive-thru, you may want to order one of these little-known selections that may possibly be tastier than anything on the real menu.
See How School Cafeteria Meals Have Changed Over the Past 100 Years
Using government and news reports,
Stacker
has traced the history of cafeteria meals from their inception to the present day, with data from news and government reports. Read on to see how various legal acts, food trends, and budget cuts have changed what kids are getting on their trays.