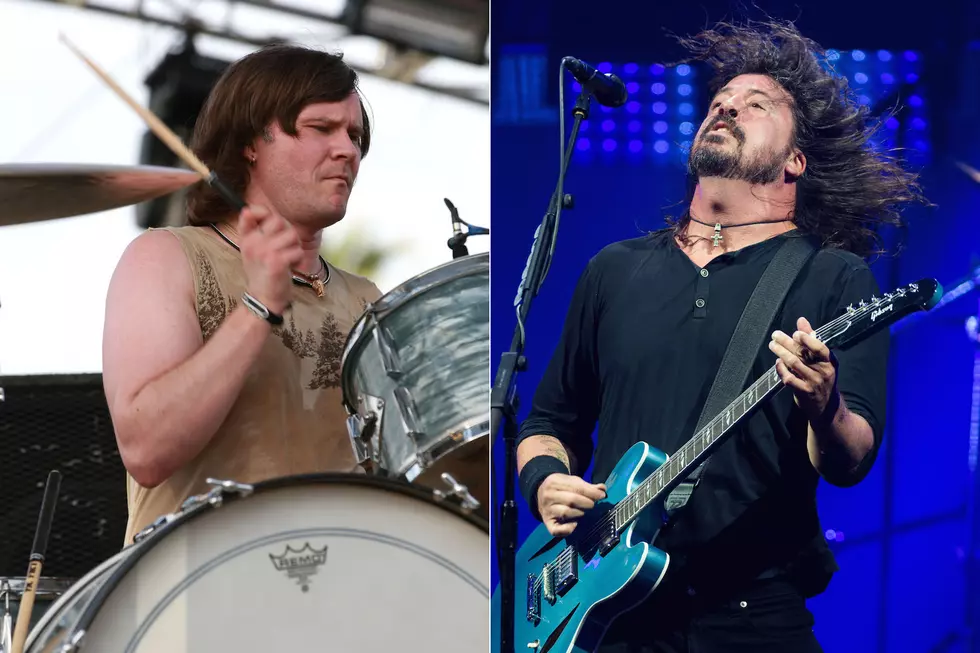 Ex-Foo Fighters Drummer Still Bitter at Dave Grohl Over 'The Colour and the Shape' Fallout
Karl Walter / Ian Gavan, Getty Images
Dave Grohl is considered one of the nicest guys in rock, but former Foo Fighters drummer William Goldsmith is not in Grohl's corner. Goldsmith is still miffed over the way his drum tracks were handled on the band's The Colour and the Shape album.
In a new interview with The Daily Mail, Goldsmith said he was hand-selected by Grohl to perform on the Foos' sophomore album, initially declining the invite as he felt he wasn't a good fit for the band. He explains that Grohl asserted that this was the very reason he wanted Goldsmith to play with the band, but after it was all over, the drummer expressed he wished he had never met Grohl. "That feeling might change if we actually sat down and talked. But that hasn't happened yet," he commented.
After working for "13 hours a day for three weeks" on his drum tracks, Goldsmith would later find out that Grohl had gone back and re-recorded just about everything. "Apparently Dave was going to re-record a few of the songs. I don't know if the producer told him to keep going, or what. But the next thing you know all of the work I had done was gone except for one or two of the tracks," the drummer stated. His drumming only remained on "Dolls," the slow intro to "Up in Arms" and the verses for "My Poor Brain" and he apparently was uncredited for the latter track.
Goldsmith mentioned he felt creatively "raped" by it all, going on to say, "It was a way of describing how it felt — when you put that much of yourself into something, and then without you even knowing, it is completely destroyed from existence." The skinsman felt that management wanted Grohl to lay down all the drums, adding, "I would have been cool if it had been half me and half him" or if these issues had been communicated.
Speculating why Grohl may have done this, Goldsmith hypothesized that the Foos mainman picked up the character trait after working with Kurt Cobain in Nirvana. "The impression I had got from people who were flies on the wall when Nirvana was recording was that Kurt had been very definite on what he wanted and Dave had to do it," said the drummer, also noting, "I think his inability to allow people to collaborate with him after that came from Kurt having things a certain way and him reacting to his frustrations."
Goldsmith would leave the band shortly thereafter despite Grohl asking him to stay on as a touring member. He then turned to substance abuse as a coping mechanism, but now he has a more positive outlook on how everything shook out. "The way I look at it now is if it hadn't have happened the records I made afterwards wouldn't have been made and I wouldn't have had the children I have." Focusing on his role as a dad, he's taken a hiatus from touring, explaining, "I'm not really going out touring because a father who goes out on tour and leaves there kids, that's not really being a father is it?"
Goldsmith says he only has a .01 percent royalty from The Colour and the Shape, receiving roughly $1,100 from the album every six months and that he was recently considering legal options that would increase his royalty payments.
Taylor Hawkins went on to join the Foo Fighters right before the release of The Colour and the Shape in 1997 and has remained with the band since. They'll be releasing Concrete and Gold, their ninth studio effort, on Sept. 15, having already issued "Run" as an official single, and debuting "La Dee Da," "Dirty Water" and "Sunday Rain" live.
10 Awesome 'Good Guy' Grohl Moments