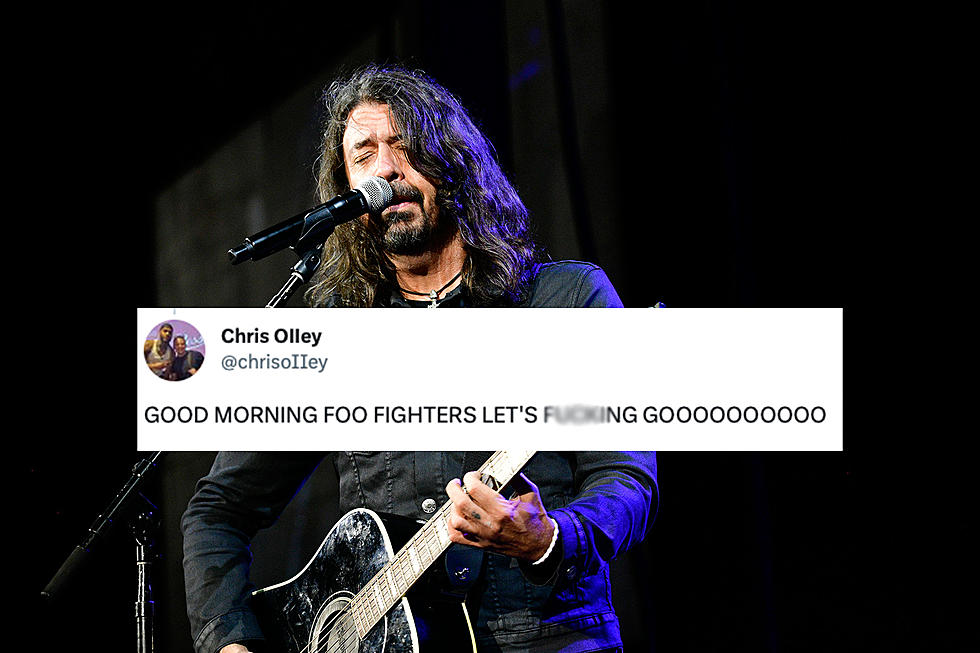 Fans React to Foo Fighters' Comeback Song 'Rescued'
Eugene Gologursky, Getty Images / Twitter - @chrisoIIey
Although Foo Fighters have been posting some song teasers over the last week, they still surprised us when they dropped "Rescued" this morning, which is their first new song since the death of Taylor Hawkins back in March of 2022. Obviously, their fans are freaking out, and have been sharing their reactions to the new song on social media.
Not only did Foos release a new song, but they've also announced their 11th studio album, But Here We Are, which serves as the follow-up to 2021's Medicine at Midnight and will be out June 2. You can pre-order the album now with this link, and check out the lyrics to "Rescued" at this location.
We don't actually know who plays the drums on "Rescued," on the rest of the upcoming album or who'll sit behind the kit when the band goes on tour. Since the first teaser for the track was posted, many Foos fans have theorized that it sounds like Dave Grohl playing the drums on the song, but even if so — that doesn't give us any ideas as to who will play them live.
READ MORE: 12 Drummers Who Could Fill in for Foo Fighters' Taylor Hawkins on Tour
Foo Fighters issued a statement at the start of this year assuring that they were going to be carrying on as a band, so there's no doubt that the start of this new chapter is a sentimental time for them, as well as their fans.
"A part of me truly thought we would never get a new Foo Fighters song let alone a whole new album and yet... through it all, they did it. I've never been more proud of this band and of Dave Grohl," one fan wrote on Twitter, while another called the track "incredible" and added that it's "the best song they wrote in years." While most of the reactions on Twitter have seemed positive so far, there have been some negative, with one person noting that they made it a minute and four seconds into the track before stopping it.
On Reddit, the conversation has been mostly positive, too, with most listeners noting how emotional they felt while playing it.
"I'm gonna take a shot in the dark and say Dave is playing drums on the album. I don't believe they'll bring in a full-time replacement for Taylor for obvious reasons. Also, this is exactly the kind of song I was hoping for. I get [In Your Honor] meets [Sonic Highways] vibes," one individual said.
"As someone who loves older music, I often get upset that I'll never get the feeling of being able to listen to an incredible piece of newly released music. I'm so glad the Foo Fighters can prove me wrong though," another added.
See more reactions below, and get tickets to the band's upcoming tour, which kicks off May 24, here.
Welcome back, Foo Fighters.
The 12 Songs Foo Fighters Have Never Played Live
These are the only songs Foo Fighters haven't played live with their diverse tour set lists.