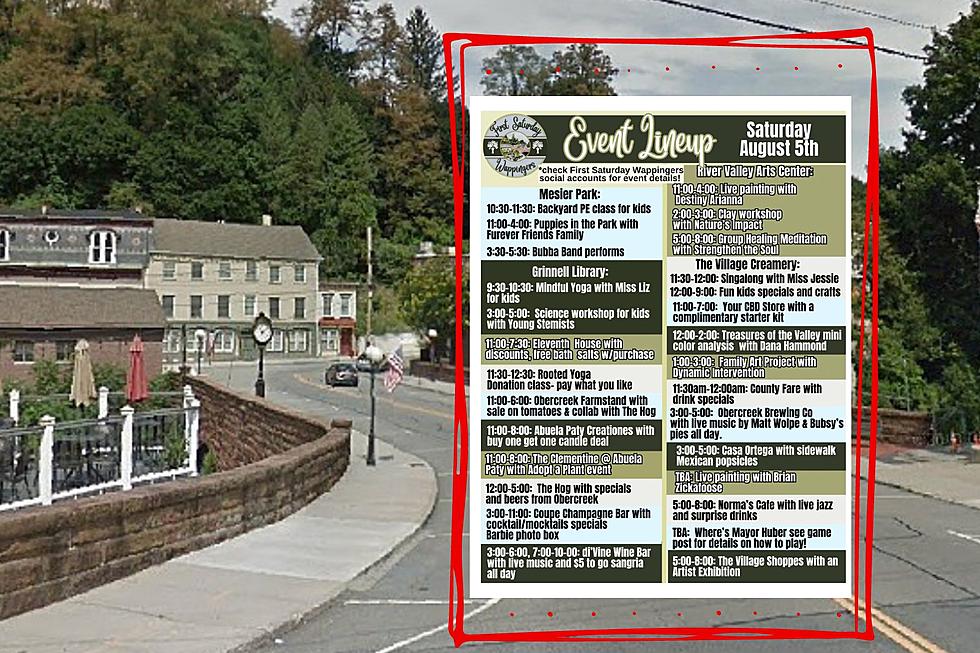 First Ever First Saturday Slated For Wappingers Falls August 5th
First Saturday Wappingers, canva, google maps
If you've been in or around the Hudson Valley for a while, you'd probably agree that the Village of Wappingers Falls has transformed over the past several years, and in a great way, too.
New businesses and locally owned shops have opened their doors, reimagining feel of the Village and really building a name for itself.
This weekend will mark a pretty significant step for Wappingers, as they kick off their first ever First Saturday event.
First Saturday Wappingers Launches Monthly Event Series
News has been circulating over the past few weeks about the inaugural events on Saturday August 5th to officially kick-off First Saturdays, and the lineup seems to be growing by the day.
The event lineup for Saturday August 5th is outstanding, with family friendly events and unique offerings throughout the village for more than 10 hours.
Businesses are offering specials, raffles, and discounts, studios offering yoga, local residents will be facilitating kids activities and crafts, various live music performances, art displays, an opportunity to spend time with the Mayor, and there's even a Barbie photo booth!
An up to date listing of the events with further details can be accessed here, but you can take a peek at the lineup below:
Inspiration Behind First Saturday Wappingers Community Events
Anyone who has attended large scale community events can likely see how much behind the scenes work goes into making something of this caliber a success.
The main force behind First Saturday Wappingers is none other than Corrinne, owner of The Hog in the Village. Corrine shared that the Village is home to so many tremendous small businesses and entrepreneurs, and with such a large growth in the last year, they felt it was time to showcase what it has to offer.
We took a cue from our neighbors in Poughkeepsie and Beacon, and created a day unique to Wappingers. We're so excited to see everyone come together- from the OG brick and mortars, to the new guys on the block, to the online businesses, pop ups , and artists. We're also super excited to have our mayor, Kevin Huber, participate in a fun Village wide, "Where's Mayor Huber?" raffle game! We really do have something for every interest, and fun for the kids as well!
Corrinne can't do it all alone though, she's working with a group of volunteers including Courtney Kolb of Wappingers Rises.
Courtney has been creating opportunities to connect the Village of Wappingers and surrounding communities for years, and does a great job connecting locals with all that Wappingers has to offer. In speaking about the first EVER First Saturday events, Courtney shared the following:
I am so excited because this is the first time the business association worked with the local business owners to organize a recurring event that makes sense for all ages!!!! Having the business owners like Corrinne and others take the lead makes a lot of sense
As a Wappingers resident, I'm stoked that the Village will have something this fun and inclusive to look forward to. Will you attend any of the inaugural events this weekend?
State of The Art 'Smart Apartments' Available For Rent in Wappingers Falls, NY
Amazing views and decked out in smart appliances, the West Main Lofts in Wappingers Falls will be the hottest spot to live in Dutchess County.
Norma's Corner Shoppe Coming to Wappingers Falls
The wildly popular Brooklyn bakery cafe is headed to the Hudson Valley. Here's a peek at what to expect from their menu when they open up in the Village of Wappingers.