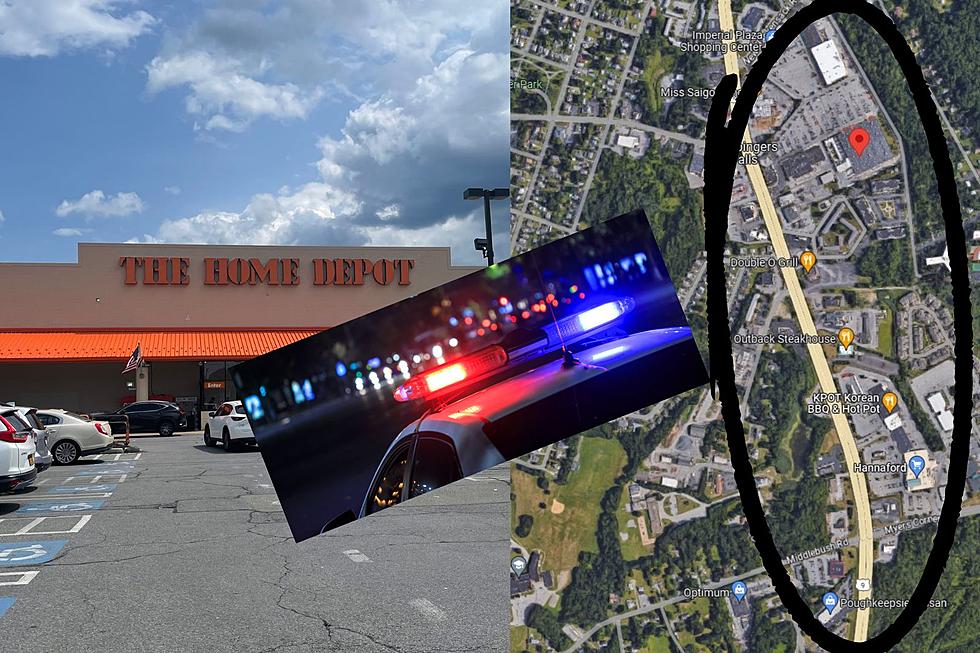 Attempted Robbery in Wappingers Falls Leads to High Speed Chase
CJ/Google maps
A high-speed police pursuit started in Wappingers Falls, NY on Tuesday after suspects allegedly robbed a store.
At approximately 2:30 p.m. Tuesday (8/29) police in Wappingers Falls received a report that an alleged robbery had just occurred at the Home Depot store off of Route 9. As officers responded the alleged suspects fled in a vehicle that led police on a high-speed chase that resulted in multiple car crashes along the way according to sources.
Attempted Robbery of Home Depot in Wappingers Falls
Police are currently investigating what sources are telling us was an attempted robbery of the popular Home Depot store located in the Imperial Plaza Shopping Center on Route 9. Sources say that multiple suspects allegedly entered the store and attempted to rob it. As with most active investigations, police haven't released many details about the attempted robbery but according to numerous drivers across the Hudson Valley, the suspects fled in a car that led police on a long multi-town car chase.
High-Speed Pursuit Covers Multiple Hudson Valley Towns
Witnesses at the scene have told us that as police responded to the robbery the suspects fled in a car and police began to chase them out onto Route 9. The high-speed pursuit led numerous police cars through Wappingers Falls into Fishkill and then onto 84. Drivers have reported that the suspect's car did hit several other cars throughout the chase resulting in several car crashes along the way.
Police Deploy Spike Strips
As the suspects drove east on 84 police reported radioed ahead to fellow officers assisting in the pursuit to deploy spike strips according to a post in the Beacon Facebook group. The post said
"State police deploying spike strips on the Taconic right before the 84 merge."
Spike strips are what police use to safely deflate the tires on cars that refuse to stop for police. Police didn't say if the suspect's car hit the spike strips or not but according to drivers in the area at the time the pursuit came to an end on 84 and the suspects were taken into custody.
When more details become available about this incident we will update this article.
Are These the 5 Rudest Hudson Valley Towns?
Five towns that have been nominated as the rudest!
7 of the Best Places to Get A Car Wash in Dutchess County
Car washes that are located in Dutchess County.