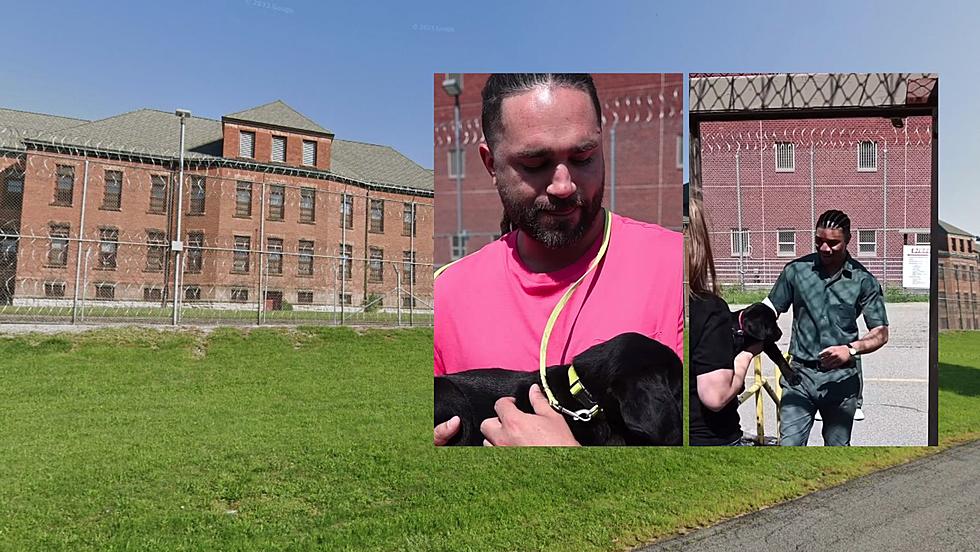 Puppies Arrive at Fishkill, NY Correctional Facility to Begin Their Working Dog Journey
Google Maps/ The Dogist, Instagram
An organization is working with inmates in the Hudson Valley to raise working dogs.
Earlier this week popular dog account The Dogist followed a group of puppies as they entered a new stage in life at Fishkill Correctional Facility in Beacon, New York.
Puppies Head To Fishkill Correctional Facility in Beacon, NY
Puppies Behind Bars is a non-profit organization out of New York City and according to The Dogist they are working to train incarcerated individuals to "raise working service dogs for war veterans and first responders, facility dogs for police departments, and explosive-detection canines (EDCs) for law enforcement."
These dogs enter the correctional facilities when they are 8 weeks old and will live with their incarcerated puppy-raisers until they are 2 years old. Then from there, the dogs will go on to train to become working service dogs as mentioned above.
The Dogist goes on to explain just how important this partnership is, not just for the puppies but for those incarcerated individuals as well.
They write:
Through their program, they create hope for incarcerated individuals wanting to turn their life around, hope for wounded war veterans struggling with PTSD, support for police departments so that they can be more accessible within their ranks and to their outside communities, and support for bomb squads across the US that they can stop tragedy before it strikes.
Watch the video below as the future working dogs get paired up with their  incarcerated puppy-raisers:
Puppies Behind Bars Raising Money in September 2023
The Dogist will continue to feature Puppies Behind Bars as they work to raise money for the New York-based organization since they do not accept government funding. Throughout the month of September Puppies Behind Bars is working to raise $10,000 which will go directly to help in raising of the puppies as well as "covering the costs of veterinarian care, dog food, bowls, toys, leashes, crates, other supplies and training."
If you're interested in donating and learning more about Puppies Behind Bars visit them online at PuppiesBehindBars.com or check them out on social media. 
The K9 community in the Hudson Valley is powerful. Take a look below as one Saugerties community comes together to say goodbye to one of their own, K9 Max:
Emotional Goodbye: K9 Max's Final Walkout with the Saugerties Police Department
Supporters lined up to say goodbye to the K9 who was diagnosed with an aggressive form of cancer back in April.
Hudson Valley Dog Day Date
Treats are cool, but have you ever spent the whole day with your pup exploring the Hudson Valley? Check out these 10 places to take your pup on a cute dog date!
The Ridiculous Reasons Why These Wappinger Falls, NY Rescue Pups Aren't Getting Adopted
Have you heard of Black Dog Syndrome? BDS is, according to Petfinder, "When black-colored dogs spend more time waiting for their new home than their lighter-colored kennel mates." And it seems to be a current issue animal rescues in the Hudson Valley, like CARE of DC, are experiencing.