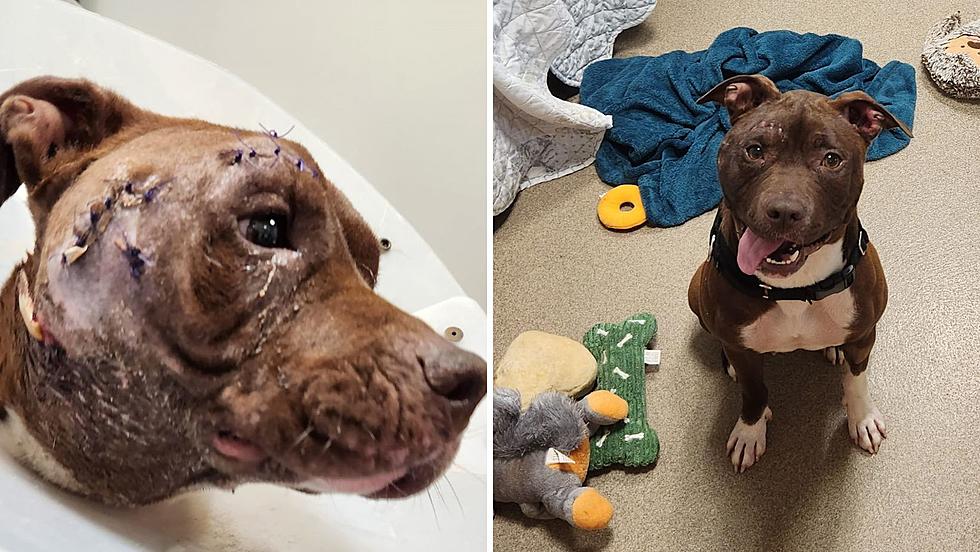 Justice For Zola: Sullivan County Animal Rescue Fights for Abused Pup
Joanne Gerow
A local animal rescue in Sullivan County is making its voice heard and looking to get justice for a dog named Zola.
Monticello Man Observed By Police Injuring Dog
On May 31st, a story broke about a Monticello man who was accused of abusing a dog in public. According to Hudson Valley Post, Monticello Police observed 24-year-old Samuel Stanford of Monticello "aggressively slamming a female Pit bull dog against the pavement and then using his feet to stomp on the dog."
Monticello Police Officer Darius Buckner responded to the call, exited his police vehicle, and immediately arrested Stanford and charged him with aggravated cruelty to an animal. Aggravated cruelty to an animal is a class E felony under the NYS Agriculture and Markets Law.
With that being said, the man was released with an appearance ticket under New York State bail reform guidelines. And a Sullivan County rescue was none too pleased with that bit of information.
Sullivan County Takes Action to Find Justice For Abused Pup
Joanne Gerow, founding President and Director of Catskill Animal Rescue, jumped right into action as soon as she received word about Zola and her condition. Gerow wrote in a Facebook post on May 31st:
This perpetrator walked on an appearance ticket. I am sickened beyond words at NYS's leniency on crime and that a person can literally beat an innocent animal causing this level of injury and have no immediate consequence, no guarantee of appearance and no protection of our community provided! Governor Hochul should be ashamed and New Yorkers should not allow this to continue. We are perpetuating crime, not deterring it. Misdemeanor cruelty used to be a bail offense, now felony isn't a bail offense. We are headed in a very bad direction.
We spoke with Gerow who told us that Zola suffered from a broken cheekbone, multiple lacerations, road rash, 2 broken ribs, and other internal trauma. In her line of work Gerow has seen animals living in deplorable conditions she adds "Most of the cases I deal with are neglect when a dog is neglected it's hard to prove the intent required for a felony. This case clearly rises to meet the requirements for felony cruelty."
She adds that seeing Zola's injuries was "horrific to me." Not only is Joanne Gerow the founding President of the Catskill Animal Rescue, but ACO for Fallsburg Police Department, Constable for the Town of Liberty with specialized training in Animal Cruelty Investigation, and also contracts with the Sullivan County Sheriff's Office in regard to Animal cruelty cases.
After her initial injuries, Zola was seen by Dr. Scott Quick at Quality Pet Care in Monticello where it took her 4 days to stabilize.
Gerow is working to rehabilitate Zola with many surgeries and visits to the vet, she's also brought Zola into her own home telling us that the shelter is not the best place for Zola to heal. Not only is she doing all of that, but she also created the Justice for Zola movement in hopes of raising awareness in regard to bail reform since Zola's accused abuser was given just an appearance ticket. She tells us "We need to revisit the bail reform it's almost like we went backward instead of forwards."
Rally For Zola at Sullivan County Court House
An arraignment was scheduled at the Sullivan County Court House on Wednesday, June 21, 2023. So, Gerow organized a rally outside the courthouse. Animal lovers from near and far showed their support and  Acting DA and animal lover Brian Conaty came to show his support for the movement as well. Conaty has been working with Catskill Animal Rescue and the Justice for Zola movement since the incident and has been working hard to assure animal abusers are held accountable.
It looks as though Gerow and the Justice for Zola team are making an impact. At the arraignment, the Judge ordered Stanford back to court and to refrain from any contact with animals. Joanne adds "The main thing is that Zola's injuries are not in vain and there's justice at the end."
You can help Zola's fight by donating to the Go Fund Me page set up by Joanne.
The Ridiculous Reasons Why These Wappinger Falls, NY Rescue Pups Aren't Getting Adopted
Have you heard of Black Dog Syndrome? BDS is, according to Petfinder, "When black-colored dogs spend more time waiting for their new home than their lighter-colored kennel mates." And it seems to be a current issue animal rescues in the Hudson Valley, like CARE of DC, are experiencing.
10 of The Top Rated Dog Parks Across the Hudson Valley
Looking for a change of scenery with your pup? Check one of these top-rated dog parks located right here in the Hudson Valley according to Google Reviews.
13 PAW-fect Dog Friendly Bars and Restaurants in Beacon, New York
These 13 PAW-fect Beacon businesses allow you to bring your pup along for fun times with friends and family.