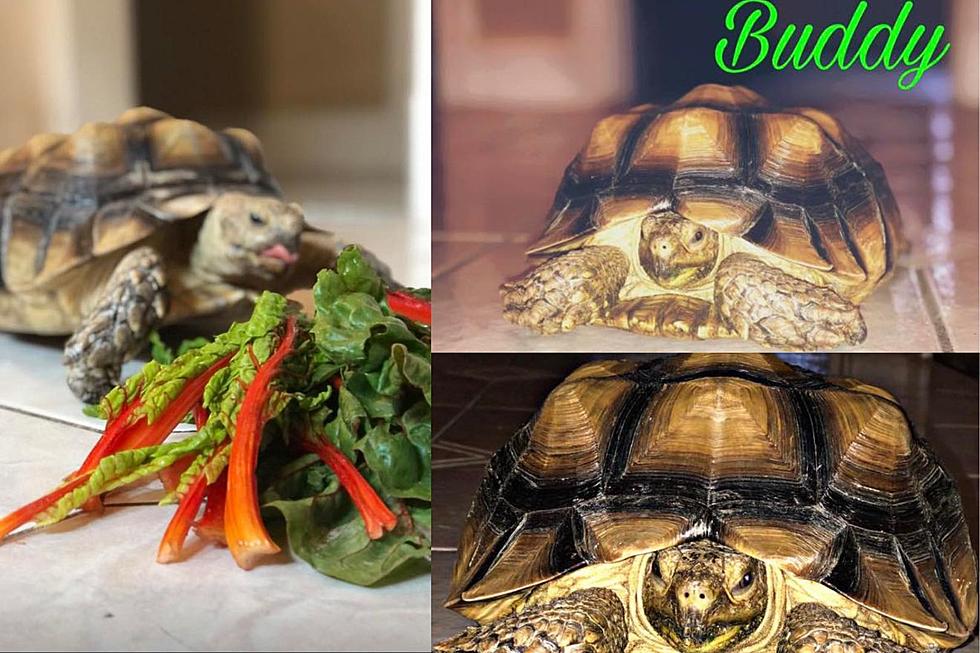 Lost Hudson Valley Tortoise Found After 9 Days
Kelle
"Buddy" the tortoise went missing over a week ago, and now his owner has an incredible update!
Last week we shared the story about "Buddy" the lost tortoise that went missing about a week ago in the Orange County town of Montgomery, New York. Not only did we share Buddy's story but he was also featured on one of the Hudson Valley's popular lost pet Facebook groups "Lost Pets of the Hudson Valley". It seems that all that "sharing" has made a difference according to Buddy's owner.
Lost Tortoise Found in Montgomery, New York
Buddy went missing 9 days ago in Orange County and as soon as his owner Kelle realized he was gone she jumped into action. She covered social media with pictures, told everyone she knew, and even offered a $100 reward for his safe return. All of that work has paid off as we are happy to announce that Buddy the lost tortoise has been found safe and sound according to Kelle.
Buddy Found & Returned
It was around 5:30 p.m. on Sunday, June 11th, when Kelle told us she received a phone call from a man who thought he might have found her lost "Buddy". Kelle told us that the man was mowing his vacant land about half a mile from where Buddy was last seen and as he was mowing, he saw a tortoise in the area. He stopped mowing to investigate and after looking at the tortoise and talking to his daughter about it they contacted Kelle.
Kelle said that the gentleman's daughter was following the story on social media and knew right away that they found Buddy so they called. What did being gone for 9 days do to Buddy? Kelle told us that after she was reunited with Buddy, "He was dusty & covered in dirt but he was safe". She also shared that he was starving and was treated to a feast of "leafy stuff" once he was cleaned off.
Thank You Message
Here is what Kelle and Buddy posted on social media after he was found...
"Update: At 5:30 tonight I received the best phone call -" I think we found your Tortoise " 9 long days - he was aired on the radio station, posted all over social media, local police, animal control, and what seems like a gazillion people calling, texting, emailing - pitching in to find Buddy - he is dirty, hungry, and tired but he's safe and home 🐢💙"
Kelle also asked us to thank everyone and shared her
"most heartfelt thanks to everyone who was looking for him the last 10 days, he turned 11 while missing and we are so very grateful to have him home - it really does take a Village❤️ Forever grateful Kelle & Buddy."
Motherless Cubs "In Good Shape" Thanks to Hunter, NY Wildlife Center
Remeber the 2 bear cubs found in Pawling, NY without their mother? Things are starting to look up for them!
Tour Bannerman Island This Spring in the Hudson Valley
From May until October, Bannerman Island will host tours and fun events giving Hudson Valley residents and those visiting an experience of a lifetime.