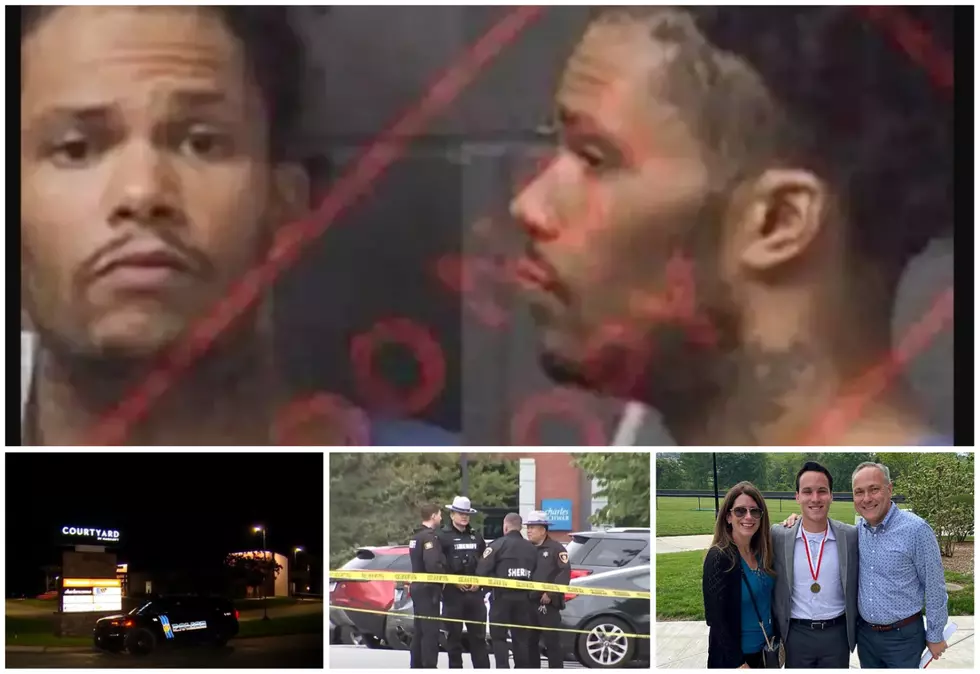 Verdict: Hudson Valley Man Murdered Long Island Father Visiting Marist Son
Dutchess County Jail/Facebook/Nathalie Landrein Kutz/NBC
A jury came to a conclusion in a Hudson Valley murder case that "devastated" a New York family.
A verdict was announced in the "Courtyard Killer" case in Poughkeepsie, New York.
Guilty Verdict In Death Of Long Island Father In Poughkeepsie, Near Marist College
Dutchess County Chief Assistant District Attorney, Matthew A. Weishaupt, announced Roy Johnson was convicted on Friday by a Dutchess County jury of the crimes of murder in the second degree, for the murder of Paul Kutz.
On Sunday, Oct. 2, around 7:30 a.m., the Town of Poughkeepsie Police Department received a 911 call of a disturbance at the Courtyard Marriott located at 2641 South Road in the Town of Poughkeepsie.
During the phone call, it was reported that shots had been fired.
More Charges For Poughkeepsie Man Who Killed Marist Father
For all the news that the Hudson Valley is sharing make sure to follow Hudson Valley Post on Facebook, download the Hudson Valley Post Mobile App and sign up for the Hudson Valley Post Newsletter.
Johnson was also convicted of three counts of criminal possession of a weapon in the second degree, criminal possession of a weapon in the third degree and reckless endangerment in the first degree.
Johnson was acquitted of the attempted murder charge related to the worker in the bistro area of Courtyard Marriot in the hotel's lobby.
"The Kutz family has been devastated in a way that we cannot comprehend nor change, but we hope this verdict will in some small way provide the family with the ability to move forward," Weishaupt said.
Johnson was sent to jail without bail. He faces 40 years to life in prison when sentenced.
Devin Taylor, 26, was also involved in both killings. Taylor recently pleaded guilty to murdering Villani and pleaded guilty to gun possession in the shooting that killed Kutz.
Nearly 40 Children Have Recently Gone Missing From New York State
25 Must Try Hudson Valley Dining Experiences
We compiled a list of 25 great dining experiences that you should try in the Hudson Valley!
Did You Know? Over 100 Fun Facts About the Hudson Valley
Did you know that Lucille Ball made her stage debut in the Hudson Valley? How about Philadelphia Cream Cheese wasn't invented in Philadelphia, but in Orange County? Or that a mansion in Dutchess County inspired the expression "keeping up with the Joneses?" Find out about those and over 100 other fun facts about the Hudson Valley.