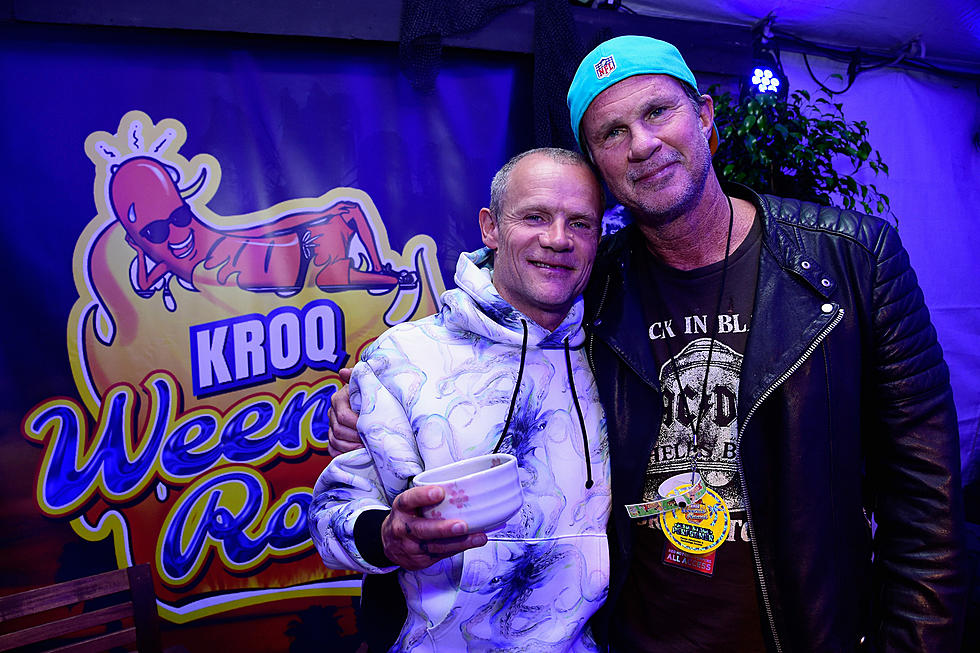 Red Hot Chili Peppers' Flea Reveals He + Chad Smith Surprisingly Don't Hang Out Very Often
Frazer Harrison, Getty Images
Within most friend groups, there are usually certain friends that are more personally closer than others and a variety of dynamics that play out, and the same holds true of many bands as well. While speaking with producer Rick Rubin on his Broken Record podcast (heard below), Red Hot Chili Peppers bassist Flea revealed that his relationship outside of the band with Chad Smith is perhaps not as personal as it is with his other bandmates, which is not to suggest they're not friendly but rather that it has its own different dynamic.
You often think of the great chemistry of a rhythm section and there's no doubt that Flea and Chad Smith are two of the best players at their respective instruments. But in the new interview with Rubin, Flea breaks down a bit of the interpersonal relationship dynamics within the band.
"With Chad, It's funny because my relationship with Anthony is very personal, and very much brother-like, and my relationship with John is also very personal, very emotional, very intuitive, very connected. But my relationship with Chad is that we don't hang out outside of the band, never have, I've probably been to his house once, It's like this different thing," says Flea.
"It's just this very grounded, rhythmic thing, there's no bullshit about it. Not that the other ones have bullshit on about it either, but it's just like, we get down, we look at each other, and that's how we talk," he explains. "Very rarely do we speak about emotional things, about spiritual things, even things that trouble us or things we aspire to. It's just, we get down and fucking hammer out some grooves [laughs]."
While that dynamic is great within the band mindset, the bassist recalls it once left him in a bit of an awkward place at one of Smith's past birthday gatherings. "I remember, It might have been Chad's 50th birthday, 10 years ago or something. His wife went and had somebody come and film everybody talking about Chad for his birthday thing. And I remember feeling weird because I was like, 'Well, I don't talk with Chad personally about stuff,'" recalled Flea. "I almost was embarrassed, because… there wasn't this other thing, and I kind of said, 'Look, Chad and I, we don't really speak emotionally about these things that I would normally talk about under these circumstances. We talk by playing, we talk by looking at each other and knowing when to lay back into a groove or knowing when to lean forward, and knowing when to sit right in the middle, or knowing when he should lay back and I should lean forward or vice versa.'"
"Like all these intricacies of rhythm, which color a song so profoundly ... And we do all this stuff just by looking at each other," added the bassist. "Afterwards, I was like, 'Why the fuck should I feel like that's less significant than speaking or talking about our fucking inner child or some shit.' Like, that is a beautiful conversation that Chad and I share, and I'm so grateful for that. That's the way that we are, and that's what it is, that's awesome."
That awesome relationship has been locked in since 1988 when Smith took over behind the kit from Jack Irons. Smith first appeared on the band's 1989 album Mother's Milk, and has been with the group throughout their period of mainstream success and is a big part of why the Chili Peppers are now Rock and Roll Hall of Fame members.
Smith, Flea, Anthony Kiedis and John Frusciante recently returned with their Unlimited Love album and the chart-topping single "Black Summer." After a May 1 appearance at the New Orleans Jazz and Heritage Festival, they'll kick off a European tour in June. See all their scheduled tour dates here.
Flea Speaks With Rick Rubin's Broken Record Podcast
15 Sets of Rock + Metal Best Friends