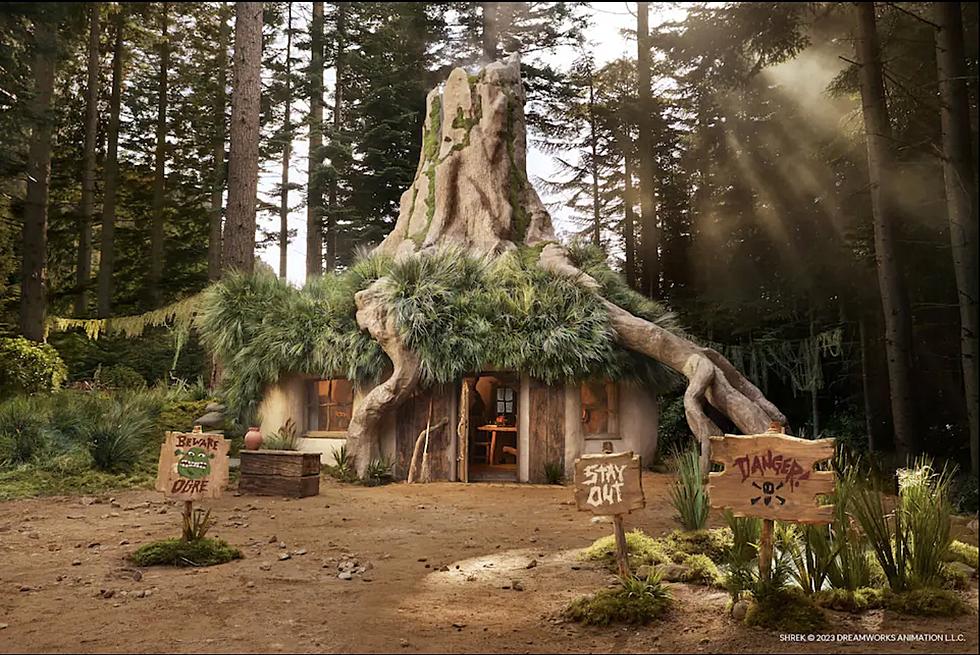 Cheapest New York Flights to Travel Far Far Away to Shrek's Swamp [PICTURES]
Airbnb / Ardverikie Estate / Universal Studios Licensing LLC / Highland Council, Scotland, United Kingdom / Entire home hosted by Donkey
Shrek is love. Shrek is life.
Okay, let's maybe not go that far (IYKYK), but the 2001 smash hit Shrek forever changed the animated movie landscape. It's use of computer graphic animation ushered in a new era of animated filmmaking. Plus, its satirical nature went on to inspire media of similar humor, and led to a whole generation of sarcastic jokesters. And of course, meme culture would never be the same.
Fans young and old have dreamed of finding ways to relive the magic with special movie screenings, Shrek Karaoke, Shrek Raves (I am not kidding), and more. Now, people can actually spend a night in Shrek's iconic swamp. And in the morning, their making waffles.
Somewhere outside the forests of Far Far Away lies a swamp. And instead of someone telling you to "Get out of my swamp!" you are actually welcomed! Airbnb has successfully recreated Shrek's Swamp with bookings opening in October 2023; however, you may need the help of a fairy god mother to reserve a time.

Starting October 13th at 1pm ET, you will have your chance to request to stay the night in Shrek's abode. The booking dates; however, are only for October 27th through 29th for one, two-night stay for up to three guests. The cost for booking Shrek's Swamp is $0, with Airbnb noting in a press release that the company will make a one-time donation to HopScotch Children's Charity.
Though this feels like a contest, Airbnb claims it is not a contest. Those lucky enough to nab the chance to stay in Shrek's home will have to pay for their own travel. This is not the first time Airbnb has offered fans once-in-a-lifetime opportunities to stay in iconic homes. They have offered recreations of Barbie's Malibu Dreamhouse, The Fresh Prince of Bel-Air's Mansion, a night in the last remaining Blockbuster, and the McAllister house from Home Alone. 
How to Get to Shrek's Swamp from the Hudson Valley
So, where is this swamp that is far far away? It's in Scotland of all places, going in line with Shrek's iconic accent. So yes, Scotland is a hike from the Hudson Valley. As it was said, the Airbnb is free, but you would have to pay for the travel costs.
As of now, you can fly into Scotland on October 27th for as low as $567 into Inverness from JFK or $707 into Edinburgh from JFK. If you were to leave from Newark Liberty International Airport in New Jersey, you could land in Aberdeen for $667. You could also look into flying into Newcastle, England and then traveling north. If you did that, you are looking at about $662 by flying out of JFK.
You don't have to be royalty to pay those prices; however, you certainly can't afford that on a measly ogre's salary. Keep in mind, this is a once-in-a-lifetime opportunity to live out a childhood fantasy while exploring the wonderful countryside of Scotland.
Keep scrolling to see how well Airbnb was able to recreate the iconic swamp!
How to Spend a Night in Shrek's Swamp This Halloween Weekend
Travel to a swamp Far Far Away and live a childhood dream of living in Shrek's swamp for a couple of nights. And in the morning, Donkey's making waffles!
You like that, should see this Gingerbread House for sale in New York. I guess Gingy is moving elsewhere. Perhaps he found a really good spot of Jewellery Lane next to the Muffin Man.
The Famous New York "Gingerbread House" is For Sale
This historic landmark is more than meets the eye! Check out photos from one of the most unique multi-million dollar listings in New York