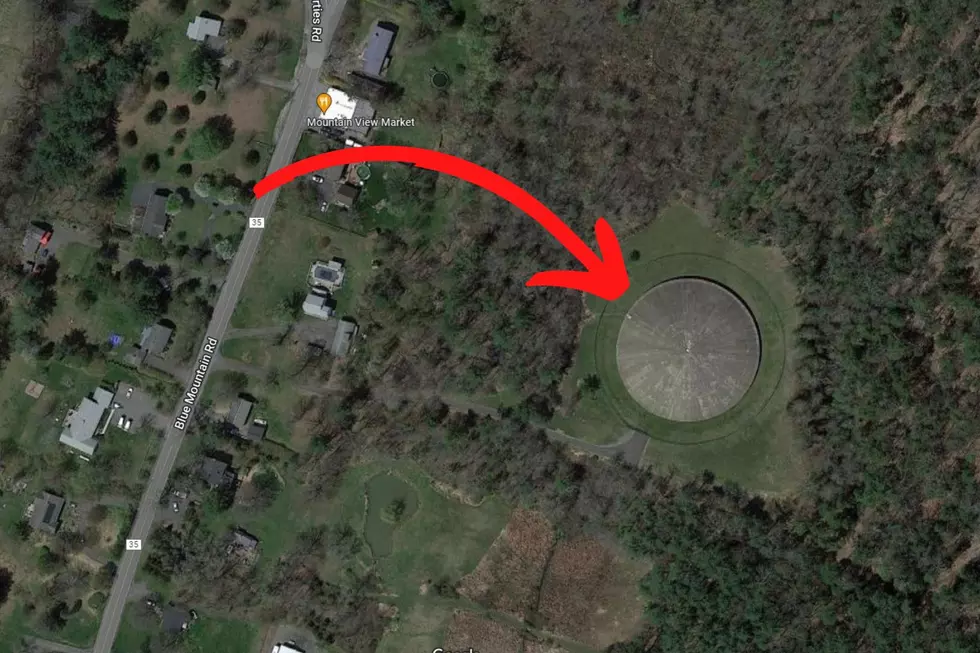 Massive "Spaceship" in Saugerties, New York Explained
Google
There's nothing like a good Hudson Valley mystery, and a recent question from a Saugerties, NY resident has the whole neighborhood talking.
The deep history in our corner of New York State means that there's a question to be answered around nearly every corner. Just weeks ago, the truth behind mysterious markings near Fishkill, NY that looked like a mix between crop circles and Stonehenge was finally revealed to be relics of a long-closed resort from the 1970s. Something very different has people scratching their heads in Saugerties, NY.
"Hey does anyone know what this HUGE concrete spaceship is in Blue Mountain?", came the question in the Saugerties Village Facebook page. The attached photo (below) showed a massive concrete sphere (which kinda does look like the top of a subterranean spaceship) just off of Blue Mountain Rd. in Saugerties, NY. Residents had answers.
"Mystery" Silo in Saugerties, NY
"It is where Elvis has been for a long time", offered one clever commenter. "Men in Black training facility", theorized another. Unfortunately, as with the previously-mentioned mystery in Fishkill, NY, aliens were not involved... but the government certainly was.
The Water Distribution System in Saugerties, NY
"Water holding tank", came the first correct answer. "It is a storage tank to hold water in the event that something prevents drawing water directly from the reservoir, like when the creek is excessively high and muddy, etc.", elaborated another. From the Village of Saugerties:
The most important improvement made to the Village's [water] distribution system was made in [the spring of] 2000... on a new three million gallon water storage tank off of Blue Mountain Road.
Saugerties' Massive Water Storage Tank
Construction of the tank was completed in November of 2000, and the village said it instantly "increased the storage capacity of the Village's system by 2100%, enhanced fire protection for Village and Town residents...  and allowed plant operators to shut down the water filtration plant during emergencies and for routine maintenance."

The search for more oddities is always active in the Hudson Valley. Check out the abandoned zoo that local explorers came across in the wilderness below, and keep scrolling to check out the best 5 hikes that feature some more cool abandoned relics in the woods.
Abandoned Warner Bros. Zoo Discovered by Hikers
Back in the 1970s there was a Warner Bros. zoo and theme park near Greenwood Lake, and its ruins can still be found rotting away in the woods.
6 Hikes To Explore Abandoned Ruins in the Hudson Valley
Coming across abandoned ruins really spices up a hike. Check out these Hudson Valley trails that take you back in time.