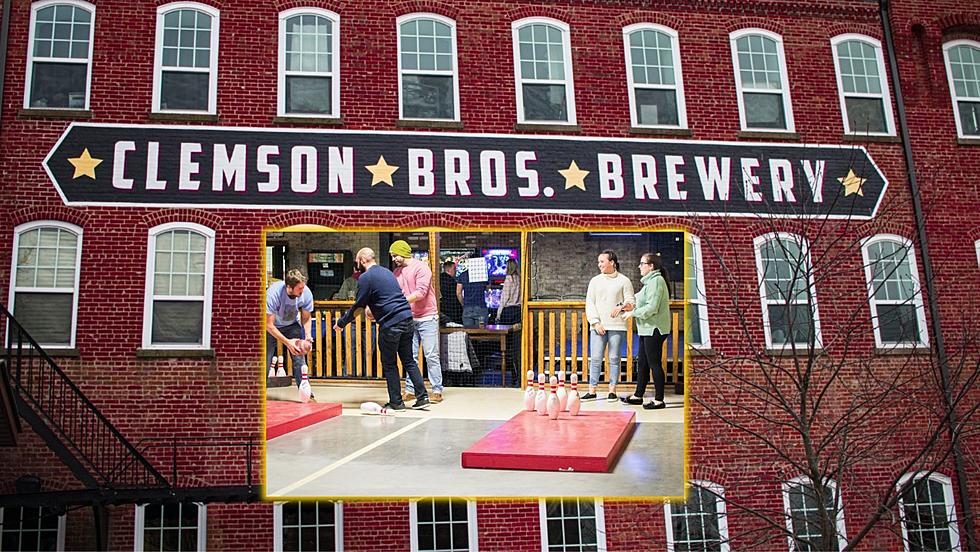 Clemson Brothers "Zones" in on QB Ball Space in Middletown, NY
Clemson Bros, Facebook/The Zone, Facebook
A popular Hudson Valley brewery is growing and "zoned" in on a neighboring building.
QB Ball Closes in Middletown, NY. Clemson Bros Step In
To the shock of many, QB Ball has recently closed up shop in Middletown, New York. Thankfully another hot spot in Orange County has stepped in and is ready to bring new life to the space and they didn't have to go far!
Clemson Bros Brewery, which was connected to QB Ball, has shared that they have recently acquired the former QB Ball space and are bringing new fun activities to the building.
It's called The Zone at Clemson and they'll be ready to open their doors coming up in October 2023. In a statement posted to social media, they write:
We are excited to announce that the Zone is opening in the old QB Ball space. We have re-branded it as The Zone @ Clemson.
You will be able to access it through Clemson. There will now be three bars, a full kitchen menu, and new activities.
Those new activities include Cornhole, Billiards, Darts, Football Bowling, Giant Jenga, Giant Checkers, Arcade games and 6 fully Digital Axe Throwing Lanes.
But that's not all...
What Does The Future Hold for The Zone at Clemson?
While the official announcement states that The Zone will have everything from axe throwing to digital golf, they also add that they're looking for customer feedback.
On August 22nd, 2023 Clemson Bros took to social media to get the temperature of the room when it comes to Pickleball. With all their newly acquired space should they add courts to The Zone?  They ask:
We have recently taken over a neighboring property that is a gaming facility.

We want to know your opinion on if an 8 court pickleball facility would be of interest in the Middletown area?
One commenter said: "Definitely. I have to drive all the way out to Pine Bush to play now. I could walk to Clemson brothers in a few minutes!" Another added "You guys would have the market cornered. There is a huge need for pickleball courts in Middletown."

They also hope to add digital golf simulators to the activities list as well.
Keep up to date and let them know what you're interested in coming to Clemson Bros Brewery and The Zone at Clemson by following them on social media.
The Zone will open Sunday, October 1st, 2023 at 14 Cottage St. suit 4 in Middletown.
The 10 Best Pizza Places in Middletown, New York
Here are the top 10 most reviewed pizzerias in Middletown, New York according to Yelp.
Barstool's Dave Portnoy Finally Reviews Pizza From Mid-Hudson
Barstool's Dave Portnoy finally came to the Mid-Hudson Region to give a "One Bite Review" on what he was told is "great pizza" from the Mid-Hudson Valley.
Hamilton Mansion to Transform into Luxury Spa
A mansion originally built for the great-grandson of Alexander Hamilton (and most recently a Rockland County, NY convent), will now transform into a luxury spa