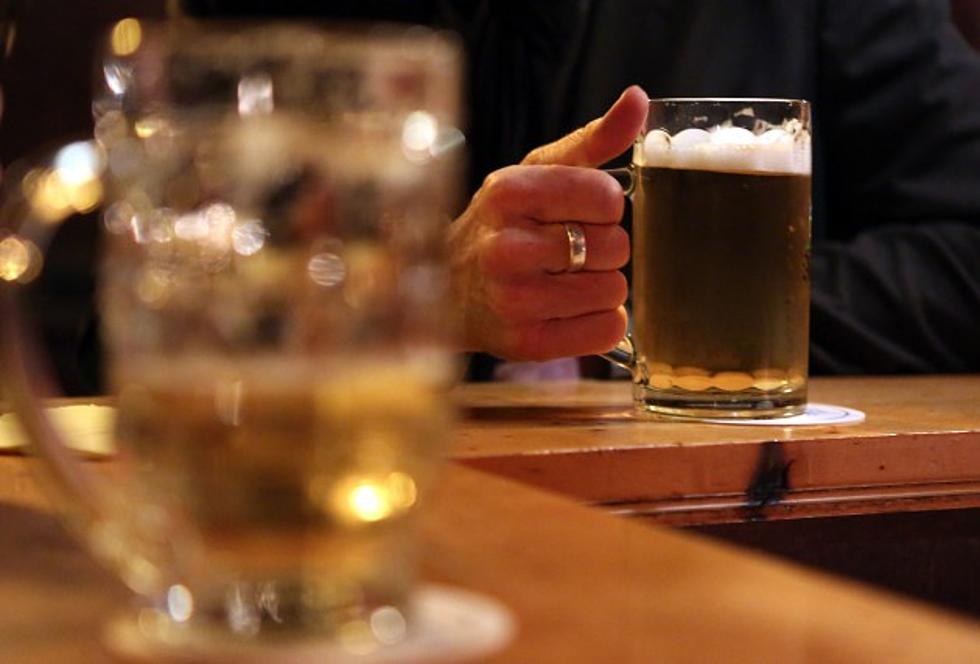 And the Most Popular Drinks in New York State Are…
Adam Berry/Getty
A recent survey from a drinking social app answers the question: what beer and liquor are most popular in each state across the United States?
New York is a wide and varied state; it would be hard to find too many parallels between the day-to-day life of someone living in say, Watertown, and that of someone living in, say, Chelsea. But when it's all averaged out, here's what New Yorkers love:
Yep, we New Yorkers apparently love mass-produced witbiers and syrupy cognac.
Here's the entire list, courtesy of the app BARTRENDr and BroBible. Shouts to Nebraska for their very specific love of Founders' Curmudgeon, which sticks out like a sore thumb amongst the general Bud/Bud Light results of the rest of America. And Utah's Wasatch Polygamy Porter making an appearance too!
Alaska: Bud Light, Jack Daniels
Alabama: Bud Light, Fireball
Arkansas: Bud Light, Evan Williams
Arizona: Blue Moon, Fireball
California: Blue Moon, Jack Daniels
Colorado: Bud Light, Bacardi
Connecticut: Corona, Patron
Delaware: Bud Light, Crown Royal
Florida: Pabst Blue Ribbon, Jack Daniels
Georgia: Corona, Jack Daniels
Hawaii: Bud Light, Jack Daniels
Iowa: Bud Light, Fireball/Captain Morgan/Jagermeister
Idaho: Bud Light, Evan Williams
Illinois: Coors/Guinness, Jameson
Indiana: Corona/PBR/Heineken, Patron/Jagermeister/Crown Royal
Kansas: Bud Light, Jack Daniels
Kentucky: Bud Light, Crown Royal/Jager
Louisiana: Bud Light, Crown Royal
Massachusetts: Bud Light, Hennessy
Maryland: Bud Light, Svedka/Fireball
Maine: Budweiser, Fireball
Michigan: Bud Light, Jim Beam
Minnesota: Budweiser, Fireball
Mississippi: Bud Light, Fireball
Missouri: Bud Light, Fireball
Montana: Bud Light, Jack Daniels
North Carolina: Heineken, Jack Daniels
North Dakota: Bud Light, Jack Daniels
Nebraska: Founders Brewing Curmudgeon Old Ale, Fireball
New Hampshire: Bud Light, Fireball
New Jersey: Bud Light/Corona, Fireball/Patron
New Mexico: Bud Light, Fireball
New York: Blue Moon, Hennessy
Nevada: Bud Light, Crown Royal
Ohio: Bud Light, Jack Daniels/Fireball
Oklahoma: Bud Light, Crown Royal
Oregon: Bud Light, Jose Cuervo
Pennsylvania: Guinness, Jameson
Rhode Island: Bud Light, Fireball
South Carolina: Bud Light, George Dickel
South Dakota: Bud Light, Jack Daniels
Tennessee: Bud Light, Jack Daniels
Texas: Corona, Jack Daniels
Utah: Polygamy Nitro Porter, Jack Daniels
Virginia: Bud Light, Grey Goose
Vermont: Bud Light, Jack Daniels
Washington: Bud Light, Fireweed/Patron
Wisconsin: Bud Light, Captain Morgan
West Virginia: Bud Light, Jack Daniels
Wyoming: Bud Light, Fireball