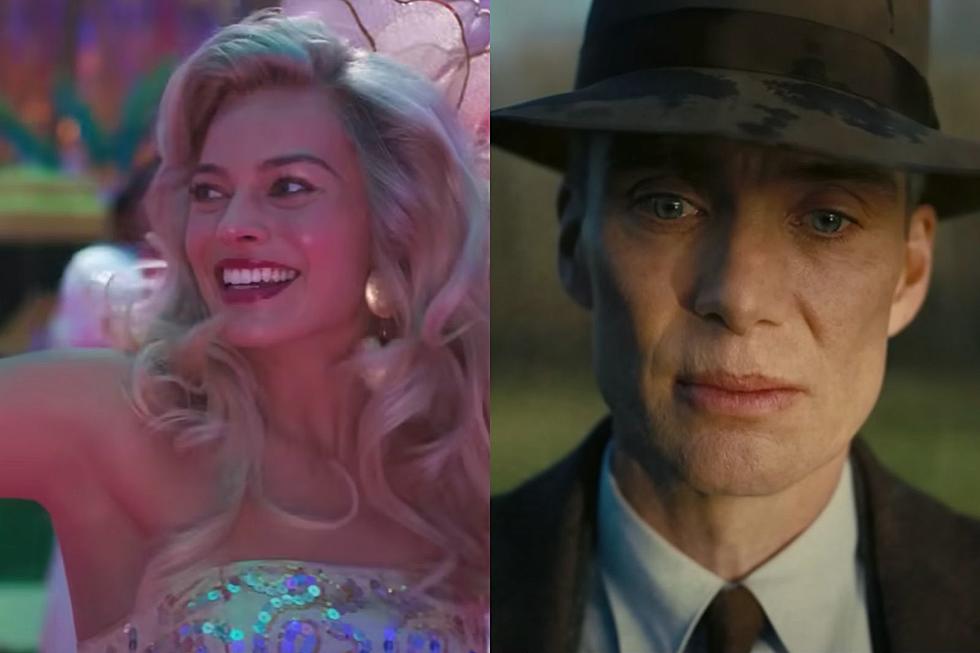 Here's What the Hudson Valley Thinks About "Barbenheimer"
YouTube / Warner Bros. Pictures, Universal Pictures
The first weekend of "Barbenheimer" is down! For those unfamiliar of the term, it is used to reference the simultaneous releases of Greta Gerwig's Barbie and Christopher Nolan's Oppenheimer, two starkly different movies when it comes to tone and presentation, yet both oddly dealing with major cultural  existential themes. What started out as a widespread internet joke has turned into sincere excitement for the two contrasting movies.
Variety reported that Barbie has hit the $200 Million mark at the Domestic Box Office, while Oppenheimer crosses $100 Million after 5 days of being out. This should not come as a surprise that Barbie has received more than Oppenheimer because the concept of Barbie is more digestible than an art film about nuclear war. Not just that, it's much shorter. However, many predict that just like the movie itself, Oppenheimer will have a bit of a slow burn, and audiences will be shelling out in weeks to come. Regardless, both are incredible feats, nonetheless!
View this post on Instagram
The Barbie v Oppenheimer debate has gone state to state, and honestly, this is the kind of map that I can get into. According to this post from Barstool Sports, New York comes in as a strong Oppenheimer state.
Across our Facebook, Instagram, and direct messaging, you were split into thirds! One third said they were most excited to watch Barbie, another third said they were most excited to see Oppenheimer, and the final third said they were excited to see both!
The Hudson Valley Reacts to Barbenheimer
There has been a lot of love for Barbenheimer in the Hudson Valley. Both of my showings for Barbie and Oppenheimer were completely packed! It's good to see that because I haven't seen a packed theater like that since before the pandemic. Spider-Man: No Way Home was pretty close.
Several of our listeners left comments or messaged us directly in regards to the movie madness. We asked you which movie you were most excited to go see. Anthony said:
Both!!!!!!!!

Barbenheimer forever!

Going to see Barbie next Wednesday and I'm so excited
Amy chimed in and said:
I saw Barbie on Thursday night.

I plan on seeing Oppenheimer when I am able to.
Honestly, that seems to be the trend. Not only is Barbie more accessible to general audiences, it is also a shorter movie. I went to a 7:30 showing of Oppenheimer, and I didn't get out until after 11 because of previews and the 3+ hours that the movie is.
Maria wrote in:
The American one
I assume that is in reference to Oppenheimer, because the movie outlines Oppenheimer's involvement in the US's creation of the atomic bomb. That's my best guess because each films leading actors are not American (Margot Robbie being Australian and Cillian Murphy being Irish). If Maria is referencing the directors, then she means Barbie because Greta Gerwig is American, while Christopher Nolan, director of Oppenheimer, is British. Am I overanalyzing this too much?
We did get one person who wrote in who saw both movies in the same day. Ryan said:
I saw both Barbie and Oppenheimer on the same day. Started with Barbie and ended with Oppenheimer. Both beautiful movies in their own right, but I am physically, mentally, and emotionally exhausted.
I don't blame you Ryan! It felt like a lot to see them on completely different days, so I can imagine how draining it must have been to watch them both together. They are both quite existential movies, they will take a lot out of you!
Weekend 2 of Barbenheimer is about to begin! Do you still need to see them? Are you going back to rewatch? Do you have a favorite between the two? Let us know through the app or social media!
19 Remarkable Movie Theaters in the Hudson Valley
After the lull caused by the pandemic, many big blockbusters are set to hit theaters in 2022, and these Hudson Valley cinemas are ready to take your ticket!
The Hudson Valley's Favorite Backyard BBQ Yard Games
What is the backyard BBQ lawn game that gets you out of your lawn chair and into the action?
The Hudson Valley's Favorite Backyard BBQ Meals and Drinks
What is the backyard BBQ meal or drink that gets your tastebuds going every summer?