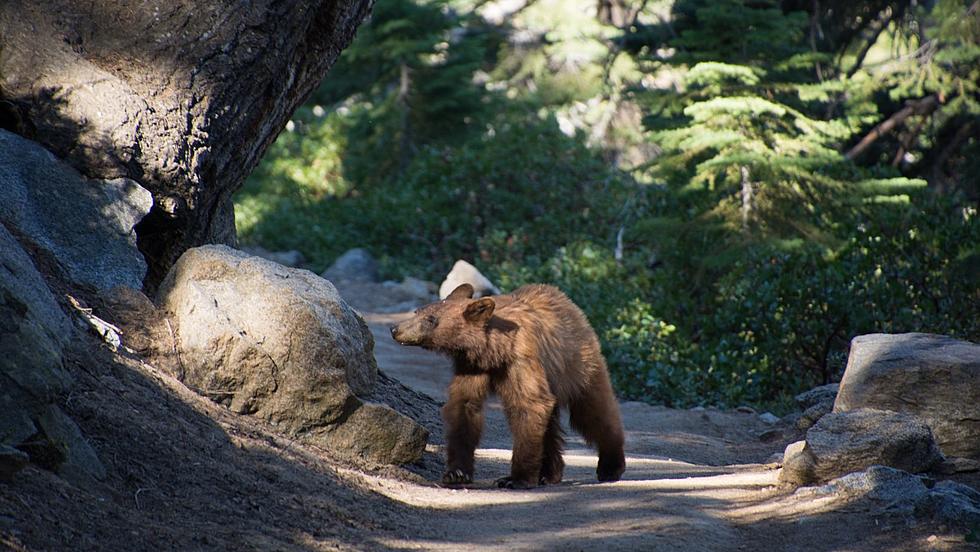 Bear Stalks Canadian Hiker at Popular Greene County Trail
Canva
A Canadian hiker needed some assistance getting rid of a new friend they made on the trail.
We've been really lucky this summer weather wise. Sure there have been some absolutely ruthless days when it comes to heat, but for the most part it's been a pretty fantastic summer.
With the fabulous weather comes perfect opportunities to hit one of the many hiking trails around the area. That's what one tourist decided to do back on August 4th.
Hiker Followed by Bear on Greene County Trail
The Department of Environmental Conservation shared in their latest press release an incident that happened in Greene County involving a hiker and a bear. According to the press release the 23-year-old backpacker from Canada had contacted Greene County Dispatch  in regard to a bear following her on a trail near North Point in the Windham-Blackhead Range Wilderness.
The backpacker told dispatch "she tried to frighten the bear, but the bear kept following." In an attempt to get shake the bear off her trail, the DEC explains that the Backpacker dropped her backpack to distract the bear while she took her phone and called for help.
Forest Ranger Clute located the bear and scared it away from the subject's backpack and the hiker was able to head down to the trailhead and her camp site for the night. While she was able to safely navigate to her base camp, Ranger Clute kept "visual on the bear to ensure the animal didn't start following the hiker once more."
How to Avoid Bear-Human Conflict
The DEC has a whole section of their website dedicated to avoiding Bear-Human conflict and interactions. In most situations loud noises with deter bears from moving closer to humans. As they say, the bears are more scared of us then we are of them. It's not a bad idea to carry a bear horn with you while hiking in the Hudson Valley, Catskills and Adirondacks.
Bearwise.org shares the following steps in the case of a bear following you arises:
Stand your ground.
Try to appear large by holding up your arms and jacket, and/or standing on a rock or stump.
Back away only when the bear stops its approach.
Intimidate the black bear by making yourself look bigger and making noise (wave arms, shout, clap, bang stick).
Stay together.
New York DEC New Rules For Deer and Bear Hunting
As you prepare for the fall deer and bear hunting season, you need to be aware of these new rules just adopted by the New York Department of Environmental Conservation.
Bear Destroys Vehicle in Search of Food
This is why you don't leave food anywhere bears can smell it. Even in your car.
Black Bear Hanging Out In Steve King's Yard In Averill Park, New York