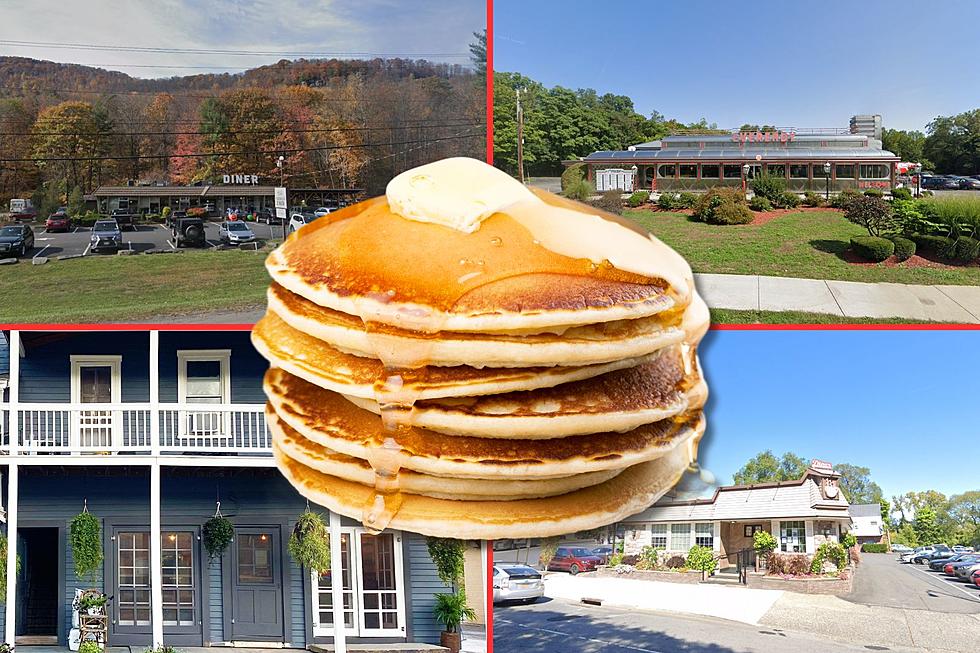 Are These the Best Pancake Spots in the Hudson Valley?
Google/Canva/Sweet Sue's Phoenicia via Facebook
If you want to get to know someone better, find out where they eat. You can learn a lot about people based on their food preferences, especially when it's regarding a crowd pleaser like pancakes.
"Best pancakes around. Ulster, Dutchess, Greene County... open [to] wherever is best!", said a recent post in a local Facebook page dedicated to ranking and reviewing restaurants. Then, the floodgates opened.
Sweet Sue's Phoenicia in Phoenicia, NY
"Sweet Sue's in Phoenicia", came the first suggestion, and many supported the vote. Sweet Sue's Restaurant, located at 49 Main Street in Phoenicia, NY has a 4.4-star rating on Google from nearly 300 reviews and offers everything from beloved pancakes to salmon latkes. They even offer a pancake sandwich. They weren't the only Phoenicia eatery to get a nomination, either.
Phoenicia Diner in Phoenicia, NY
"Phoenicia Diner and Sweet Sue's both in Phoenicia are a great start", offered another pancake aficionado. The diner, which has almost an identical 4.5-star rating on Google, serves both breakfast and lunch with a focus on traditional diner food with a modern twist. After the pancakes, check out their street corn avocado toast or shrimp and grits skillet.
Dietz Stadium Diner in Kingston, NY
Dietz Stadium Diner in Ulster County, NY also received a healthy share of nominations. The most traditional diner of the bunch, Dietz Stadium Diner does what few can: offer a large menu without sacrificing food quality. Over 1,500 reviews averaged to a 4.4-star rating on Google.
The Eveready Diner in Hyde Park, NY
The Eveready Diner in Hyde Park, NY was not only the sole Dutchess County nomination, but it also came with a specialty recommendation. The diner's pecan pancakes were specifically suggested by numerous breakfast fans, although that's not the only version to be offered. The menu also boasts bananas foster pancakes, apple cinnamon raisin pancakes, and red velvet chocolate chip pancakes, to name a few.

Luckily, breakfast isn't the only meal of the day, and Hudson Valley food fanatics are constantly on the search for phenomenal lunch and dinner options, too. Check out more "bests" from the Hudson Valley below.
Where To Find Best Fish Tacos in the Hudson Valley
Whether you need some fish tacos or some other kind of Mexican seafood cuisine, these restaurants will meet your culinary desires! What's your favorite dish?
10 Best Thai Food Restaurants in the Mid-Hudson Valley
According to Google Reviews, these Mid-Hudson Valley Thai Restaurants stand above the rest in quality and service!