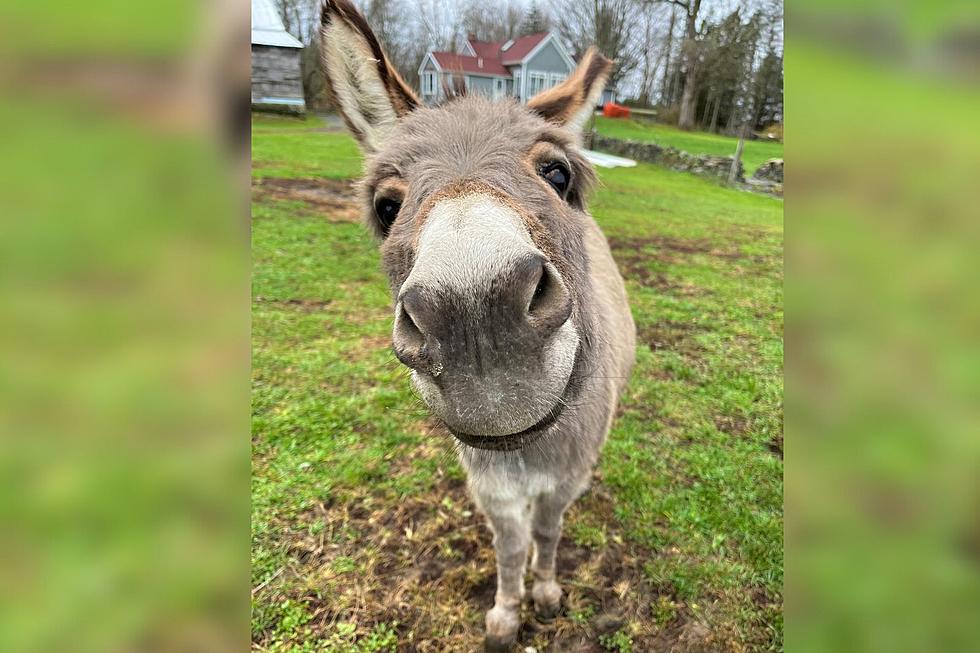 Donkey Walks are Now Available at This Hyde Park Farm
Clover Brooke Farm/Facebook
Are you looking for a way to relieve stress and lower your blood pressure? Have you ever tried walking a donkey?
If you are like the thousands of us that are always looking for ways to improve our quality of life I think we may have found something that can not only help you but help out some of our favorite animals.
Our friends over at Clover Brooke Farm have announced that they are currently booking an experience that will not only have health benefits for you but will also help out some of the animals at their farm.
Donkey Walks at Hyde Park, New York Farm
Earlier this month the folks at Clover Brooke Farm, located at 175 Ruskey Lane, Hyde Park, NY announced that their veterinarian has recommended that to keep their donkeys "happy and healthy" they will need to take more walks. That's when they began offering guests at the farm the opportunity to take a "donkey walk" and ever since they began offering walks they have been selling like hot cakes according to their Facebook page.
"Hey everyone! 👋 Our amazing donkey walks have been selling like hotcakes and we can't thank you enough for your support! We're delighted to announce that we've added extra dates/times for this unforgettable experience because we can't get enough of our furry friends and neither can you."
Why You Should Walk a Donkey?
Taking a lovely walk with a donkey can have numerous benefits including decreasing stress, lowering blood pressure, and boosting confidence. Donkey walks can also "boost your mood" by providing a personal, quiet space to think and talk. The donkeys at Clover Brooke Farm are excellent listeners and once you get whatever's on your mind off your chest or mind, you'll feel much better.
Walk-A-Donk in Hyde Park, NY
Donkey walks take place through the farm's gentle pastures, sheep paddocks, and bass pond with a scenic view according to their website. Donkey walks are the perfect way to help the farm's beloved animals stay active while having loads of fun. If you'd like to book a donkey walk you can do that online here.

The Ridiculous Reasons Why These Wappinger Falls, NY Rescue Pups Aren't Getting Adopted
Have you heard of Black Dog Syndrome? BDS is, according to Petfinder, "When black-colored dogs spend more time waiting for their new home than their lighter-colored kennel mates." And it seems to be a current issue animal rescues in the Hudson Valley, like CARE of DC, are experiencing.
Motherless Cubs "In Good Shape" Thanks to Hunter, NY Wildlife Center
Remeber the 2 bear cubs found in Pawling, NY without their mother? Things are starting to look up for them!