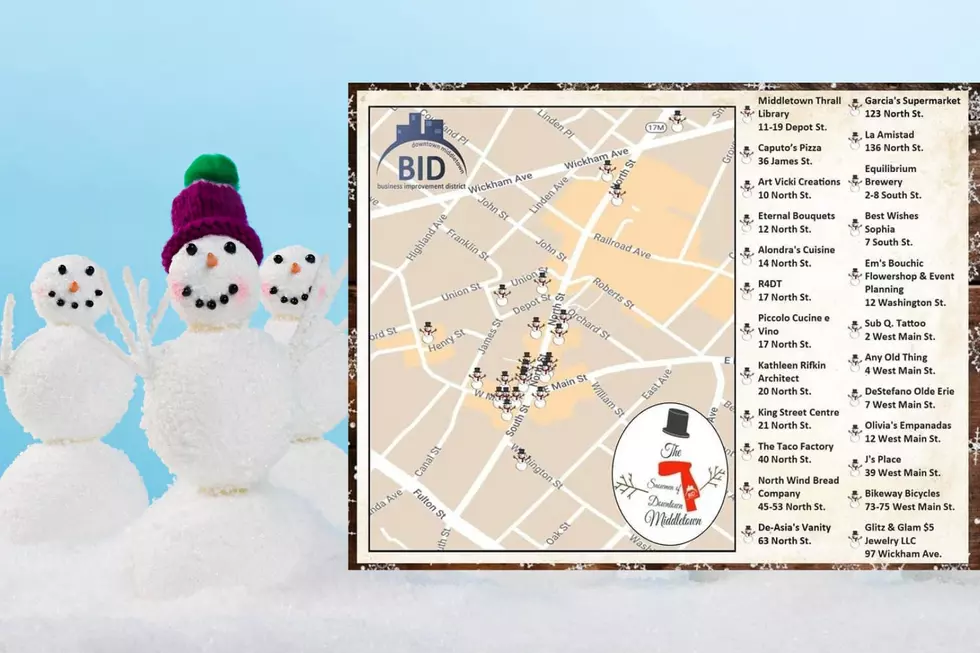 Signature Crafted Snowmen Showcase Middletown Businesses During Holiday Season
Canva, Downtown Middletown BID
As the holidays in the Hudson Valley are now in full swing, there are all sorts of events and activities in the area for kids and adults alike.  From outdoor skating rinks to local light displays, it seems like there's just about something different to do locally each day.  Downtown Middletown is doing something pretty unique to showcase some of their local businesses.

The Snowmen of Downtown Middletown Highlight Local Businesses
If you're anything like me, chances are you stumble across a cool local business or restaurant when you're doing your holiday shopping.  You drop by to grab a gift certificate or present for someone and end up finding an establishment you had never visited, or, never knew existed.  Well, The Downtown Middletown Business Improvement District is doing something to make sure that people know what downtown has to offer, and they're doing so in a pretty creative way.
The Snowmen of Downtown Middletown are on display now through January 22nd at participating locations, and this initiative is essentially a way for businesses to showcase themselves and the services or products they offer.  Each participating business has decorated a snowman that is on display at their location around town.  Each snowman comes with a QR code to promote the business, and even offer deals for visitors.
Equilibrium Brewery on South Street gave their snowman a pretty fun hairstyle.
Any Old Thing on West Main Street gave a little video sneak peak of their snowman and inside their shop.
J's Place crafted a classic looking snowman for display outside their West Main Street location.
For a complete list, more information about this Middletown holiday event, and even additional photos of the Snowmen of Downtown Middletown, click here!
Middletown, New York's 7 Top Rated Restaurants
Iconic Middletown Department Store Demolished
Playtogs Plaza in Middletown Demolition Pictures