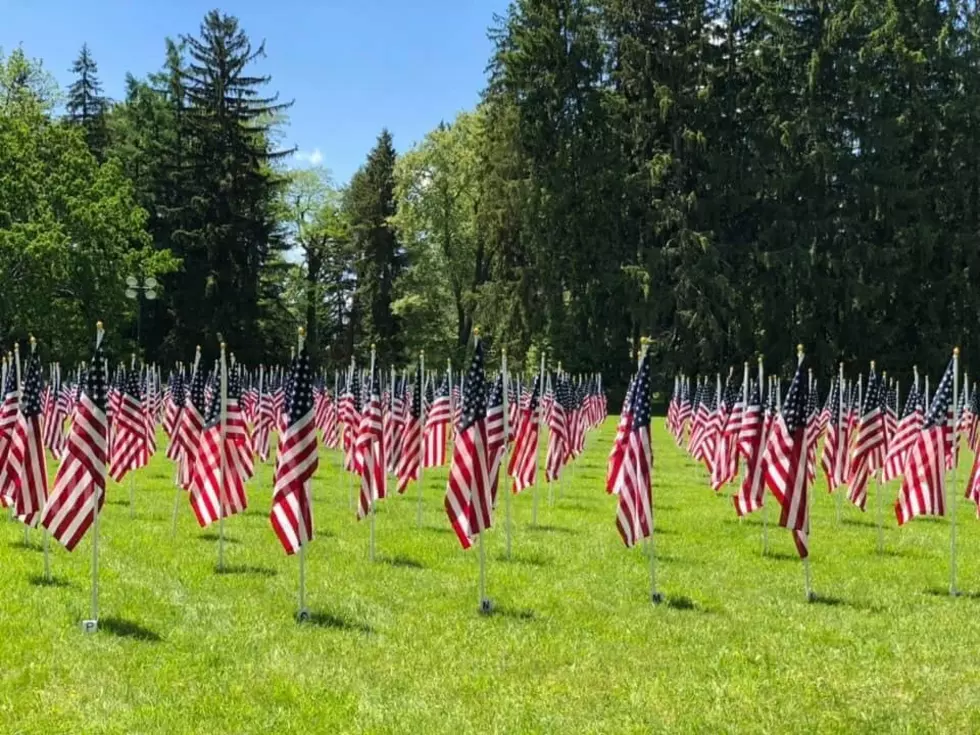 Hyde Park Education Foundation to Host Memorial Day Weekend Event
Hyde Park Education Foundation, 2022 Field of Honor(R)
UPDATE: SATURDAY'S ACTIVITIES HAVE BEEN POSTPONED. THE EVENT WILL RESUME SUNDAY, MAY 29TH!
Memorial Day, for many, is a day to get together with friends and family for a barbecue. The pools get unveiled, and it is almost like an unofficial start to summer. Let us not forget; however, that for many, this day is sacred. The whole point of Memorial Day is to mourn and celebrate the US military personnel who have died while serving in the armed forces. The Hyde Park Education Foundation is doing a phenomenal job to bring back a beautiful Memorial Day event that both celebrates our armed forces and unites us a community.
2022 Field of Honor®
The event is the Field of Honor®; it's a display of 300+ full-sized American flags on the lawn in front of the Franklin Delano Roosevelt Historic Site off of Route 9. The event is organized by the Hyde Park Education Foundation. Hyde Park had their first event in 2018 and then in 2019. Due to the pandemic, the event did not happen in 2020 and 2021. Now that it is back, Field of Honor® is excited to host hundreds of American flags flying in an inspiring, patriotic display honoring veterans, first responders, Hometown Heroes, and those we love and cherish. The event is free to the public, but donations are greatly appreciated. The weekend will have fun, family-friendly activities such as live local music and entertainment, story walks, and kids tents with crafts and games
All the money raised from Field of Honor® go towards the mission of the Hyde Park Education Foundation- provide funds for the students of Hyde Park Central School District (HPCSD), to enhance and encourage the opportunities and the well-being of the student of the HPCSD.
Members of the community are invited to sponsor a 3ft by 5ft American-made flag that will fly on an 8-foot flagpole out on the FDR Home Lawn. The sponsorship can be made for anyone, not just for remembering military who have passed on. Sponsored flags can be dedicated to honoring family, friends, teachers, community volunteers, veterans, active military, service people, and anyone who has touched your life in a special way. If you wish to Sponsor a Flag for the event, please click on "Sponsor" below to see the forms, or visit the Hyde Park Education Foundation Website.
We all have different associations with the flag, but in the end, many people can at least see it as some symbol of hope, whether that be hope now or in the future.
"The Stars & Stripes reminds us of who we are as a people . Americans meet the challenge of history and overcome hardships becoming stronger. That is just who we are. The United States flag represents our solidarity in creating a brighter tomorrow and uniting us all."

- Colonial Flag Foundation, Hyde Park, NY ~ Field of Honor®- 2022
Events
(Due to Saturday's activities getting postponed, we will be updating the events for Sunday and Monday as we become aware of the latest changes). 
Sunday, May 29th Main Stage 
11:00 AM: Opening Ceremony
1:00 PM: Flash Company
2: 00 PM: Storm King Skyline
3:00 PM: Conor Walsh
Sunday, May 29th Kid Tent Events
1:00 PM: Mary Langenau - "I Spy Red, White and Blue in Nature"
2:00 PM: Barbara Hobens - "I Can Growl!", "I Can Compost!"
Monday, May 30th
2:00 PM: "Let's FREEDOM Sing!" The 2022 Memorial Day FDR Reunion Chorus

 Songs about freedom from all over the world
You can check out our interview with Laurie Woolever, the President of the Hyde Park Education Foundation, to learn more about Field of Honor®, the HPEF's mission and goals, and to hear much more about our local community below.
10 Best Ulster County Wineries According to Google
These Ulster County wineries are some of the best places to unwind and take in some of the best views that the Hudson Valley has to offer!
Breakfast Lovers Will Adore These 10 Kingston, NY Spots
These Kingston Breakfast Hot Spots were ranked via TripAdvisor. Would you agree with these rankings? What other locations should be on the list?
Where In Poughkeepsie, NY Can You Sing Karaoke & Find Live Music?
If you're searching for live music or karaoke in and around Poughkeepsie, these bars and venues have proven themselves among the favorites of the area.