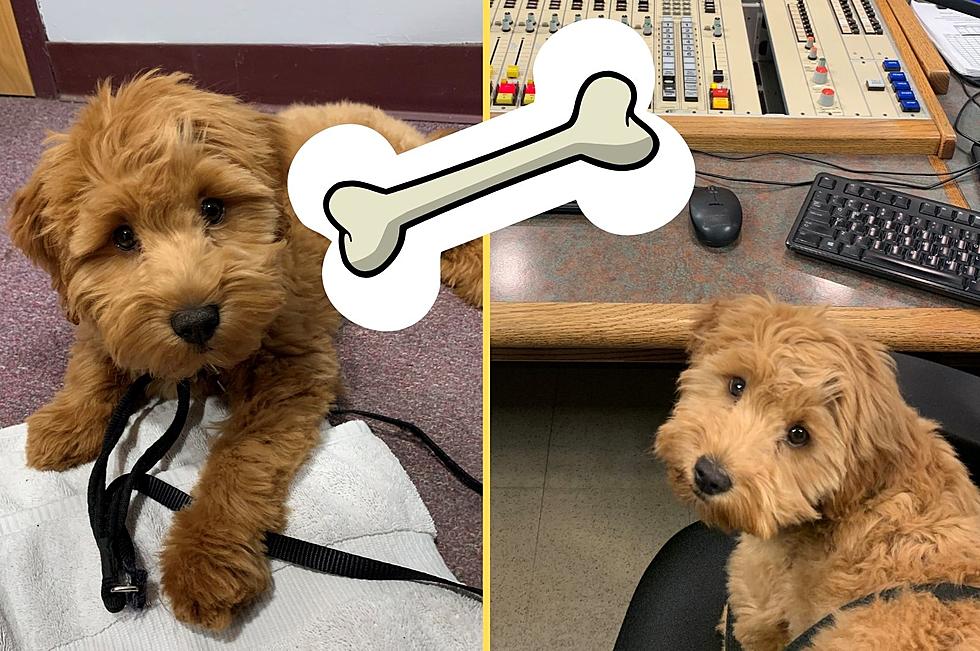 Need a Break? Here's 10 Photos of My Goldendoodle at Work
Jonah/Canva
At the end of a long week, all we want to do is relax. Even if the workday isn't fully over, you deserve a dopamine hit to carry through the rest of of your shift. May I humbly present the photos that very well may do that for you: my Goldendoodle puppy Arthur, who I brought to work today.
No, it's not officially Bring Your Dog to Work Day, but this little guy has spent about 98% of his life at our house in Newburgh and my wife and I thought it was about time he learned that there were more buildings (and people) that existed in the world. So I decided I'd live-blog the experience and bring you along for the ride. I didn't realize how quickly he'd want to get involved with my work, though.
The first thing I thought would help keep him entertained was one of his favorite chew things: a hollow rubber "stick" that I can fill with treats.
It wasn't long though until he found all the hidden treasures inside his toy and was back getting up in my grill.
It's a hard balance to strike: is he whining and trying to jump on my lap because he's bored, or is he asking to go outside for some bathroom relief? Now I'm not saying in any way that our office carpets are pristine (you've already seen 3 pictures of them), but the last thing I want to do is add some stains of our own. So outside we go.
Luckily the offices here on Pendell Rd are attached to some property; the perfect place to let this little ball of energy relieve himself. I think it did the trick, because once we got back inside, he went right into his crate to lay down.
OK, I spoke too soon. He was in there for about 30 seconds before someone walked by my office and he was immediately out and about once again.
It wasn't long until he was up in my business again, so I thought we'd try and play with one of his favorite things outside...
He loves his bright orange ball, but today was a very unsuccessful game of fetch. I'm guessing it has to do with the 40 tons of goose poop in the grass, but this little guy kept getting distracted.
Ok, so outside is a challenge. What about the WRRV studio?
Believe it or not, he was a little shy on the mic. Worth a shot, though. Back to the office and back to work, where he thankfully passed out.
Hope this helped your day go by a little quicker. Want some more cute animals? Check out the hiking service animals of the Hudson Valley, including Eleanor Pigsby, below.
Meet the Hiking Therapy Animals of the Hudson Valley
Eleanor Pigby made a splash on social media around the Hudson Valley this week. Turns out she's part of a pretty special team. Get to know Eleanor and the rest of the Pets For Purpose Animal Therapy group of The Summit School in Nyack.
These Are New York's Cutest Pets [PHOTOS]
We celebrated National Love Your Pet Day this past Sunday and we wanted to show off some of the cutest pets in New York.