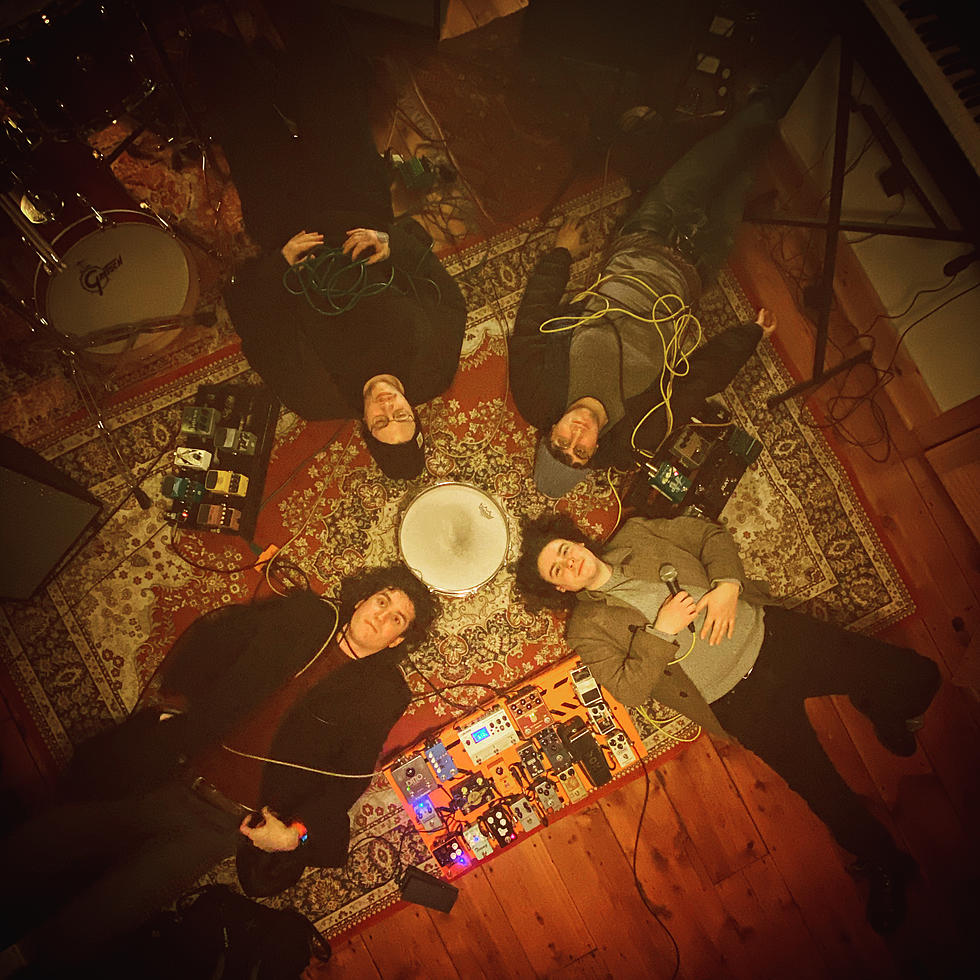 Prolific Kingston-Based Band Set to Release Anticipated Fifth Album
Jake Offermann
I personally love it when there is a story within the music. Perhaps that is why I love musical theatre, rock operas, and concept albums so much; they weave together many emotions and concepts to portray a much larger narrative. Kingston-based band Grampfather is doing something very similar on their upcoming new album, Gramppappies, which releases February 25th, 2022. Their fifth album follows 2020's Magnum Grampus, which they describe as a "thrash" album that was fueled by the anger and frustration conjured by the countless tragedies of that year. Gramppappies starts where Magnum Grampus left off with the song (and newest single out today, February 4th, 2022) "Murder Hornets." With the pandemic and all the blaring social injustices that came to define 2020, the news of incoming murder hornets just seemed like such a cartoonish cherry on top of all the misery and dread. Although the album starts off where Magnum Grampus ends, the new album, Gramppappies, does get more hopeful as it progresses.
I got to talk with the frontman of the band, James Kwapisz, about Gramppappies. James feels that this is the band's most realized album to date in that it encapsulates their range of sounds, wavering between abrasive rockers and indie chillers. While Magnum Grampus had a more angered tone, Gramppappies offers more hope for the future, a weighted, contemplative hope that's informed by past experiences and events, and not a "naive, starry-eyed one."
James said,
A main theme that's threaded throughout the album is our appreciation of music, the role it plays in our lives, and how it keeps us going despite the many miseries we'll endure in this life. It's too easy to just give up and resolve that it's all hopeless. The contrary seems like a much better and brighter path. Here's to hoping for hope.
The Band
To better understand the music, it helps to better understand the band. Grampfather is based out of Kingston, New York, and was founded in 2013. It was while in undergrad at SUNY New Paltz that James was inspired by the house/basement scene to make fun, energetic rock music. What was once a two-piece garage rock group has since evolved into "a four-piece genre-whirling force," said James. Some of the group's influences over the years have been Modest Mouse, Broken Social Scene, and The Strokes, among a variety of others. These days, a major influence who especially inspired this latest project is King Gizzard and the Lizard Wizard. James said, "I wanted to keep listeners on their toes by having our music waver between genres, momentums, feelings, whatever you want to call it... [King Gizzard and the Lizard Wizard] exemplify the criteria that all my favorite bands share, and that I strive for with this project, in that they are eclectic,  prolific, and never boring or meandering."
Grampfather is composed of Andrew Blot on lead guitar, Tony DiMauro on drums, Jake Offermann on bass, and James Kwapisz on rhythm guitar and vocals. James writes, records, and mixes the band's music. Jake, showing off some visual artisitic skills, created the cover art for the new album. Although the band has had members come and go throughout the years, James says that the current line-up is dedicated to the vision, and their forthcoming fifth LP, Gramppappies, is a testament to their passion.
When asked out the band got it's name, James explained that he would often be called an "old man" by his friends because of his older, elder-like mannerisms. "Alright, Gramps," was a common response he heard from his friends following his antics. That's something that I definitely relate to myself since one of my nicknames going back to high school has been "Dad." There's just something special about us old souls! James went on to say that he thought "Grampfather" would be a great name for the band because of it's funny juxtaposition to the group's energetic, youthful and fun sound.
Murder Hornets
Going back to their latest single for a moment, in "Murder Hornets," I can really feel much of that angst that was still resonating from the prior album oozing out of their playing. The breakdown in the middle of the song, in particular, caught my ear and was very engaging. "Murder Hornets" is available as of today on all platforms.
Poppies
Grampfather's upcoming second single will be "Poppies," which releases on Bandcamp on February 14th, 2022, and will be available everywhere else on February 18th. "Poppies," in my opinion has a great vibe and captures a lot of the great elements that make up a kick-ass alternative single these days. Immediately, I thought this song should be played on our station. Many musicians can relate to the inception of "Poppies," where James said he wrote the riff a few years back, but at the time, did not know what to do with it until he connected it with the chord progression in the second half of the song. The name "Poppies" came from the fact that James simply liked the poppy vibe it had, and originally labelled the file for it "Poppy song." It was later changed to "Poppies" as to drawing a connection to the title Gramppappies. 
The first half of the song is kind of sarcastically thinking about life without music/art/beauty/flowers (poppies), and the second half genuinely expresses my passion and appreciation for music in my life and how barren this life would be without it.
Listeners will get both singles when they preorder the album, and they will receive the rest of the tracks once they album is released on February 25th.
The Pandemic
James and I got talking about how the pandemic has really influenced the local music scene. He said he was disappointed that the vaccines didn't bring the long awaited relief we have all been needing. He is not against live shows right now, as long as people treat it respectfully, and that everyone is smart and safe about how things are handled. I asked him if and how the pandemic affected their music on a creative and productional aspect. James responded:
Our last album, Magnum Grampus, definitely was influenced heavily by the pandemic. This album, however, is an attempt at optimism, asking how we can heal and strive for a more hopeful path, rather than one that is doomed and abysmal. A lyric from our song "Odd Times for Odd Times" comes to mind:

 "Hold fast to all that which keeps you here.

Beyond the glowing fear of death,

what keeps your heart sincere?"
What's to Come?
As for what fans can expect for the future, they can preorder Gramppappies at Grampfather.bandcamp.com. They also have a bunch of surf green shirts featuring the Gramppappies album art, which can also be ordered on Bandcamp. A purchase of a shirt will also include a digital download of the album. That, or you can always message them on Instagram or send an email to Grampfatherband@gmail.com, and they can ship them along with a CD and a sticker.
You can learn more about the band and where to find them playing in the Hudson Valley by going to their website. Otherwise, here is a list of all the places to check them out the next couple months.
-2/10 at No Fun–Troy, NY.
-2/17 at The Avalon Lounge–Catskill, NY.
-3/4 at Byrdhouse–Albany, NY.
-3/26 at Windjammer–Brooklyn, NY.
-4/1 at Troy Speakeasy–Troy, NY.
-4/16 at Snugs–New Paltz, NY.
Most Anticipated Rock + Metal Albums of 2022
What should be on your radar for 2022.
Your Guide To Rock + Metal Bands Touring in 2022
Rock + Metal Bands Touring Schedules for 2022
Haunted Rock Venues: The Stories of 21 Creepy Clubs and Arenas
If you believe the legends, some spots have paranormal visitors not reflected in the capacity stats.
50 Rock + Metal Albums Turning 20 in 2022
Time flies but quality albums get remembered.
50 Rock + Metal Albums Turning 30 in 2022
Three decades of excellence.
50 Rock + Metal Albums Turning 40 in 2022
Four score, and still going strong.