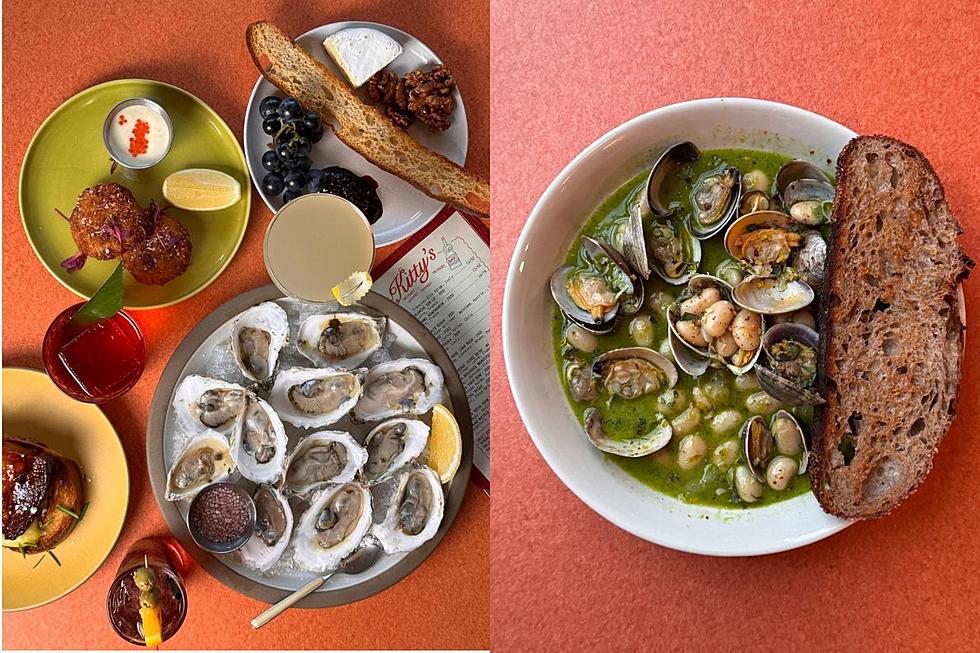 Hudson, NY Restaurant Reopens with Brand New Menu
Kitty's Restaurant
We always love to see a thriving Hudson Valley business. Kitty's Restaurant in Hudson, NY has officially reopened for full lunch and dinner service with a brand new menu from executive chef and Hudson fixture, Nicole LoBue.
Kitty's Restaurant in Hudson
Kitty's Restaurant and Bar is the Hudson Valley Dinner Party that everyone is invited to. Guided by the seasonal bounty of their landscape, they elevate comfort classics with a nod to coastal traditions. Their vibrant, inventive dishes along with their one-of-a-kind wines will have you coming back for more. Kitty's Restaurant, in tandem with their market café, is an important piece of their ever-evolving community of makers, artists, and team members who care for your experience and provide a Hudson home you can return to anytime.
View this post on Instagram
Nicole's ever-changing menu showcases a refreshing blend of the New York-Sicilian flavors from her youth and the coastal influences from her 15 years in the Bay Area. Upstate New York's local bounty is on full display, featured in dishes such as manila clams with Iacopi Farms Italian butter beans and watercress puree, braised Kinderhook Farm lamb shoulder with harissa and flowering cauliflower and housemade brioche toast with chanterelle mushrooms, nasturtium leaf and goliath cheese. 
View this post on Instagram
Accompanying the Stissing House alum's menu are playful cocktail classics and Grapefruit-sourced natural wines, curated by bev director Brendon Clark. Kitty's beloved market fare, including the spinning chicken and sides, sauerkraut-laced egg & cheese sandwich and traveling hashbrowns, remain daytime menu staples both in the restaurant and Kitty's to-go market.
View this post on Instagram
Kitty's New Chef, Nicole LoBue
Nicole LoBue is no stranger to the Hudson area. After moving to the area more than a decade ago, she helped to launch the nonprofit Kite's Nest. LoBue ran the Alimentary Kitchen for six years along with working at Stissing House and designing Hawthorne Valley School's lunch program.

"My cooking comes from a desire to nourish and heal rather than create the most beautiful, esoteric food ever. I'm interested in how we take care of ourselves and each other. There has been a huge divide between healthy food and fine cuisine. One thing that has stayed with me since my 20s is the desire to confuse that line. Healthy food doesn't have to be this crunchy organic thing that is not appealing. I like to explore texture and color and develop flavor. We all have these innate desires for tastes and textures that are actually building blocks of all of our nourishment."
Kitty's Backyard
One thing that makes Kitty's unique is Kitty's Backyard. Kitty's Backyard is a "vibrant community oasis" filled with colorful native flowers, lush greenery, and cozy seating areas. Kitty's backyard allows visitors to immerse themselves in the tranquil ambiance, order delicious treats from the market, and savor them while basking in the enchanting beauty of the welcoming garden!
View this post on Instagram
Ben Fain of South Front Street Holdings, the company behind Kitty's market/cafe/restaurant, Grapefruit Wines, and event space The Caboose, told Chronogram:
"I think of the waterfront as the front door to Hudson, so this is our way to welcome people to the city. The idea is to build a little campus of synergistic businesses that help each other out, because the economics of food and beverage are so difficult."
Reservations via Resy; walk-ins encouraged.
Market Hours:

Open 7 days a week from 8 am - 7 pm

Dinner Hours:

Wednesday-Thursday 5-9
Friday-Saturday 5-10

Lunch Hours:
Bar Snacks:

Wednesday-Sunday 2-5
Monday 2-9

Garden:

Tuesday-Saturday 8-9
Sunday-Monday 8-7
Top 6 "Celebration Restaurants" in The Hudson Valley from Your Childhood
We are serving up a huge platter of 'Member Berries! These are the top childhood "celebration restaurants" from the Hudson Valley, as rated by our listeners.
Gallery Credit: Conor Walsh
20+ Best Hudson Valley Restaurants for Chicken Wings
With the Super Bowl coming up, get your wing order ready! These Hudson Valley restaurants have a rating of no less than 4-stars on
Tripadvisor
.
Gallery Credit: Conor Walsh
10 Best German Restaurants in the Hudson Valley
According to reviews on Tripadvisor, these 10 Hudson Valley restaurants are the best in German cuisine.
Gallery Credit: Conor Walsh