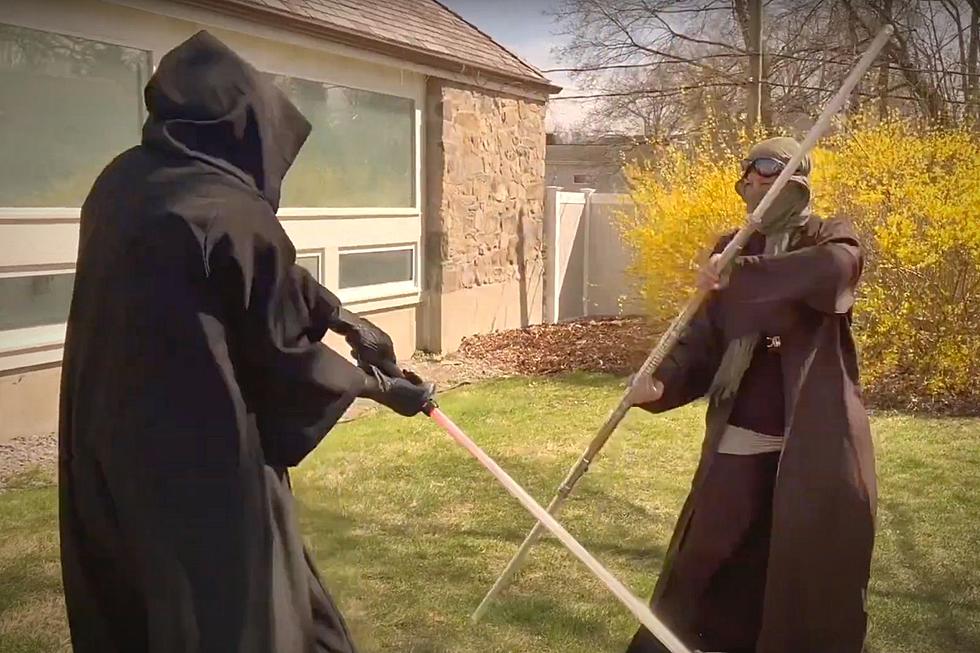 Hyde Park Library Celebrates May the 4th w/ Epic Star Wars Video
YouTube, Hyde Park Library Programs
I nearly took off today because it is a holy day of obligation to celebrate the energy that is created by all living things that surrounds us, penetrates us, and binds the galaxy together: The Force.
May the Fourth Be With You!
Star Wars Day is celebrated each year on May 4th (a play on the famous line "May the Force be with you," it is "May the Fourth be with you). Fans from all over the world end up celebrating by going to fan events, conventions, movie marathons, and more. I have spent many May 4th's binging Star Wars movies with friends. Sometimes we would even dress up and have lightsaber fights between movies.
If you're a hardcore fan, you may celebrate more than just May the Fourth, as shown by the calendar below. Some may even say that the whole month of May is a celebration, paraphrasing the line from the Star Wars show The Mandolorian, "This is the Way," and saying "This is the May."
Hyde Park got in on the fun and excitement of Star Wars Day a little early this year. The Hyde Park Library social media team filmed a video to celebrate the upcoming Star Wars Day and had members of the community join in.
The event was held in the Annex courtyard on Saturday, April 8th and was open for all ages. People came dressed to impress in their best Star Wars themed outfit and battled one another in an epic duel. Now, that video is finally here for you to enjoy. Here is the trailer, keep scrolling to the end of the article for the final video.
The fan-made video points out something very important these days: the price of content. Book retailers charge a lot of money for books these days. Now, it's important to help support bookstores, especially local businesses, but price hikes can make things very difficult for some people to attain certain entertainment and education. The same can be said with streaming services and other audio/visual content. The Hyde Park Library stresses in this video that you can receive books and other popular forms of content for free with a library card. Libraries among one of the last few places on the planet where you're not being forced to buy something. At a library, you can just be while enjoying their selection of content and resources.
The Mid-Hudson Library System is a Free Resource For All Residents
The Mid-Hudson Library System, which the Hyde Park Library is apart of, just celebrated National Library Week from April 23rd to April 29th. The Mid-Hudson Library encouraged all community members to visit at least one of its sixty-six (66) interconnected libraries.
In a 2022 survey, 
over two-thirds of Americans claim to read books during the year. A third of those surveyed only read print books, while another third said they consumed digital and print books. Digital books being ebooks and audiobooks. Audible, in 2021, had 116.25 million members in America. Audible costs members $14.95/month. That $180 a year could be used towards something else. The Mid-Hudson Library System has a vast catalog of audiobooks, ebooks, and e-magazines all available with your library card.
There are more than 1.7 million unique titles in the shared online catalog and you can have physical items from any library delivered to your library. MHLS delivery services are one-seventh the cost of mailing items between libraries. Member libraries save their communities over $12 million annually by sharing items. Libraries are welcoming spaces that bring communities together for entertainment, education, and connection through book clubs, storytimes, movie nights, crafting classes, lectures, and more. The sixty-six (66) libraries of the Mid-Hudson Library System offer a wide array of programs, classes and resources, including some very unexpected items at select locations such as seed libraries, tool lending, museum passes and more.
Libraries play a critical role in the economic vitality of communities by providing internet and technology access, literacy skills, and support for job seekers, small businesses, and entrepreneurs. Libraries across the Hudson Valley participate in the Beyond the Library Walls program, offering broadcast Wi-Fi signals and many offer Digital Navigator services to help you either connect online or up your game when it comes to understanding how to navigate information and services offered online. You can find even more events across the 66 libraries in the MHLS. 
To find your nearest library in the MHLS system, click the link here.
Friends of the Hyde Park Library Meet & Greet
Feel free to dress in a Star Wars costume if you want, but I don't think this is that kind of event. The Hyde Park Library is holding a Meet & Greet today, May 4th from 6pm - 7pm. You can come for the opportunity to meet the hardworking volunteers who support the library with fundraisers, community outreach, events and more. Maybe there is something you'd be interested in going to in the future or even being a part of! The event will be held at the Hyde Park Library Annex at 4 Main Street, Hyde Park, NY.
Every Star Wars Movie, Ranked From Worst to Best
Here is every theatrical Star Wars movie, ranked from the worst to the best.
Galactic Gifts For Any Star Wars Fan - May The 4th Be With You
These are the gifts you are looking for. Must Have Gifts For Any Star Wars Fan.
If You're a Star Wars Fan You'll Love These License Plates
You can bid on these Star Wars-themed license plates starting May 4, 2023.