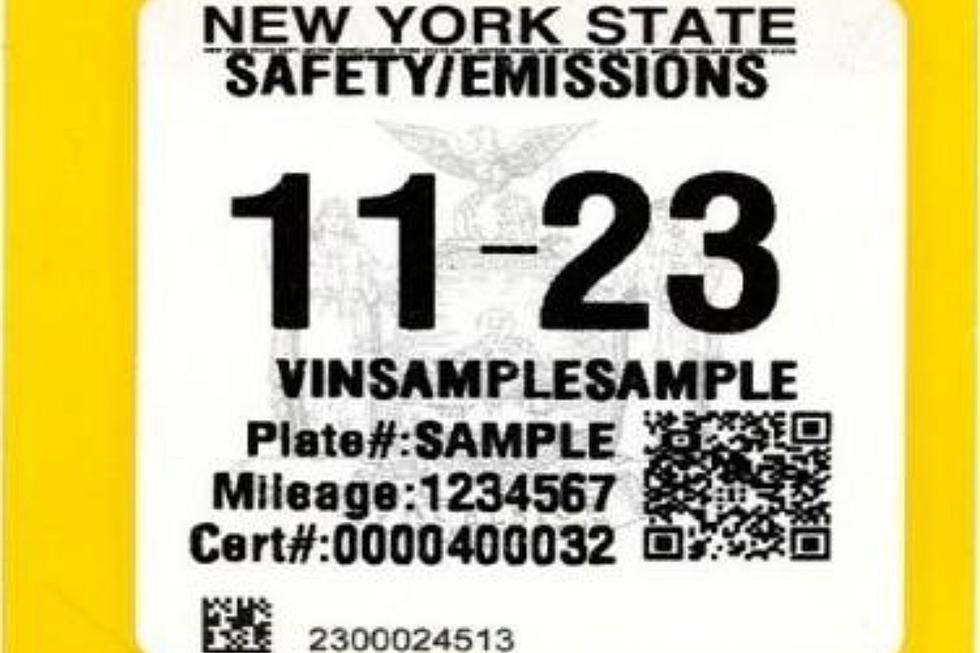 New York DMV Starts Second Phase of New Inspection Stickers
New York State DMV
The new inspection stickers will soon be available at many inspection stations across New York.
Early this year we told you about how the New York State Department of Motor Vehicles (DMV) was preparing to change the way the yearly car inspection stickers look and the way they are going to be distributed to cars that pass the yearly inspection.
Changes to New York Inspection Stickers
The new stickers are "print on demand" and feature more information on them they the old hole punch type of stickers that have been used for years in New York. The new stickers, like its predecessor will change in color every year but will feature new enhanced vehicle-specific information directly on the inspection sticker including the vehicle's license plate number, the vehicle identification number (VIN), and the mileage on the vehicle at the time of the inspection.
The Second Phase of New York's New Inspection Stickers is Underway
The NYSDMV announced on Thursday that they have begun the second phase of the rollout of new inspection stickers to licensed inspection stations statewide. The second phase involves the DMV shipping the print-on-demand sticker system to thousands of New York State-licensed inspection stations according to a DMV press release. DMV is hopeful that the majority of inspection stations in New York will have the systems by the end of 2023.
How Many New Stickers Have Been Issued So Far?
As the DMV made the Phase 2 announcement they also shared a milestone for the Vehicle Inspection Program, saying that more than 100,000 inspections have been conducted since the new sticker system was first rolled out early this year. DMV Commissioner Mark J.F. Schroeder had this to say,
"We are very pleased with how the transition to this new inspection system has gone so far, and we look forward to that continuing. These print-on-demand stickers will go a long way toward reducing and even preventing potential fraud and helping law enforcement get better information about the vehicles they see every day on New York's roads."
When Will Everyone Have a New Inspection Sticker?
The transition to the new system is expected to continue through the end of 2023. Customers will continue to see old but valid inspection stickers in the previous design until late 2024. It all depends on when you need to get your car inspected and where you get the inspection done. For more information check out the DMV online.
New York's New License Plates
New York's newest custom license plates celebrate various regions of New York.
6 Things That Are No Longer in Cars
Things you don't find in cars anymore.