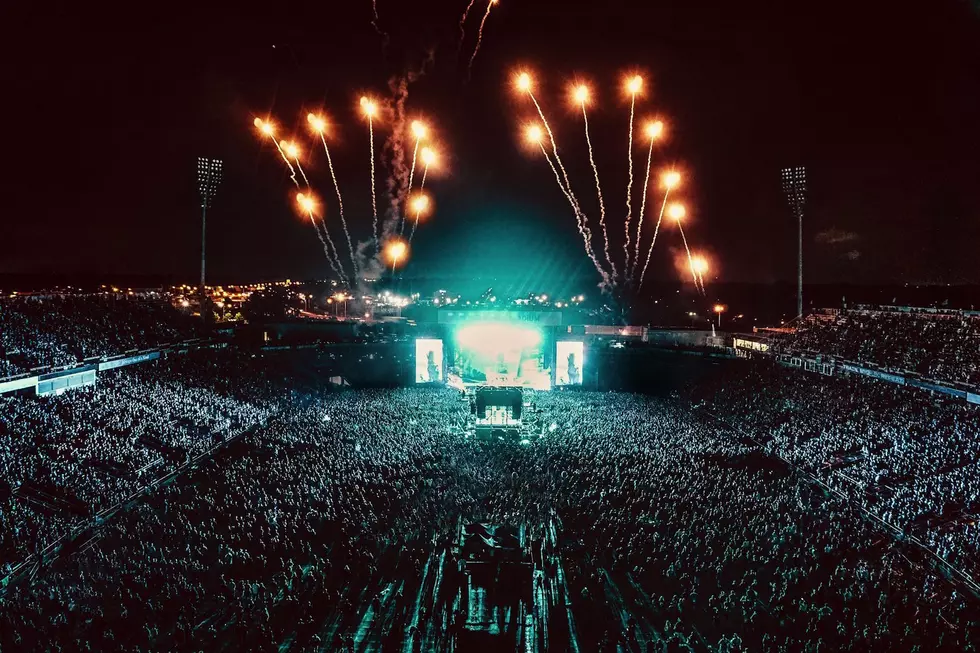 Rock on the Range Ending, Replacement Announced – Exclusive
Sam Shapiro
One of rock music's biggest festivals -- Columbus, Ohio's Rock on the Range -- will undergo a huge change when it returns in 2019. Now dubbed the Sonic Temple Art + Music Festival, the revamped event will make its debut at MAPFRE Stadium in Columbus (traditionally the home of Rock on the Range) on May 17 - 19, 2019.
The changes are due to a split between Danny Wimmer Presents and AEG Live, the two companies who have co-produced the event in the past. Loudwire spoke exclusively to Danny Wimmer earlier today (September 7) about the breakup and the rebranded festival. He was emphatic that Rock on the Range will always prioritize music over everything else.
But, he says, "I feel like Rock on the Range has fallen short on delivering better art installations and better food and drink options. Rock on the Range is the biggest rock festival in America that has no bells and whistles. This show deserves to have better offerings."
For rock fans, this year's Rock on the Range had a lineup that was tough to beat: it featured legends (Tool, Alice In Chains), some of today's biggest bands (Avenged Sevenfold, Three Days Grace, Stone Sour), a handful of rock's most exciting up-and-comers (Code Orange, Fever 333, Greta Van Fleet, Grandson) and even some hip-hop crossover acts (Yelawolf, Tech9, Machine Gun Kelly). The comedy tent's lineup -- featuring Curb Your Enthusiasm's JB Smoove, "The LIberal Redneck" Trae Crowder and Big Jay Oakerson -- was impressive as well.
But what irks Wimmer is that, beyond the music and comedy, the show doesn't feel like an event in the way that festivals like Coachella and Bonnaroo do with their art installations, interactive exhibits, and diverse culinary offerings.
"We've built this to 45,000 fans a day, they deserve to get the art and the secondary entertainment. They deserve the best food options. They deserve to have the stadium look different than it does for normal events. They deserve for this to not be just another stadium parking lot show."
Similar to the Bourbon and Beyond Festival that DWP produces in Kentucky, he wants Sonic Temple to cater to rock fans and foodies.  "You'll see a press release on the hot restaurants in a 300-mile radius that we're going to bring in. There will be better places to sit down and eat, we're thinking about the whole experience, even the bathrooms.  We're cleaning the whole experience up."
"When Metallica play Lollapalooza, and then they come back and play Columbus, I don't want them to think about all the other experiences they saw at the other festival. I want them to go, 'Oh my god, this is the best experience, this is the best rock festival in America.' And that's my mission. And that is why I'm changing the name, and repositioning this."
He's emphatic that rock will always be at the center of the festival, but he also wants to expand the definition of what rock is, including having a stage to highlight Soundcloud artists.
'Rock and roll has to grow. And the moves that we're going to make are the moves that will move the genre forward. That's why it is time now to reposition what this show is, for the future."
He also notes, "I'm investing in every one of our festivals. Our shows have been growing year after year." To that end, DWP announced in a press release earlier today the dates for two other festivals, in addition to Sonic Temple. Welcome To Rockville in Jacksonville Park, Florida, will return next year from May 3-5, and a new, currently untitled, festival will take place in North Carolina from May 10-12. Additionally, the press release says that Chicago Open Air will return as  A Day In The Park at Toyota Park in Bridgeview, Illinois during the weekend of May 17 – 19.
"I want every experience to be the best experience," Wimmer says. "I want to compete with all the other festivals out there, I want this event to be the king of all rock festivals. and this audience deserves it. They deserve to have the biggest, the baddest, the best experience. I am tired of hearing that rock and roll is dead, because it ain't dead."
And in the spring and summer of 2019, he aims to prove it.
Rock on the Range 2018 Photo Gallery 
Andrew W.K.'s Pizza & Taco Party at Rock on the Range