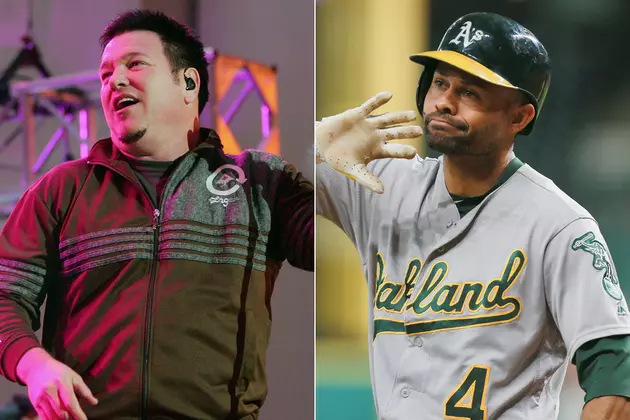 Smash Mouth Gets Into Twitter War With the Oakland A's
Ethan Miller / Bob Levey, Getty Images
What do Smash Mouth and the Oakland A's have in common? They're both watching the World Series. During Game Three last night (Oct. 29), the band and the team got into a fight on Twitter.
Uproxx discovered that it started shortly after Coco Crisp, the wonderfully named veteran outfielder who was traded from Oakland to the Cleveland Indians down the stretch this season, drove in the game's only run with a pinch-hit single in the top of the seventh inning. John Shea, a baseball columnist for the San Francisco Chronicle, recalled that, shortly before the trade, Crisp feuded with the A's management over playing time, which Crisp believed had less to do with his ability than a provision in his contract that guaranteed money based on games played.
"Coco Crisp goes from accusing A's of benching him to prevent $13M option from vesting to hitting key RBI single for Indians in World Series," Shea tweeted. Smash Mouth wrote back, "The A's are a joke, good for CC!"
But the person running the A's' Twitter account didn't take kindly to their team, which finished in last place in their division with a 68-94 record, being called a "joke" by a band that hasn't had a single hit the Hot 100 since their made-for-Shrek cover of the Monkees' "I'm a Believer" reached No. 25 in 2001.
"Insulted by Smash Mouth? #Pfft," they tweeted, accompanied by a GIF of shortstop Marcus Semien laughing in the dugout, later adding, "Up late desperately tweeting for relevancy? Hey now, that's not very All-Star of you."
They traded barbs for a bit, and relief pitcher Sean Doolittle joined in for fun. Read the entire thing below.
To be fair, Smash Mouth have a point about the A's being unwilling to shell out money to improve their team. The best-selling book and hit movie Moneyball were based on general manager Billy Beane's ability to field competitive teams at the dawn of the 21st century on a limited budget.
The band also has a history in getting involved in Twitter wars. Earlier this year we learned that the band regularly responds to people who incorrectly call them a one-hit wonder.