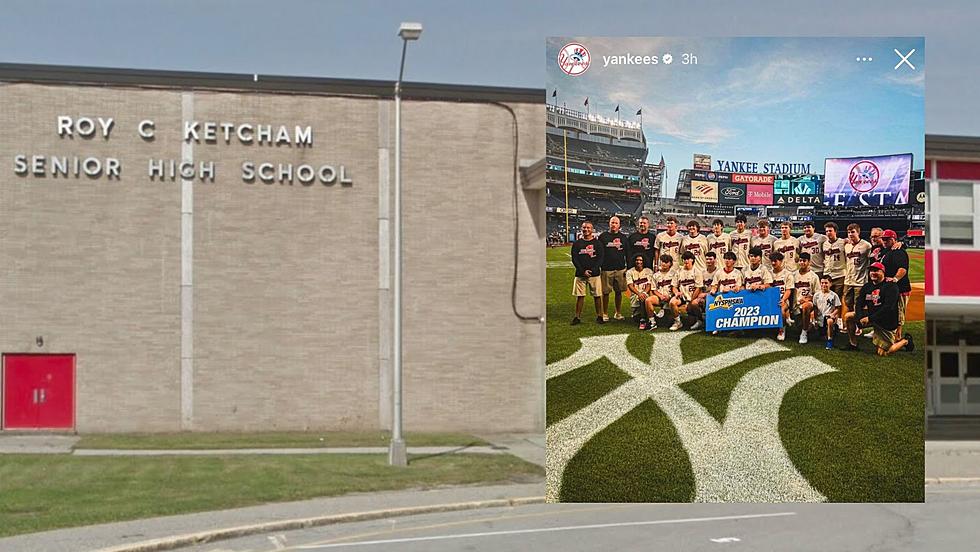 The New York Yankees Celebrate Ketcham High School State Champs
Google Maps/New York Yankees Instagram
The Yankees may be in a slump, but at least one New York team can say they are the champions.
The New York Yankees have seen better days. Although there is some hope for the future with the addition of The Martian, Jasson Dominguez (who has ties to the Hudson Valley), for the most part, The Yankees have been hard to watch this season.
Thankfully, a group of students- athletes were able to bring a winning record to the Bronx in 2023.
The New York Yankees Celebrate Wappingers Falls Ball Players
On Thursday, September 7th, 2023,  before The New York Yankees played The Detroit Tigers (spoiler alert, the Yankees lost 10-3) they welcomed a baseball team from the Hudson Valley.
The Roy C. Ketcham baseball team was in the Bronx to celebrate their big state championship win at Yankee Stadium. On Instagram, the Yankees wrote:
Tonight we welcome The Ketcham High School baseball team from Wappingers Falls. This past season, @Ketcham_baseball won the New York State Championship in Class Double A - the 2nd baseball State Championship in school history!"
The Ketcham baseball team had to be excited, they then shared the Yankees post and thanked the team for having them at the stadium.
Back in June of 2023, the Ketcham baseball team from Wappingers Falls took on the Commack High School baseball team from Long Island in the championship game. In the top of the 7th inning, Ketcham was up 2-1 with runners on 2nd and 3rd base with 2 outs.
The Commack batter hit an easy ground ball to shortstop for the final out of the NYS Class AA championship game.
Check out the exhilarating final out for the championship win below:
Congratulations to the 2023 Roy C Ketcham baseball team. Here's to hoping for another State Championship in 2024.
25 Top Athletes Hailing From The Hudson Valley
Popular athletes, and classic household names all around the world in sports, could be linked to the very neighborhood you live in. Here is a list of 25 professional athletes all with links to the Hudson Valley.
LOOK: 30 Best Major League Baseball Home Run Celebrations Using Props
We examined every Major League Baseball team and found our 30 favorite home run celebrations where players brought props to the party.
Prominent Professional Athletes from The Hudson Valley Region
We've compiled a list of 25 male professional athletes who are from the Hudson Valley.