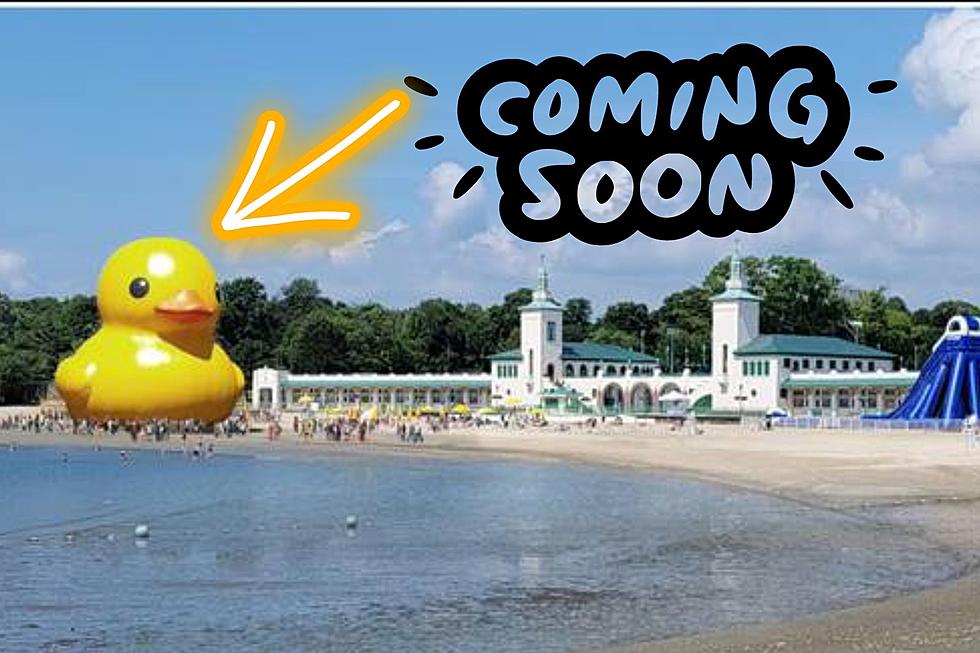 World's Largest Rubber Duck to Debut Just Outside Hudson Valley
Playland Facebook, canva
It isn't every day that we get the chance to be part of history, right? Luckily for Hudson Valley'ers though, we'll have the chance to be part of something big, and we mean REALLY big.

Playland Park to Welcome World's Largest Rubber Duck
I'll admit it's probably been at least ten years since I visited Playland Park in Rye, but as a kid, we lived not too far away in Mamaroneck, NY and went all the time (and not to mention all the trips we made to see the New York Rangers practice at the Playland ice rink) - this though, this will get me back to Playland this weekend.
An over six-story high mama duck will be making a huge splash along with her baby duckling this weekend at Playland, June 28th through the 30th as part of the world's largest rubber duck's summer tour.
Other stops include Detroit, Toronto, LA, Chicago and Philadelphia.
Playland Celebrates 95th Season With World's Largest Rubber Duck
Cited as one of the nation's most iconic amusement parks, 2023 marks the 95th season of the Westchester based theme park, with a number of new attractions, dining options and family entertainment.
Along with the rides and family fun, visitors this weekend will be treated to the 61-foot-high Mama Duck along with her equally impressive 10-foot baby duckling named Timmy. Playland will celebrate the duo's arrival with a 'Lucky Duck' giveaway at certain game areas.
Visitors will be able to get up close and personal with the duck duo for 'quacky' photo ops while the ducks nest at Playland Beach with music provided by a boardwalk DJ as well.
Playland General Manager Jeff Davis is quite excited about Mama Duck and Timmy's arrival, sharing the following:
We're thrilled to welcome The World's Largest Rubber Duck and her duckling to Playland this summer. It's special that this is The World's Largest Rubber Duck's first visit to Westchester County...We are a park that provides unique experiences for the local community and look forward to more business partnerships. We will continue to expand on our guest offerings and will announce a variety of new experiences, events, and celebrations.
You can learn more about Mama Duck and Timmy, including other stops on their summer tour by visiting their website here. Details about Playland's hours of operation and tickets can be found here.
Amusement Parks Near The Hudson Valley Ranked
19 Remarkable Movie Theaters in the Hudson Valley
After the lull caused by the pandemic, many big blockbusters are set to hit theaters in 2022, and these Hudson Valley cinemas are ready to take your ticket!