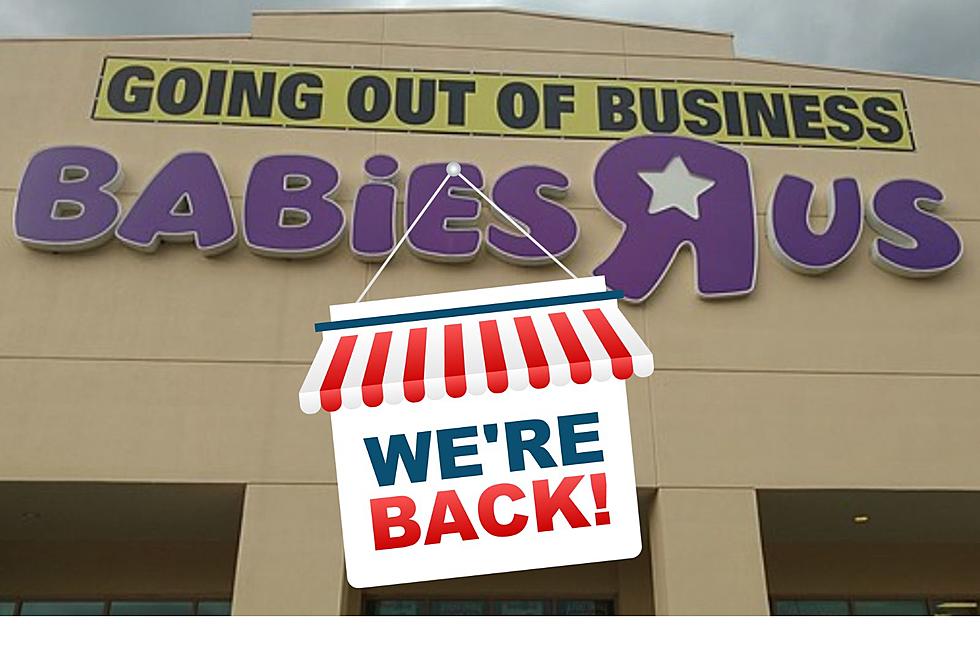 Comeback Kid! Babies "R" Us Returns With NJ Flagship Store
Google Maps, canva
With Toys "R" Us announcing their own comeback just ahead of the 2022 holiday season, I guess it really is no surprise that a similar announcement came from sister brand Babies "R" Us earlier this year.
Local parents and shoppers for little ones can't get too too excited, as nothing has been confirmed for our immediate area, but a NJ Babies "R" Us is better than NO Babies "R" Us, right?
Babies R' Us Is Back, Flagship Store Launches in East Rutherford, NJ
In a social media announcement in mid-January, Babies "R" Us announced they would be back beginning Summer 2023, with the launch of a flagship store at the American Dream Mall in East Rutherford, NJ.
Well that time has come, and the first "new" location has officially opened at the American Dream in Jersey in what they are referring to as 'the rebirth.'
While it is indeed a bit of a hike from the Hudson Valley, when it comes to in-person shopping for all things baby, I'd totally make the trip across the border.
A recent article in Parents Magazine indicated that following the flagship launch, there would be a full rollout of stores nationwide, but no timeline for additional locations has been released yet.

Parents also went on to say that it will continue to be a 'one-stop-shop' for all things baby, but will also introduce a different type of interactive experience with the rollout.
The few photos posted on the American Dream and Babies "R" Us Instagram accounts give a sneak peek inside the new location, which seems to bring influences from the old store locations with some new decor as well. The lighting brings a different feel to the store, which in addition to shopping includes a 'Learning Center' and 'Comfort Zone.'
Based on the photos, it seems the launch of the NJ flagship location was well received, with long lines of smiling faces ready to shop.
As was reported back in February, the official Babies "R" Us website remains the same; a stork holding a special delivery that reads 'Babies "R" Us arriving soon' along with a short statement: 'reimagining a new Babies "R" Us experience,' and finally, a link to the Toys "R" Us website.
Remember "R" Us Hudson Valley Stores?
You may remember back in June of 2018 when the Hudson Valley bid farewell to the Babies "R" Us locations. Around the same time, all of the Hudson Valley Toys "R" Us locations shuttered as well.
The company officially filed for bankruptcy in late 2017.
Once they begin to announce the rollout of the nationwide store locations, where do you think Babies "R" Us should open their stores in the Hudson Valley?
Sad Images From the Final Days of the Hudson Valley's Last Toys R Us
In 2018 the Hudson Valley said farewell to its last Toys R Us location. It was the end of an era, and many customers were overcome with emotions when the store on Route 9 in Poughkeepsie finally shut its doors for the last time. Here's a peek inside the final days of the beloved toy store, with some images courtesy of a YouTube photographer who
toured the store one last time just days before it closed
.
Restaurants and Stores The Hudson Valley Misses The Most
If you could bring back any store, restaurant or favorite business from the past, which would you choose?
The Hudson Valley was filled with places to visit for our favorite meals, special occasions or simply just for grocery shopping. Some of us may have spent our birthdays at these locations or shared sweet memories that we will remember forever.
Here Are The Restaurants and Stores The Hudson Valley Misses The Most