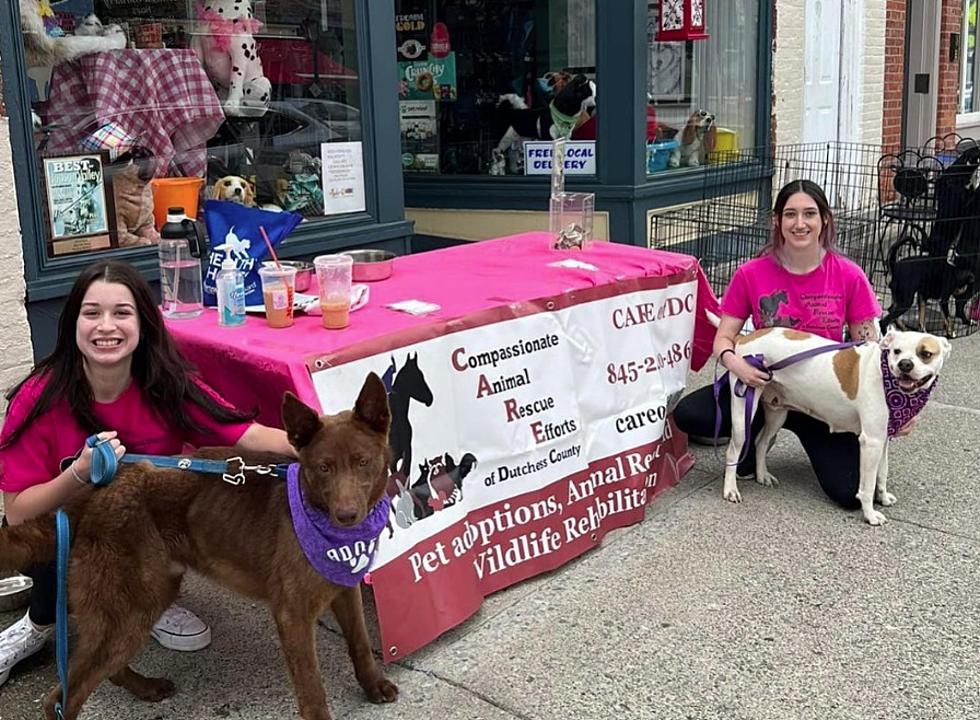 Wappingers Falls, NY Animal Rescue Recieves $20,000 Grant From Petco Love
CARE of DC, Instagram
A Hudson Valley animal rescue is receiving a huge grant investment from a national non-profit that has a very familiar name.
Where Do Those Petco Donations Go?
Any pet lover, and shopper, knows about Petco...it's where the pets go! But in all seriousness, Petco does a lot for local animal shelters and rescues across the United States.
Have you ever wondered where your donations go to when you get to the cash register? At Petco it goes to organizations like Petco Love. According to a press release, Petco Love is "a national nonprofit leading change for pets by harnessing the power of love to make communities and pet families closer, stronger, and healthier." The organization, which has been around since 1999 has invested $350 million in pet adoption and other lifesaving efforts.
Wappingers Falls Rescue Gets Huge Grant
Petco Love is using some of those donations and investing them into a Hudson Valley animal rescue. CARE of DC has announced that they have received a $20,000 investment grant from Petco Love.
CARE of DC Director Karen LeCain said in a statement:
"This significant investment will enable us to continue our life-saving mission. Without the support of the Petco Love Foundation, we wouldn't have been able to grow at the pace we have. In addition to our dog shelter, we recently opened a cat adoption center. Adopters can visit our available cats at our new location or see them in the habitat at Petco in Poughkeepsie. Petco Love has been supporting us since day one.
In the past few years, CARE of DC has helped rescue animals from horrible conditions and situations. In 2021 they saved several beagles from a cruel breeding facility finding them loving homes all over the Hudson Valley. LeCain adds "The next time you're at the register in Petco and they ask if you would like to donate, please say yes. We couldn't have saved so many lives if we didn't have their support!"
The President of Petco Love Susanne Kogut said in a statement:
"Our investment in CARE of DC is part of more than $15M in investments recently announced by Petco Love to power local organizations across the country as part of our commitment to create a future in which no pet is unnecessarily euthanized. Our local investments are only part of our strategy to empower animal lovers to drive lifesaving change right alongside us.
If you would like to learn more about CARE of DC or if you're interested in adopting a cat or a dog visit CAREofDC.org.
10 of The Top Rated Dog Parks Across the Hudson Valley
Looking for a change of scenery with your pup? Check one of these top-rated dog parks located right here in the Hudson Valley according to Google Reviews.
The Ridiculous Reasons Why These Wappinger Falls, NY Rescue Pups Aren't Getting Adopted
Have you heard of Black Dog Syndrome? BDS is, according to Petfinder, "When black-colored dogs spend more time waiting for their new home than their lighter-colored kennel mates." And it seems to be a current issue animal rescues in the Hudson Valley, like CARE of DC, are experiencing.
13 PAW-fect Dog Friendly Bars and Restaurants in Beacon, New York
These 13 PAW-fect Beacon businesses allow you to bring your pup along for fun times with friends and family.